Video: A particularly violent holiday weekend in Chicago has prompted a round of finger-pointing and calls for fresh solutions. Amanda Vinicky reports on "Chicago Tonight."
---
Chicago police Superintendent David Brown on Tuesday again pointed the finger at the criminal court system and the flow of illegal guns, rather than his own department's strategy, after the city experienced its deadliest Fourth of July weekend in years.
At least 100 people were shot, including 18 who died, between Friday evening and Monday night in what was so far the bloodiest weekend of 2021, according to Chicago Police Department data.
During a press conference Tuesday morning, Brown repeatedly put blame on what he called an "out of control" Cook County criminal court system for "making us all less safe by releasing violent offenders" on electronic monitoring, claiming this was a major driver behind the weekend violence.
"There are too many violent offenders and too little consequences in our courts," he said. "There are too many illegal guns in our city and too little consequences in the courts."
That criticism has become a repeated refrain from Brown and Mayor Lori Lightfoot following outbreaks of violence in Chicago over the past year.
Both the mayor and superintendent have touted a "whole of government" approach to addressing violent crime this summer — a strategy Brown said last week he was ready to "ride until the wheels fall off" after a drop in homicides and shootings over the Memorial Day weekend.
"We agree with all these holistic, whole of government approaches," he said. "But each Monday, if I'm the only person answering questions about violence in Chicago, we likely won't be in that place of discussing what other things can others do. Others are never at this podium with us talking about what we're doing."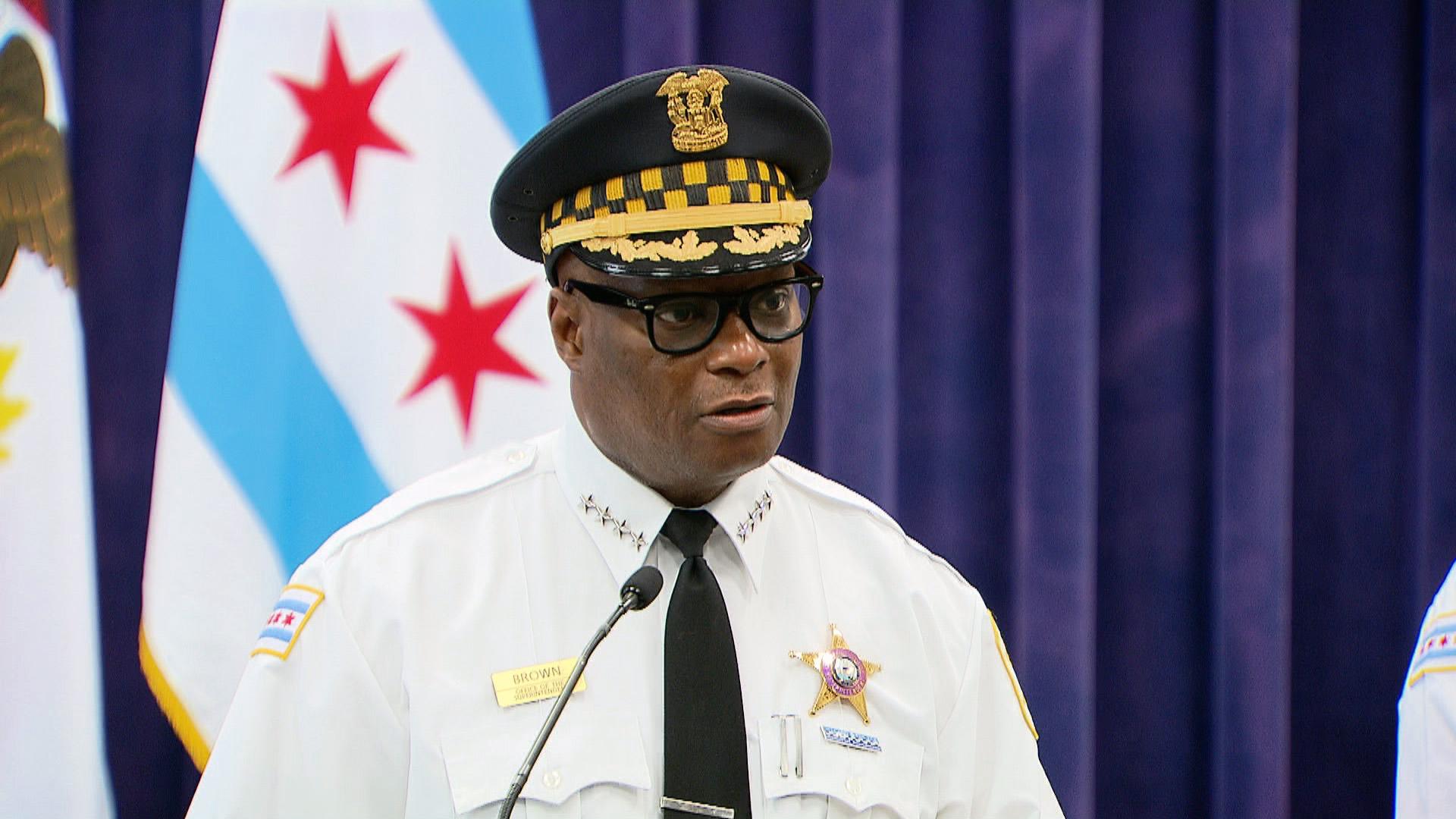 Chicago police Superintendent David Brown addresses the city's violent holiday weekend on July 6, 2021. (WTTW News)
Brown said he wasn't "finger-pointing" at Cook County State's Attorney Kim Foxx or Chief Judge Timothy Evans, but rather continuing a "worthwhile debate" about the release of suspects accused of violent crimes ahead of trial.
When asked Tuesday about what the CPD specifically can do better to prevent violent crime, Brown said his officers are "doing more of everything in an unprecedented, historical way," citing the record pace of illegal guns police have taken off the streets this year.
Brown was reportedly grilled last week by Chicago aldermen, who criticized him for pushing "false narratives" around how often defendants out on bail commit new crimes. WBEZ previously reported that some of Lightfoot's own staffers recognized this argument was false.
"Looking at individual tragic cases in isolation may contribute to the speculation that releasing individuals before trial rather than incarcerating them — whether by placing them on Electronic Monitoring (EM) or other forms of supervision — means an increase in crime," Evans said in response to Brown's comments Tuesday. "But speculation based on isolated cases is not the same as reality based on a complete picture, and research has shown that bail reform has not led to an increase in crime."
In a tweet, Foxx called the shooting and homicide totals "horrifying" and said communities, law enforcement and the courts must work together to address the violence.
"Finger-pointing instead of talking honestly about the violence plaguing our city doesn't help bring solutions that make our communities safer," Foxx said in a tweet. "It starts with apprehending those who pull the trigger; police must make an arrest before a case reaches the courthouse door."
The weekend violence included a mass shooting in the 6100 block of South Wabash where six people were shot and two killed on Monday afternoon; a CPD commander and sergeant who were shot and wounded while breaking up a large crowd in the Austin neighborhood early Monday; and a 19-year-old man who was shot five times and killed while riding as a passenger in a vehicle in the 2600 block of West Van Buren on Saturday.
Lightfoot took time during an unrelated press conference Tuesday to speak to victims and survivors of Chicago's violence, saying: "I want you to know that we are doing absolutely everything that we can to stem the violence."
But she added: "We must do better — all of us — for you."
Brown canceled days off for officers over the holiday weekend and put them on 12-hour shifts in order to boost the policing presence around the city.
He responded on Tuesday to a question about the effectiveness of his policing strategies by pointing out that other major cities like New York, Los Angeles and Philadelphia are seeing significant spikes in homicides this year, while Chicago's total is up less than 1% compared to 2020.
But 2020 was the second deadliest year on record for Chicago since the 1990s. Last July, Chicago recorded 105 homicides — the first time the city reached triple digits in a single month in nearly three decades. This month already appears to be off to a deadlier start.
"When you ask the question whether or not our work is effective, Chicago police officers are doing their job by arresting people and charging them with murder," Brown said. "That's doing our part. And what's happening in the courts is creating this unsafe environment for all of us."
Contact Matt Masterson: @ByMattMasterson | [email protected] | (773) 509-5431
---