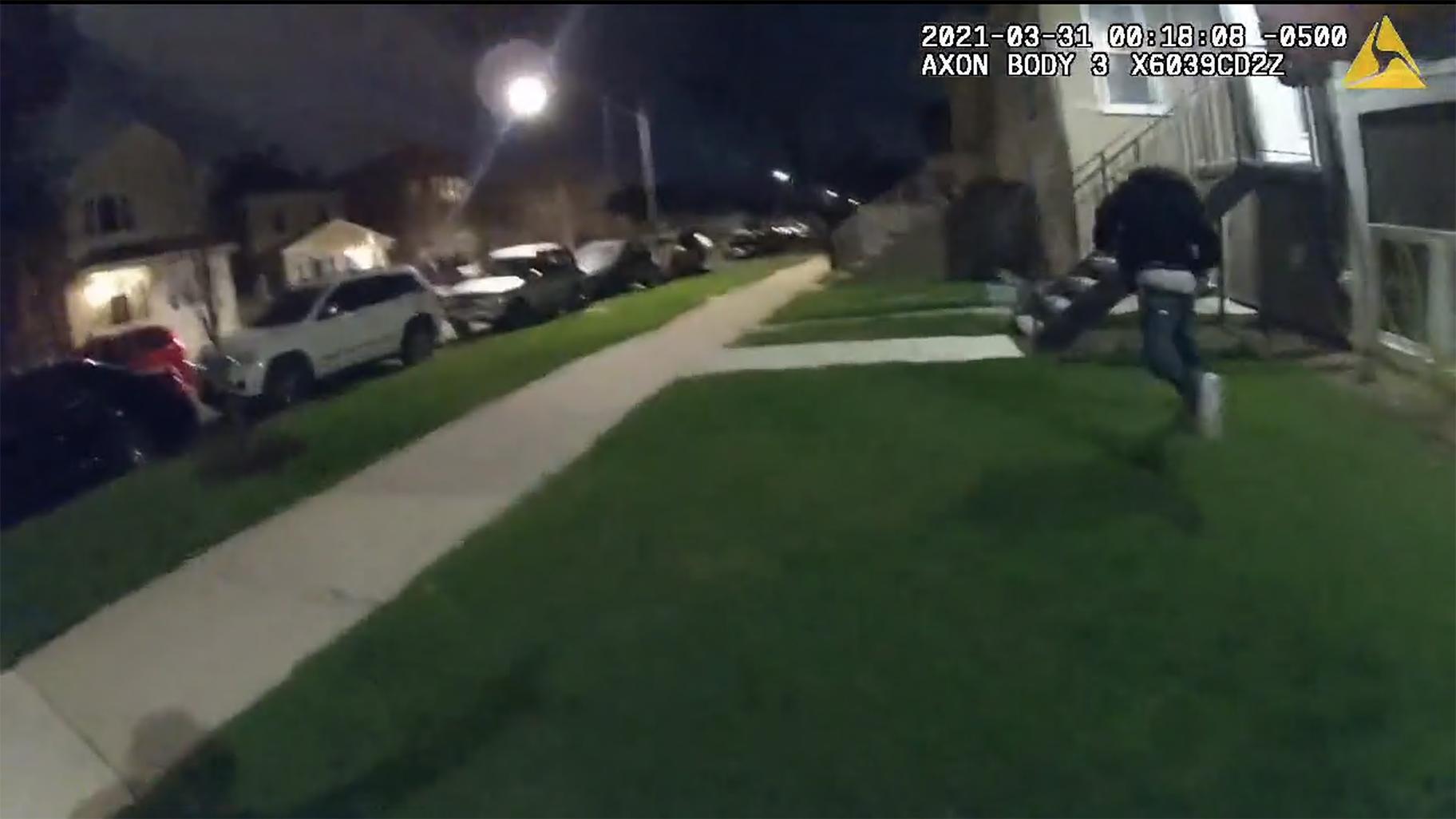 An image from body camera video released April 28 by the Civilian Office of Police Accountability shows Anthony Alvarez, 22, in the moments before he was shot by a Chicago police officer March 31, 2021. (WTTW News via COPA)
The officer who shot and killed 22-year-old Anthony Alvarez after a foot chase on March 31 has been stripped of his police powers, officials told WTTW News on Monday.
The Civilian Office of Police Accountability recommended two months ago that Officer Evan Solano have his gun and badge taken from him after the shooting death of Alvarez in Portage Park, even as the probe of the incident continues.
It was unclear why Chicago police Superintendent David Brown took so long to act. 
At an unrelated news conference, Brown said he asked for additional information from COPA before stripping the officer of his police powers. However, Brown declined to discuss the matter further because the probe is ongoing.
Video of the incident appears to show Alvarez holding a gun as he runs from Solano, who orders Alvarez to drop the gun just before shooting him in the back after a foot chase.
Since the shooting, Solano has been on administrative leave. Officers involved in an on-duty shooting are routinely placed on leave for 30 days.
Mayor Lori Lightfoot has been critical of the fact that the recommendation to strip Solano of his badge was shared with the news media before it was sent to Brown. COPA Chief Administrator Sydney Roberts announced May 5 she would resign from her post leading the agency charged with investigating police misconduct after facing harsh criticism from Lightfoot on the pace of probes.
Lightfoot has yet to name a permanent replacement for Roberts as head of COPA, the city agency charged with investigating police misconduct.
Block Club Chicago reported that Solano is the subject of a second investigation for pointing his gun, while in uniform, at another driver during a Logan Square road rage incident May 21 that was captured on video by onlookers.
Brown and Lightfoot unveiled a new foot chase policy for the police department that bans pursuits stemming from minor traffic offenses, which is what Lightfoot has said preceded the police shooting of Alvarez.
Alvarez died two days after police shot and killed Adam Toledo during another foot chase. Body camera footage of that fatal shooting shows the 13-year-old Toledo turn toward a Chicago police officer and put his hands in the air an instant before the officer shoots him.
A spokesperson for the Chicago Police Department declined to respond to questions about the officer in that case, Eric Stillman.
Contact Heather Cherone: @HeatherCherone | (773) 569-1863 | [email protected]
---