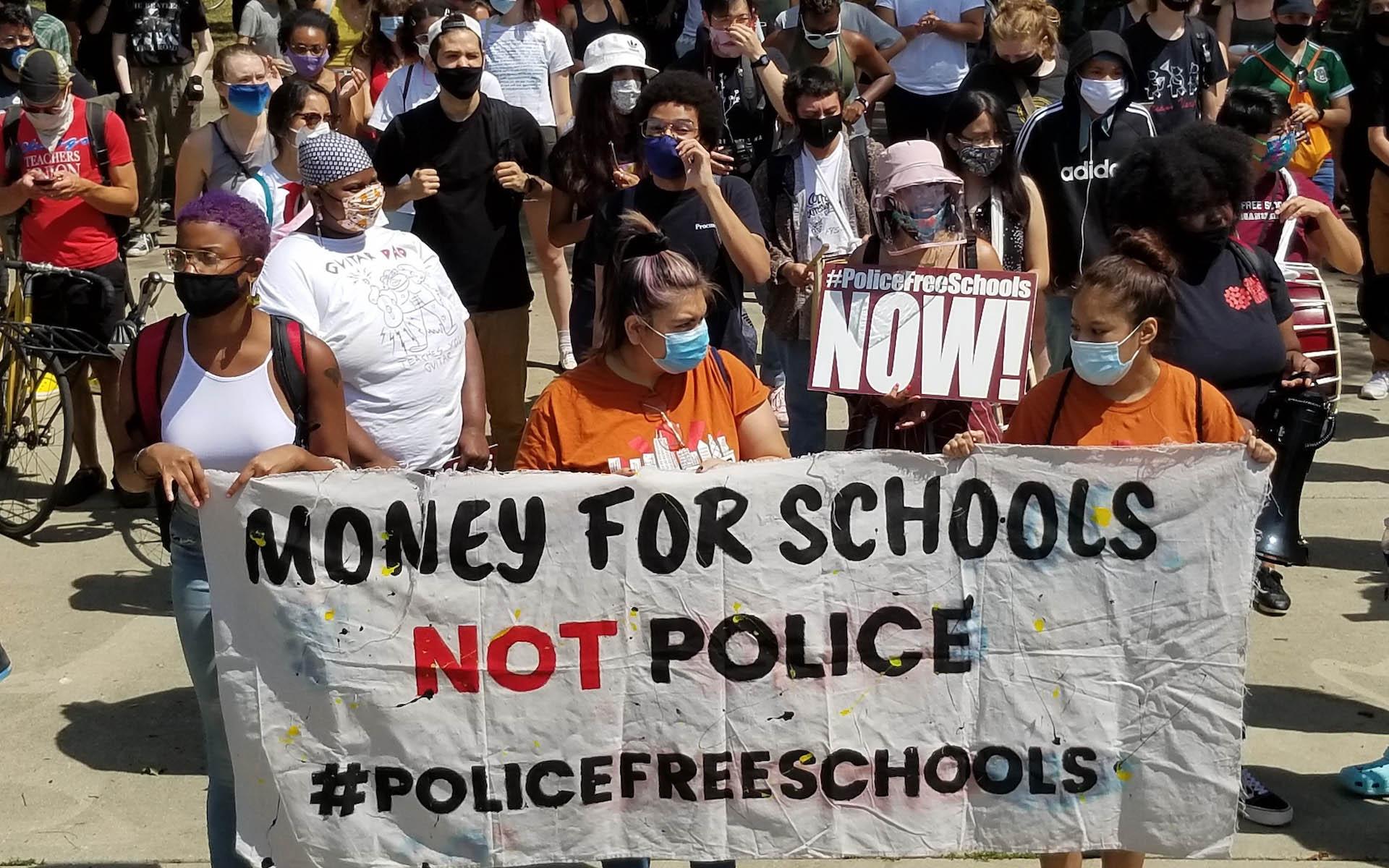 Youth activists organized a peaceful march to Mayor Lori Lightfoot's home on Aug. 13, 2020 to demand the removal of resource officers from Chicago Public Schools. (Matt Masterson / WTTW News)
Hailing the changes as a "major, major improvement," the Chicago Board of Education has approved revisions to the student code of conduct, which advise school administrators against contacting police in non-emergency incidents and removes "criminalizing" language in an attempt to eradicate the school-to-prison pipeline.
The board on Wednesday voted unanimously to approve a revised policy for Chicago Public Schools students, encouraging school officials to prioritize a "trauma-responsive behavioral health approach" centered on de-escalation and intervention.
"Our overall goal in changing these guidelines is to eliminate the association between children's behaviors and language from the criminal justice system, which has been cited as one of the school-to-prison pipeline issues and drivers," CPS Chief of Safety and Security Jadine Chou said Wednesday.
The policy revisions were designed to avoid criminalizing students by outlining other mandatory steps school administrators must take before contacting police in non-emergency situations. In those instances, school leaders must contact CPS' central office and consider the student's "age, developmental needs or known trauma history" before making any contact with police.
The policy also bars administrators from calling 911 or an on-site school resource officer simply to remove "disruptive students" from classrooms or other areas in the building.
Administrators are still instructed to call 911 in emergency situations that "constitute immediate threats of danger or imminent harm to students, staff or other individuals in the school," such as gun possession, bomb threats or physical violence.
If police must interact with a student, administrators will be required to provide the student with a written copy of their rights, which state that they have the right to refuse to speak with or be searched by police, and cannot be left alone with officers or removed from the school unless there's an emergency.
Chou said the district's current guidelines lack clarity. For instance, a term like "emergency" has gone undefined, and that can lead to uncertainty when administrators are deciding how to act. CPS' existing police notification guidelines were also out of compliance with state law.
The hope, she said, is that these revisions can decrease inconsistency and remove potential bias in handling these situations.
Student-led protests over the last year have criticized CPS for its role in the school-to-prison pipeline and have called for the removal of school resource officers from district high schools.
Jasmine Roach, a student leader with Voices of Youth in Chicago Education (VOYCE), said she doesn't believe the revised code of conduct goes far enough. She said the policy only focuses on what happens before police are called, rather than outlining other alternatives to law enforcement that focus on addressing students' mental health.
"Young people need to be part of these conversations because we are the ones strongly impacted by (your) decisions," she told the board.
CPS said many of the revisions actually did come from students, specifically the two-dozen members of its Student Advisory Council, which works with the district on shaping school policy. That council also reached out to other CPS students in discussing these new revisions.
Noting that revising this code is an ongoing process, Board President Miguel del Valle called the latest changes a "major, major improvement."
"The work continues and this is a major, major step in the right direction," he said, "so I look forward to additional changes in the future as we continue to engage all stakeholders in this process."
Contact Matt Masterson: @ByMattMasterson | [email protected] | (773) 509-5431
---