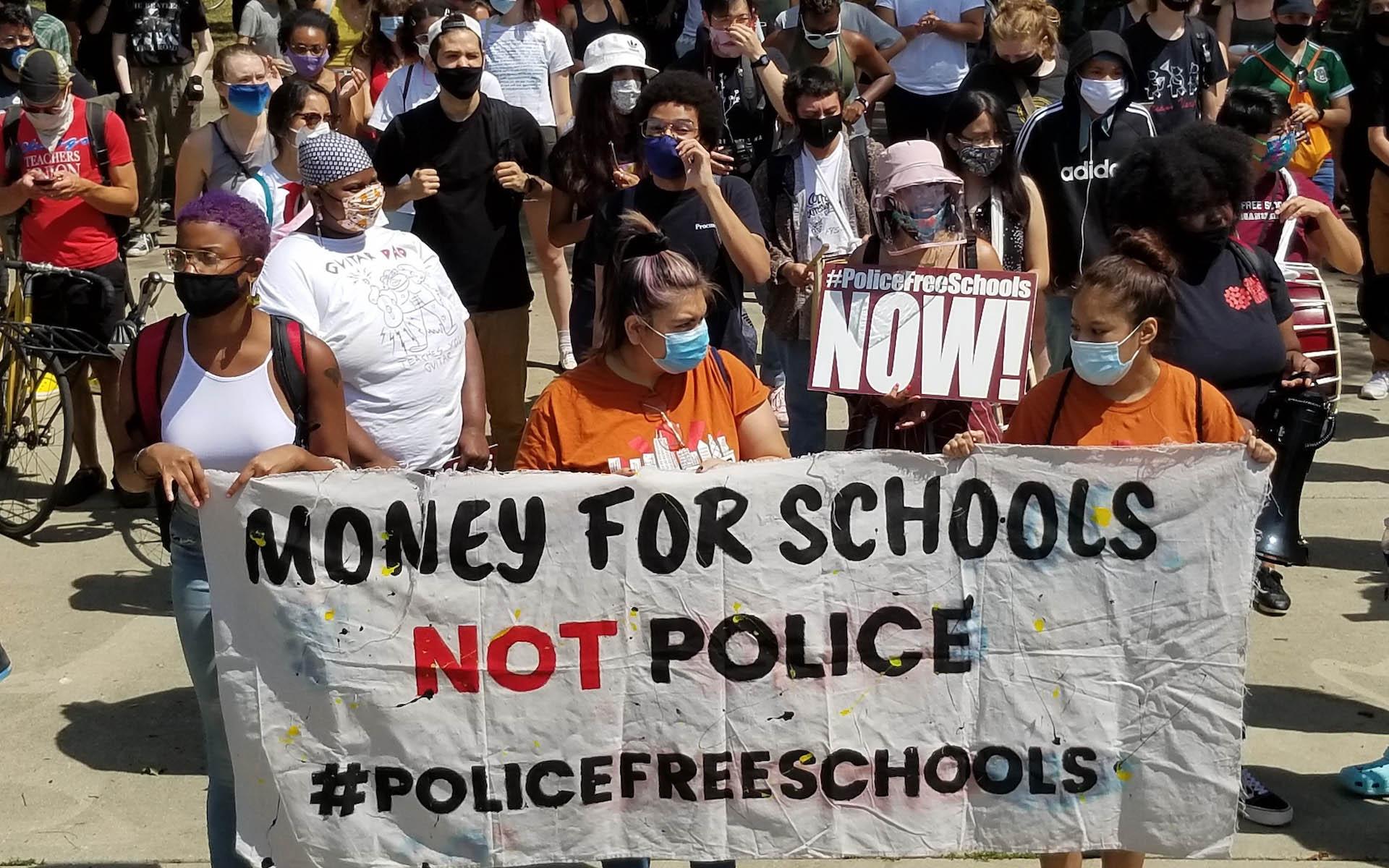 Youth activists organized a peaceful march to Mayor Lori Lightfoot's home on Aug. 13, 2020 to demand the removal of resource officers from Chicago Public Schools. (Matt Masterson / WTTW News)
Chicago Public Schools is advising administrators against contacting police in non-emergency situations and will remove "criminalizing" language from its student code of conduct in an effort to help eliminate the school-to-prison pipeline, according to a proposed set of revisions.
The Chicago Board of Education on Wednesday will vote on the revised conduct policy, which encourages school officials to prioritize a "trauma-responsive behavioral health approach" centered on de-escalation and intervention before calling 911 in non-emergency situations.
That includes incidents of "alleged illegal behavior" — which replaced the term "criminal acts" in the policy — in which administrators must contact CPS' Student Safety Center and consult with the district's Office of Student Safety and Security to "assess the alleged behavior and student needs" before contacting the Chicago Police Department.
In these cases, officials must consider several factors, including the severity of the alleged behavior, if there were any injuries and the harm to the school community, as well as the student's "age, developmental needs or known trauma history."
If they decide police should be notified, the administrators must first attempt to contact the student's parents through any known phone numbers.
The policy also specifically outlaws school officials from contacting the CPD or on-site school resource officers to remove "disruptive students" from classrooms or other areas in the building.
Administrators are still instructed to call 911 in emergency situations that "constitute immediate threats of danger or imminent harm to students, staff or other individuals in the school," such as gun possession, bomb threats or physical violence.
If police must interact with a student, administrators will be required to provide the student with a written copy of their rights, which state that they have the right to refuse to speak with or be searched by police, and cannot be left alone with officers or removed from the school unless there's an emergency.
The guidelines also warn against making any arrests on school grounds if it's avoidable, but if a student is arrested, a "school administrator or designee" must go with the student to the police station.
The proposed changes come amid a longstanding push by students and activists for CPS to rework its school safety measures in order to avoid criminalizing kids.
Last summer, student-led protests called for the removal of school resource officers from all CPS high schools, and in January 2021, the district partnered with five community organizations to "reimagine" school safety strategies as new alternatives to the existing SRO program.
Among other changes to the code of conduct is the removal of "criminalizing" terminology, or words directly associated with criminal law. These include "criminal," "battery," "assault," "burglary" and "aggravated assault/battery."
The reason for this, according to CPS, is to "support district-wide efforts to eliminate the association between children's behaviors and language from the criminal justice system, which has been cited as one component of the School-to-Prison pipeline."
The Board of Education meeting will begin Wednesday at 10:30 a.m.
Contact Matt Masterson: @ByMattMasterson | [email protected] | (773) 509-5431
---