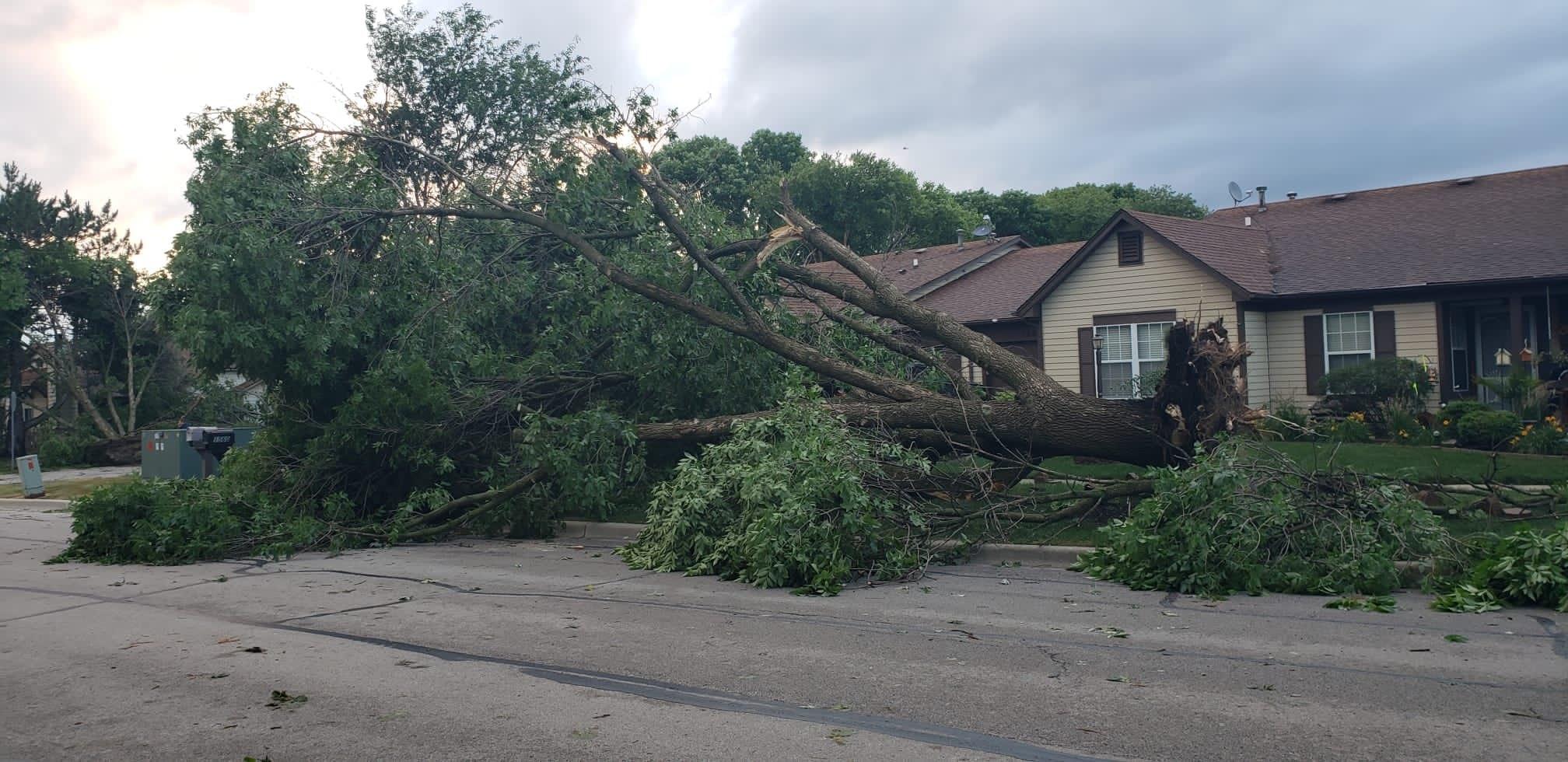 A strong line of storms and at least one tornado ripped through the Chicago suburbs Sunday, June 20, 2021. (Courtesy of Ruth Day / @glasshill)
More than 1 million people were under a tornado warning late Sunday night as an intense line of storms ripped through the Chicago area. At least one tornado touched down and left in its wake a path of destruction through Naperville, Woodridge and Darien, according to the National Weather Service.
READ: Father's Day Tornado Was a Severe EF3, Winds Up to 165 mph: National Weather Service
At least five people in Naperville were taken to the hospital with injuries and more than 100 residences were damaged, along with countless trees, the weather service said.
Meteorologists will survey the scene Monday to assess the damage and determine the strength of the tornado, as well as to confirm whether a single or multiple tornadoes were responsible. The survey process also looks at whether the warning system worked.
Two survey teams have been dispatched: one to the Naperville/Woodridge/Darien/Burr Ridge area; and a second team is investigating damage for tornadic evidence in DuPage County, specifically in Downers Grove and near Addison, the National Weather Service announced. 
Preliminary information indicates the tornado could have been at least an EF2, which can have wind speeds of 111-135 miles per hour and can rip houses from foundations, overturn trains and throw cars. To assign a magnitude, meteorologists will use engineering-based correlations between the type of damage and wind speeds, coupled with radar evidence. They build a conceptual model of what occurred and check to see if it aligns with the damage witnessed. 
Despite the tornado's strength and persistence in a densely populated area, the number of injuries was low. The National Weather Service attributed this to preparedness and people taking action when the warnings were issued.
Sunday morning, the weather service issued an alert that approaching thunderstorms were capabale of producing tornadoes and urged people to stay tuned for updates. The first tornado warning was issued at 10:43 p.m., covering western DuPage County and northwest Naperville. A second tornado warning, at 11:05 p.m., covered southern DuPage and western Cook counties.
Gov. J.B. Pritzker echoed the importance of preparedness in a tweet, saying "(Sunday night's) tornadoes in the suburbs near Chicago were a reminder to prepare ahead of time for severe weather. I've reached out to local officials in the tornado's path to offer all available state resources to assist residents and help overcome damage."
Sunday's storm also dumped a significant amount of rain on the area. Chicago's official weather station at O'Hare Airport recorded 1.85 inches, but totals were much higher elsewhere, with 2.62 inches of rain measured in Elk Grove Village and 2.75 inches in Lake Zurich.
In August 2020, an extremely rare tornado was reported within Chicago city limits.
Images of the devastation and the power of the storm were shared on social media.
#woodridge #tornado damage riiiiight in my neighborhood my poor dog would not stop shaking last night pic.twitter.com/5kl31CXaNh

— liz (@elizuhbethr) June 21, 2021
---
#Tornado touched down near us last night #Naperville We're safe with only a few things blow over, but wow! That was scary. pic.twitter.com/gnqLxRTdRq

— Ruth Day (@glasshill) June 21, 2021
---
Here's also a look at Correlation Coefficient, which can track debris that flies in the air.
This intense tornado that went through Woodridge and Naperville evidently had a debris signature on it for a good part of its life. #Tornado #ILwx https://t.co/Yk9O3A2ETl pic.twitter.com/pZeTagrXxz

— WxAtom (@gamercrazy179) June 21, 2021
---
Contact Patty Wetli: @pattywetli | (773) 509-5623 |  [email protected]