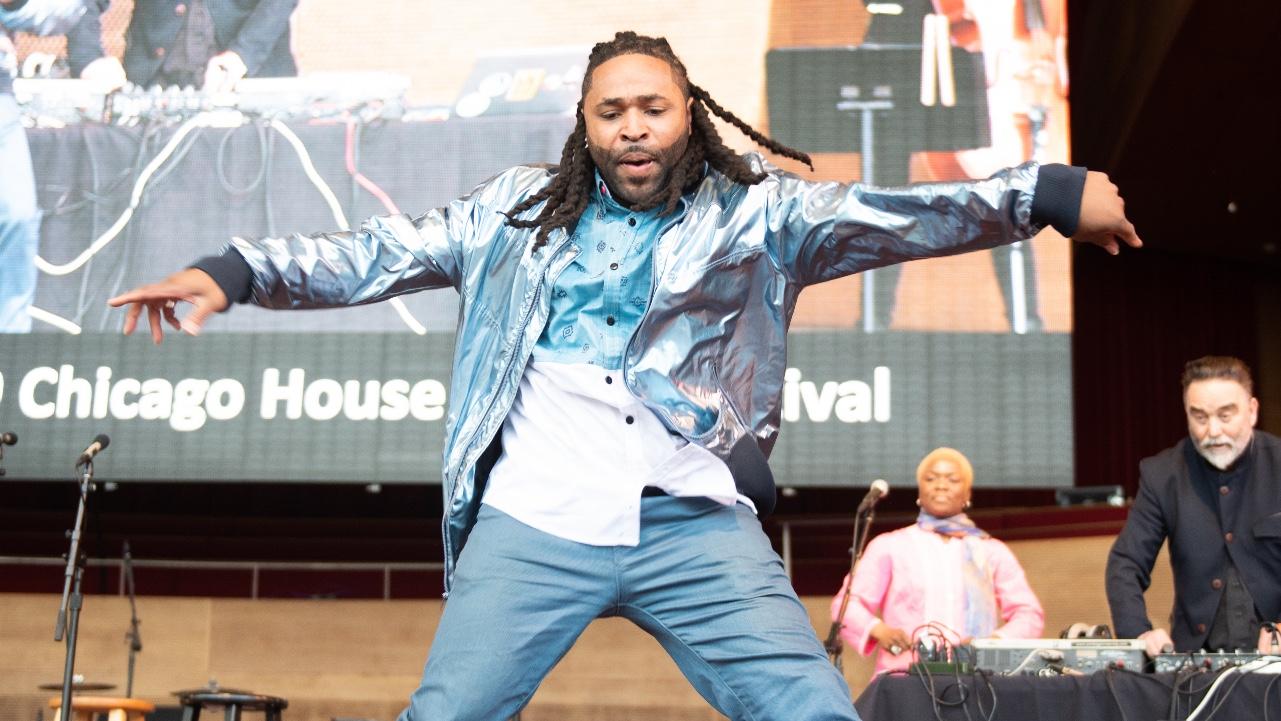 House music is returning to its neighborhood roots in 2021. (Courtesy of the Department of Cultural Affairs and Special Events)
House music is returning to its roots this summer.
As part of the city's reopening celebrations, the Department of Cultural Affairs and Special Events has announced a nine-part House City series. Free events are set to pop up in neighborhoods where the house music genre and culture sprung up in the early 1980s, led by pioneering DJ Frankie Knuckles, dubbed the Godfather of House.
The schedule, with ongoing updates available online:
— July 8 in Austin, 3-7 p.m., at Austin Town Hall Park, presented as part of Taste of Chicago To-Go. Featuring Slick Rick da Master, DJ Traxman x HouseofWurkz, DJ Deeon and Dance Down.
— July 16 in North Lawndale (location TBA), 4-7 p.m.: DJ Selah Sey. 
— July 23 in South Shore, 6760 S. Stony Island Ave., 3-9 p.m.: DJs Elbert Philips, Duane Powell and Lori Branch.
— July 31 on the Southeast Side (location TBA), 2-6 p.m.: House Kidz, hosted by Lizzie G and featuring DJ Kobe One Kenobi, House Dance Lesson and more.
— Aug. 14 in Humboldt Park (location TBA), 3-9 p.m.: Lugo Rosado, DJ Phatman and Julio Bishop, hosted by Yvette Magallon.
— Aug. 28 in Englewood, Kennedy-King College, noon-7 p.m.: Chosen Few DJs.
— Aug. 29 in Lakeview, 3-9 p.m., location and performers still to be announced. 
— Sept. 12 in South Shore, Rainbow Beach Park, 1-6 p.m.: Torin Edmond, Rae Chardonnay and DJ Kobe One Kenobi, hosted by Ronda Flowers with dance instruction from Boogie McClarin.
— Sept. 19 in Bronzeville (location TBA), 3-9 p.m.: DJs Mike Dunn, Daryll Mellowman and JStar, hosted by TheWayWeWere.
The neighborhood house series is one of the ways DCASE has "reimagined" its music festivals in 2021.  
READ: Taste of Chicago is Kinda-Sorta Returning With Pop-ups
As previously announced, formats for the city's gospel music, jazz and blues festivals are being revamped.
In lieu of multiday events, each of those music genres, as well as house music, will be celebrated during a free evening concert at Pritzker Pavilion in Millennium Park. All of the concerts will be held in September as part of "Chicago In Tune," a new citywide music festival running from Aug. 19 to Sept. 19.  
The gospel music concert is scheduled for Sept. 3, jazz for Sept. 4, house music for Sept. 11 and blues for Sept. 18. Each three-hour concert starts at 5:30 p.m. 
"Chicago's arts landscape has been devastated by the pandemic, but I'm excited to see our music clubs, theaters and festivals come back to life and energize Chicago," said DCASE Commissioner Mark Kelly in a statement. "The arts have suffered greatly, but culture is coming back to Chicago — big time."
Any remaining capacity limits imposed due to the coronavirus have been lifted for DCASE events. All summer events will adhere to the latest public health and safety guidelines, officials said, with mobile vaccinations at many city-sponsored events.
Contact Patty Wetli: @pattywetli | (773) 509-5623 |  [email protected]
---