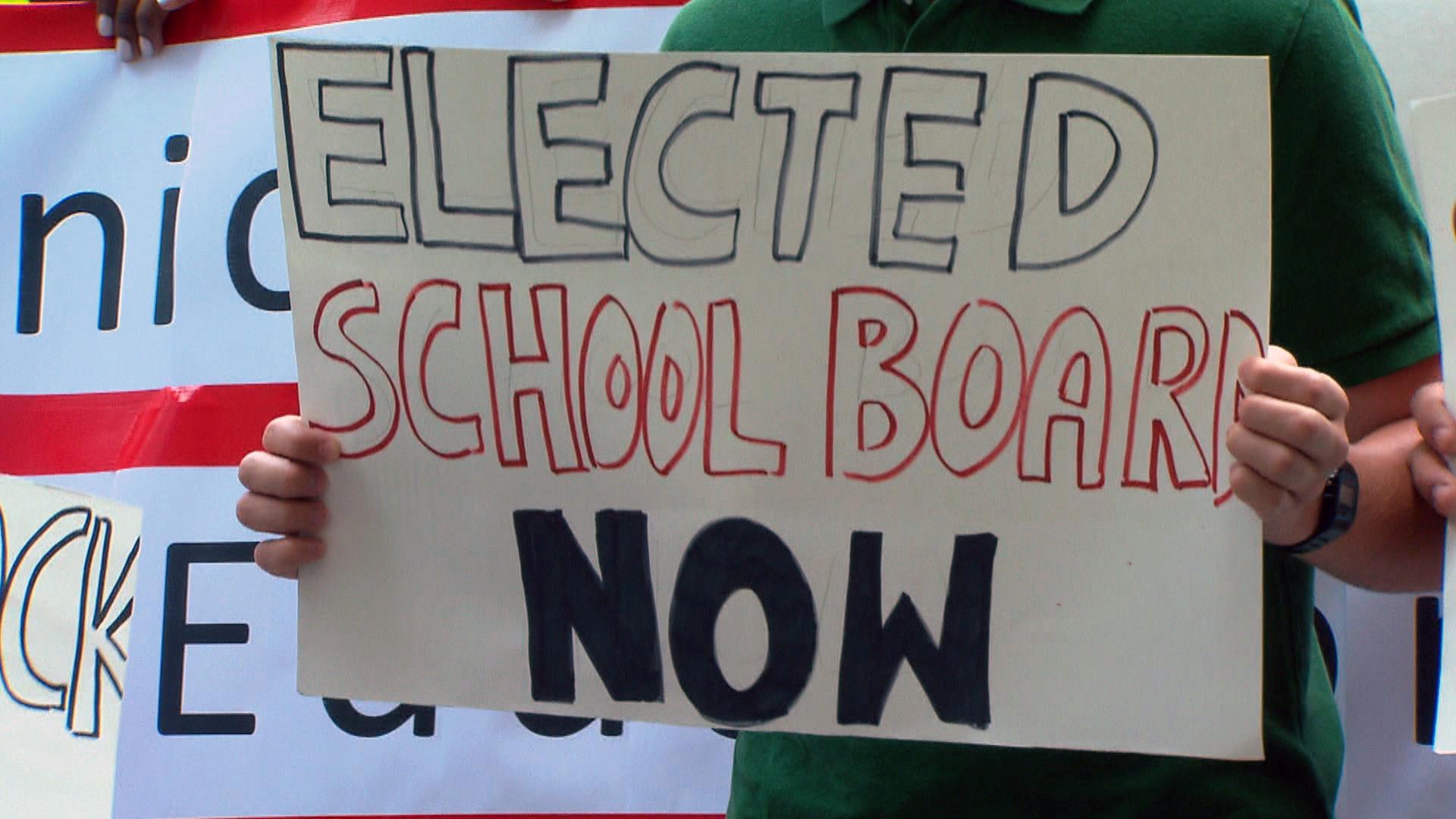 Supporters of an elected school board demonstrate in April 2019. (WTTW News)
As state lawmakers prepare to return to Springfield for a pivotal vote on whether Chicago Public Schools should be run by an elected school board, Mayor Lori Lightfoot asked members of the Illinois House to delay a vote approved by the Illinois Senate.
"We need more time to make sure that when we do this change, the change will come, that we do it in the way, that first and foremost supports our children who have been through a very, very difficult time with the remote learning," Lightfoot said. "That we do it in a way that empowers parents and gives them an actual seat at the table and that we continue the progress that has been made since mayoral control happened 20-plus years ago."
Lightfoot on Friday morning told WGN News that the bill set to be voted on by the Illinois House on Wednesday does none of those things.
"I'm fearful for the future of our children's education," Lightfoot said.
Lightfoot has less than three days to convince Democratic lawmakers to reject or revise the plan negotiated by state Sen. Robert Martwick, D-Chicago.
The Illinois House and Senate have voted several times dating back to 2016 to strip the mayor's control of the school district, only to see it blocked by former Gov. Bruce Rauner, a Republican. 
Gov. J.B. Pritzker, a Democrat, has said he favors an elected school board for Chicago.
During the 2019 mayoral campaign, Lightfoot backed a fully elected school board. But once she took office, Lightfoot said the board should be a hybrid — with some members elected, and some members appointed.
The Chicago Board of Education is the only board in Illinois that is not elected.
The bill that passed the Illinois Senate June 1 would set the first school board elections for 2024, with a fully elected school board in place by 2027. 
That would strip Lightfoot of control of Chicago Public Schools 26 years after the General Assembly gave former Mayor Richard M. Daley the power to run the district.
Under the proposal, Chicago would be divided into 10 separate electoral districts for the 2024 elections and into 20 districts for the 2026 elections. From January 2025 to January 2027, each district would be represented both by one elected member serving a four-year term and one appointed member serving a two-year term.
After those two-year terms expire in January 2027, each district would be represented by one elected member. Another candidate would run at-large in the 2026 elections to serve as board president.
The legislation also includes a moratorium on school closures in Chicago, a provision that Lightfoot has called "a mistake."
Lightfoot has suggested that the bill could complicate efforts to replace Chicago Public Schools CEO Janice Jackson, whose last day is June 30.
House Speaker Emanuel "Chris" Welch told the Chicago Sun-Times that he supports the bill and expects it to win the 71 votes it needs to pass and head to the governor's desk.
Matt Masterson contributed to this report.
Contact Heather Cherone: @HeatherCherone | (773) 569-1863 | [email protected]
---