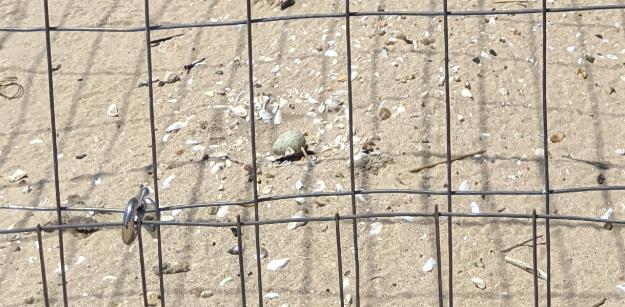 Monty & Rose are pinning their hopes on an egg laid in their second nest attempt. (Courtesy of Chicago Park District)
Chicago's plucky piping plovers, Monty and Rose, are unstoppable.
Just a week after losing their first nest and clutch of four eggs to a skunk attack, the pair has produced a second nest and laid (at least) one egg at Montrose Beach Dunes Natural Area, the Chicago Park District has announced.
Plovers typically lay three to four eggs.
Wildlife officials have placed a protective enclosure around the nest, with cameras. Monty and Rose are still able to move in and out of the enclosure freely, but the new structure is stronger and larger than the previous one breached by the skunk. 
The first enclosure met all U.S. Fish & Wildlife Service standards, the park district said, and had previously withstood a fox, families of raccoons and skunks, coyotes, rabbits and mallards.
"These events are just a few examples of the many challenges that this pair and all the remaining pairs of Great Lakes piping plovers must face to breed. Without our continued care and involvement even fewer would survive," park district officials said in a statement.
The Great Lakes piping plover population, once down to fewer than 20 breeding pairs, has rebounded, thanks to conservation efforts, to approximately 70 breeding pairs.
Monty and Rose are among the most celebrated plover duos, in no small part for having chosen a bustling urban beach on Chicago's lakefront as a breeding site in 2019. Their success story extends to a second generation, with one of the couple's 2020 chicks, Nish, now an expectant father himself. Nish and his mate Nellie are incubating four eggs at Maumee Bay State Park, along Lake Erie outside of Toledo, Ohio. It's the first piping plover nest in Ohio in more than 80 years.  
A team of volunteer plover monitors, working in pairs in two-hour shifts, is keeping a watchful eye on Monty and Rose and their nest. Both parents take turns incubating, and plover eggs typically hatch in 30 days. 
Contact Patty Wetli: @pattywetli | (773) 509-5623 |  [email protected]
---