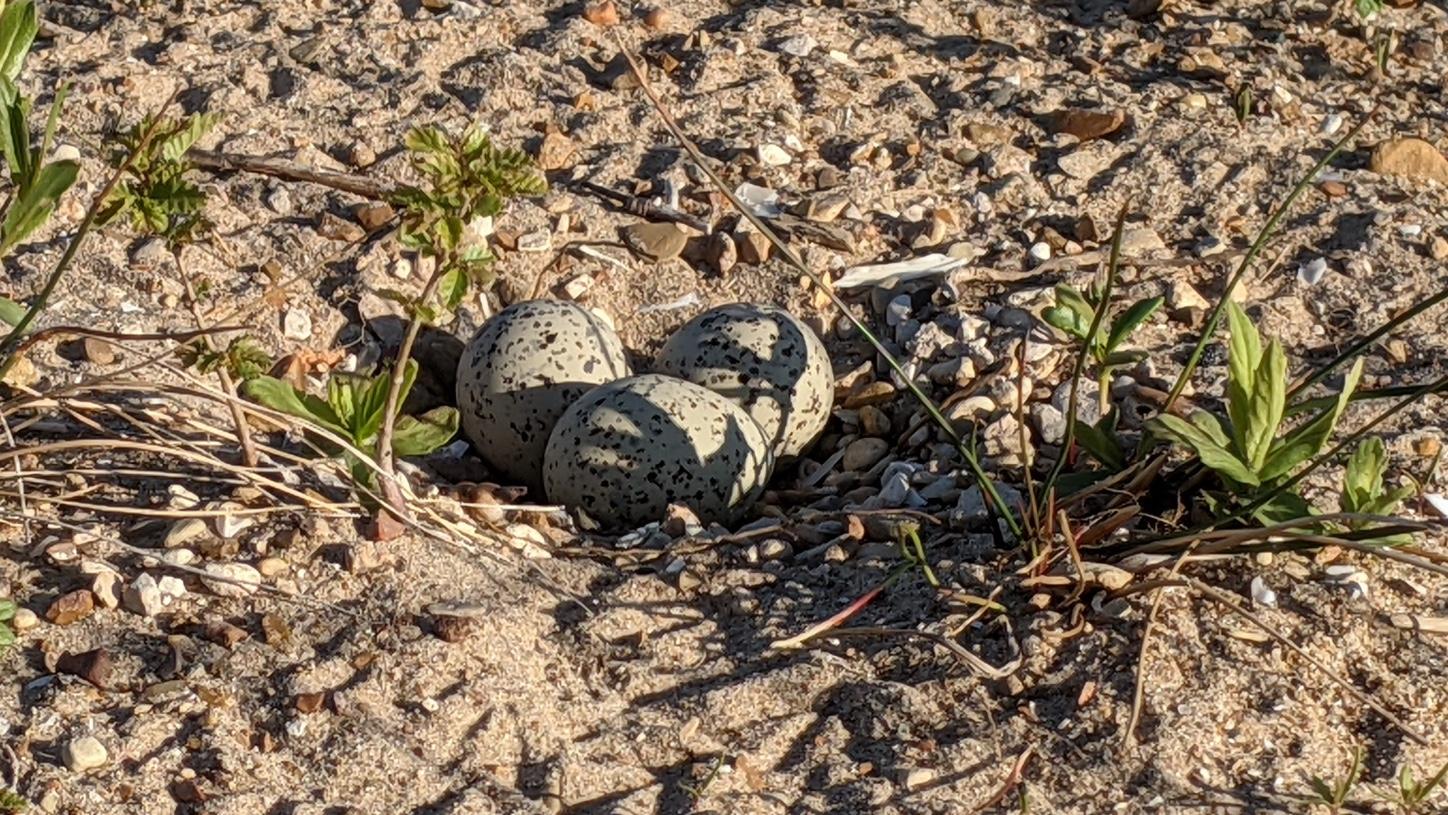 Monty and Rose lost their 2021 clutch of eggs to a skunk. (Courtesy of Chicago Park District)
The latest chapter in the saga of Chicago's beloved plovers, Monty and Rose, is a sad one, with wildlife officials reporting the couple's 2021 clutch of eggs has been lost to a skunk attack.
The skunk reached into the protective wire enclosure covering the plover nest at Montrose Beach and ate the eggs. Monty and Rose weren't harmed.
Plover monitors are hopeful the birds will build a second nest, and have already observed the plovers courting and scraping the sand for potential new nesting sites. In 2019, Monty and Rose lost their first nest to a flood and had a second within days. 
While the plovers are in the process of choosing a new nest location, the entire dune area will be closed to the public. Monitors said plans are in the works to build a larger enclosure if a second nest appears.
The devastating news came just as the birding community was celebrating exciting word out of Ohio that one of Monty and Rose's 2020 male chicks, Nish, had found a mate and was expecting. An egg was spotted in the pair's nest, established near Toledo. 
According to the group Great Lakes Piping Plover Recovery Effort, Nish's mate hails from Pennsylvania and descends from plovers who recolonized that state in 2017. So while Monty and Rose's loss is hitting Chicago hard, there are optimistic signs that the recovery of the piping plover population is gaining ground.
For the first time in 80+ years, Piping Plovers have a nest in Ohio!

BSBO will be posting a call for volunteer monitors very soon. We're communicating with all of the agencies as well as the wonderful team coordinating the monitoring program in Chicago. pic.twitter.com/7abMGW7bRA

— Black Swamp Bird Obs (@BSBOBIRD) June 1, 2021
---
Contact Patty Wetli: @pattywetli | (773) 509-5623 |  [email protected]