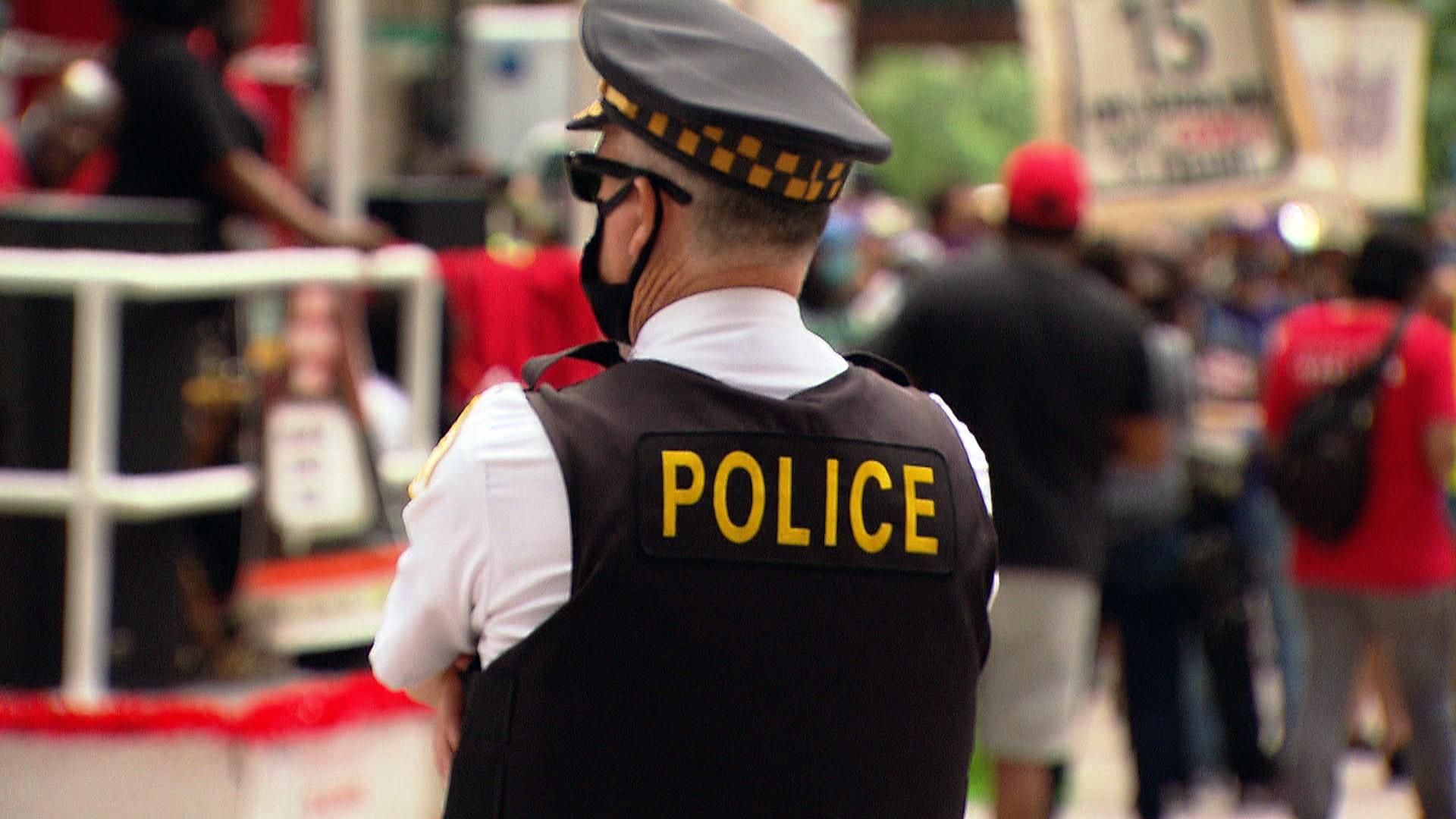 Demonstrators march in Chicago on Wednesday, June 24, 2020 to show their support for removing police officers from schools. (WTTW News)
Hailing the move as a "transformational moment" in the history of his department, Chicago Police Superintendent David Brown on Friday announced the launch of a new community policing strategy he said will center on engagement and building trust.
As part of the Chicago Police Department's Community Policing Strategic Plan, all officers will now engage in community policing, including new police liaisons who will work specifically with the LGBTQ+, homeless, immigrant and religious communities.
"Arguably, this will be the most significant commitment of effort, resources and leadership to building trust in (CPD's) history," Brown said. "This plan that we're rolling out today is the best way to reduce crime in Chicago." 
Angel Novalez, who was promoted Friday from community policing commander to deputy chief, said the police department has recognized that marginalized communities "needed their voices elevated" and that the CPD's relationship with these communities "was not what we wanted them to be."
Dedicated officers were chosen to act as liaisons in these specific communities, Novalez said, based on their lived experiences or their academic background, and they will "support and advocate" each individual community.
"There is nothing more powerful than when someone shows up to problem-solve or to advocate for someone that they can truly say they understand," he said. "I've been there. That's incredibly important to that person receiving that service."
The CPD is also expanding its existing Neighborhood Policing Initiative — in which dedicated officers work directly with local residents to resolve public safety issues — into additional districts on the South and West sides.
"These districts are communities where our investment and our relationship building is the most important," Novalez said.
And the department will focus on youth engagement through a new athletic and arts league that will exist across all neighborhoods in the city.
Brown said the department is taking a "big swing" with its new moves, claiming it has "never been this aggressive" with community policing. While the CPD has struggled to meet specific deadlines included in the federal consent decree, Brown said the new liaison positions go "above and beyond" what is required from them. 
During his tenure as superintendent, Brown has at times been critical of judges and the legal system for failing to keep violent offenders locked up following their arrest. On Friday, he said he's learned throughout his career that community policing, not mass incarceration, is "the only way to reduce crime."
"It's the only way to police," he said, "that policing is best done with the community involved."
Contact Matt Masterson: @ByMattMasterson | (773) 509-5431 | [email protected] 
---