A skateboarding program that kicked off during the COVID-19 pandemic is giving young Chicagoans a chance to learn new skills and valuable life lessons.
Last fall, the Chill Foundation, a nonprofit founded in 1995 by the company Burton Snowboards, launched the program with the Boys & Girls Clubs of Chicago, a local youth organization that focuses on academic success, healthy lifestyles and civic leadership.
"Our overall mission is to teach children how to overcome challenges through boardsports," said Spencer Cotton, Chill Foundation's Chicago program coordinator. "We understand that in Chicago there may be a lot of challenges, different economic situations and socioeconomic things that may be challenging, but here at Chill, our goal is to help them push through that and if they can see that they can do that on a board, then why can't they do that in regular life?"
The first session started in November in East Garfield Park after Louis Vuitton artistic director and Off-White fashion label founder Virgil Abloh donated 25 custom skateboards and protective gear to Boys & Girls Clubs members for use during the program.
READ: Go Grind! Chicago Skateboard Camp Shows Kids the Basics in City Skate Parks
The spring session, which wrapped up Wednesday, took place at the Louis L. Valentine Boys & Girls Club in Bridgeport. Temaris Dennis, the club's art instructor, was learning alongside students last week.
"They do look to adults for inspiration and just seeing me be brave enough to attempt getting on the board," Dennis said. "I wouldn't say that's the first thing that got them on the board, but it'll definitely have them getting back on the board, like, 'Oh, Temaris is trying it, then I'll try it too,' like there's nothing to be afraid of."
While instructors from Chill and the Boys & Girls Clubs offer specific lessons — like learning how to pop the skateboard while riding it and grinding the board along a low rail — they also instill values of perseverance, respect and kindness.
Toni, a 9-year-old student, said she's catching onto the sport and its spirit.
"It helped me a lot to become more brave," Toni said. "Because at first, I kept on falling off the skateboard and I was kinda scared, but one of the teachers told me that falling is part of learning, so I feel good now and I know how to skateboard properly."
---
More on this story
Spencer Cotton said this summer, the Chill Foundation will host a skateboard program at the Dr. Martin Luther King Jr. Club in East Garfield Park and plans to return to the Louis L. Valentine club in Bridgeport and other Boys & Girls Clubs in Chicago.
Follow Evan Garcia on Twitter: @EvanRGarcia
Below, more photos from our visit to the program.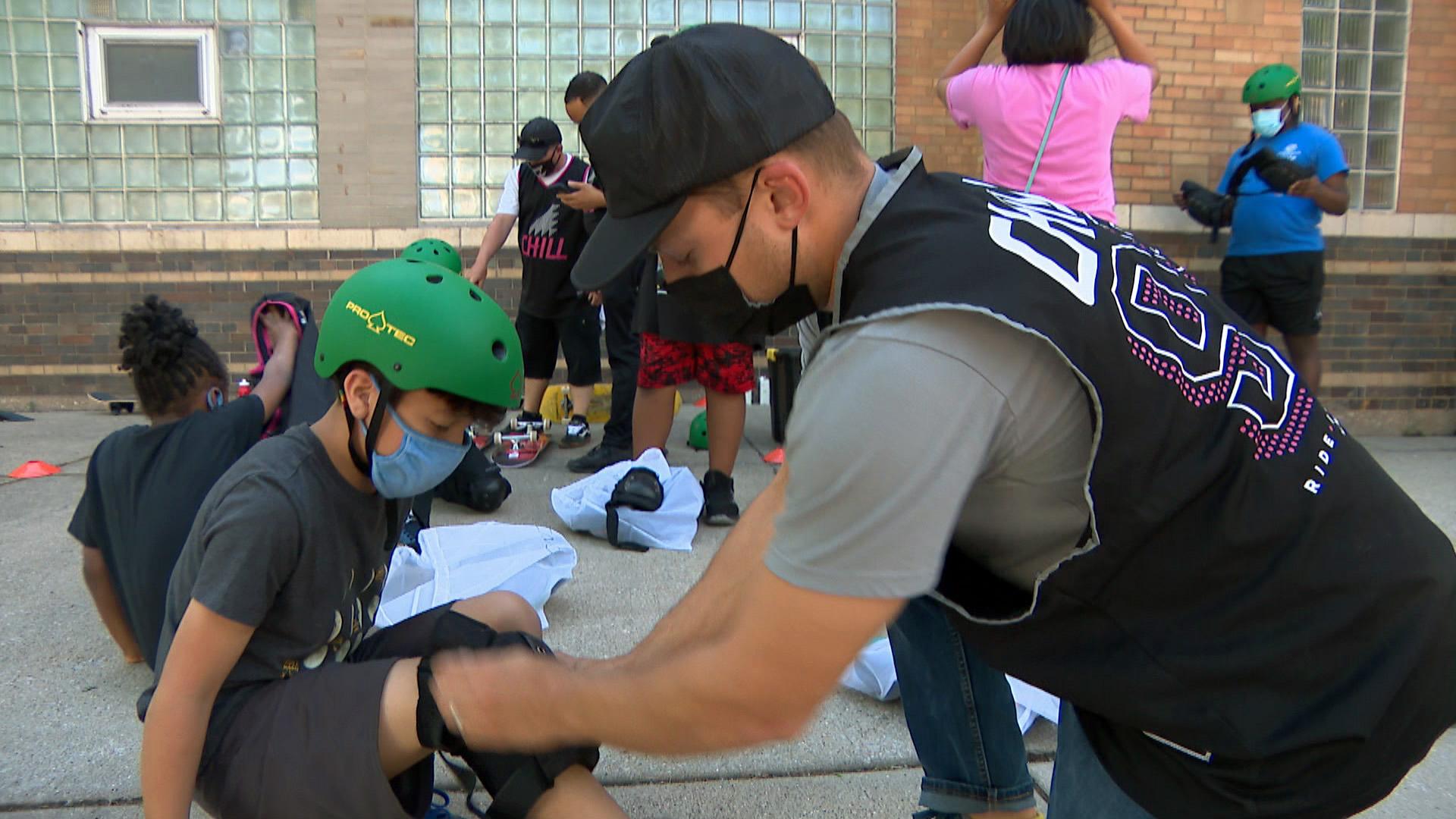 An instructor straps protective knee pads onto a participant of the Chill Foundation's spring skateboard program at Louis L. Valentine Boys & Girls Club on May 26, 2021. (WTTW News)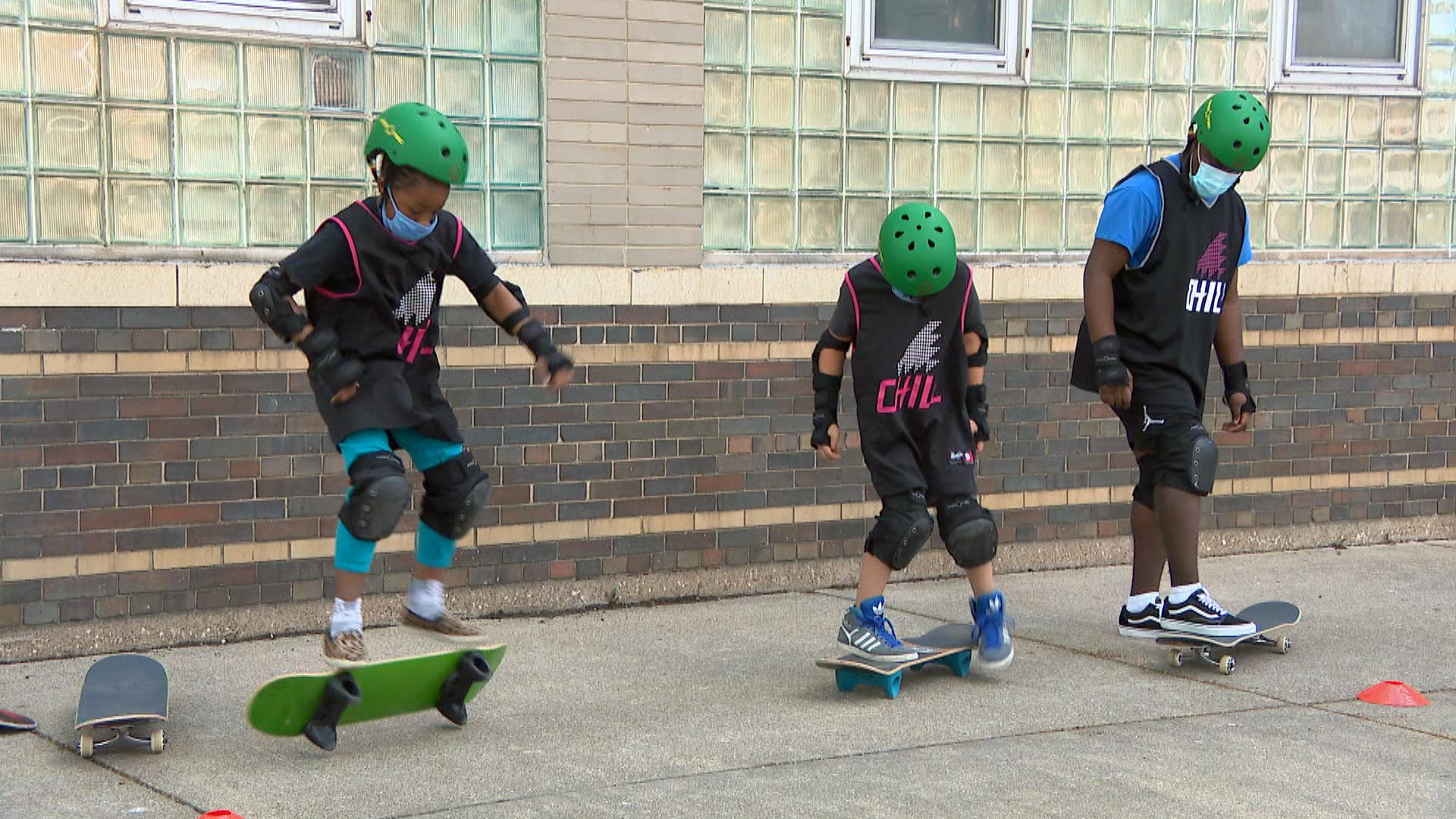 Toni A., left, flips her skateboard while receiving instruction from Temaris Dennis, right, the art instructor of the Louis L. Valentine Boys & Girls Club, on May 26, 2021. (WTTW News)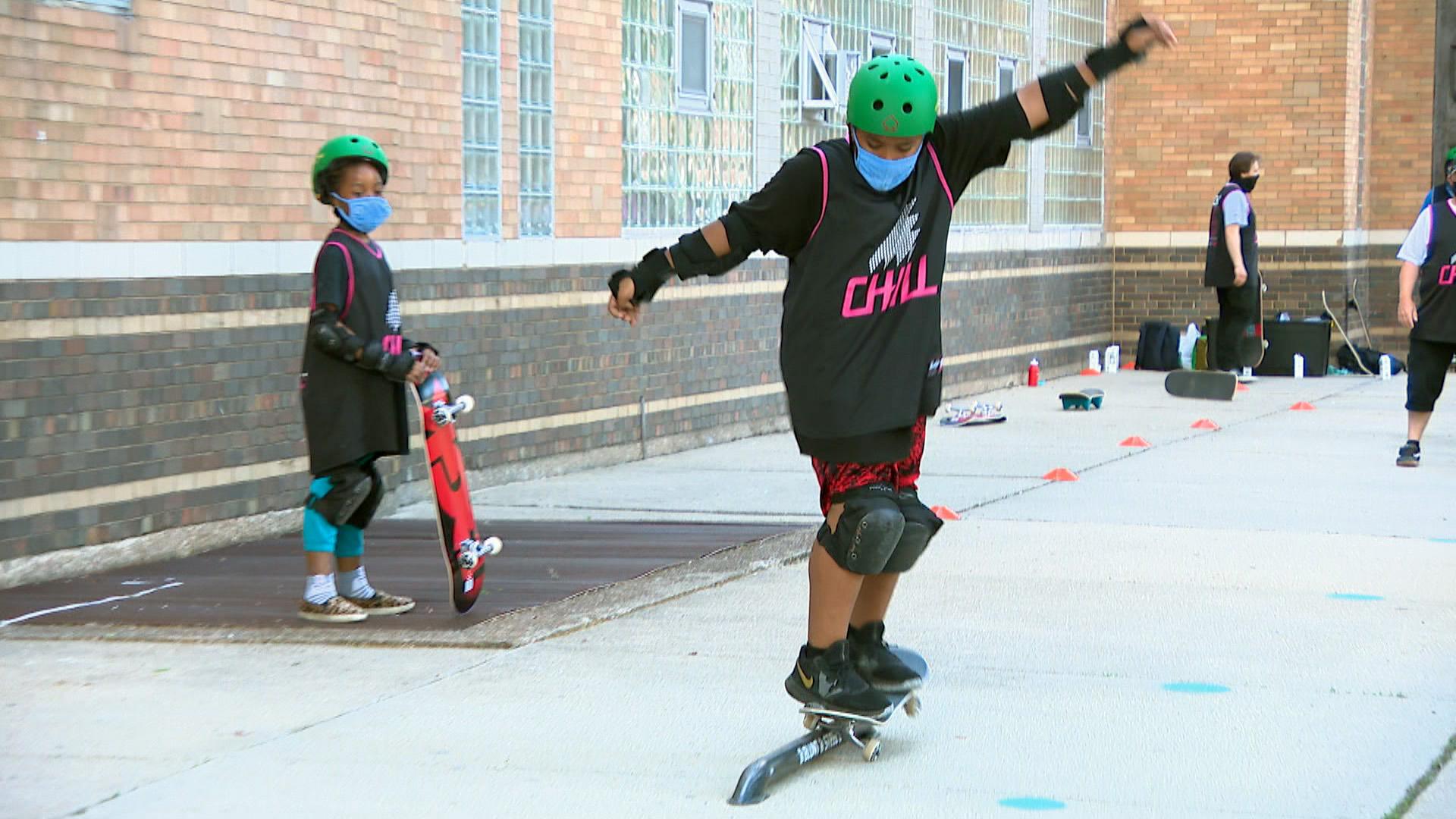 Marcos M., 10, grinds on a rail while skateboarding at the Chill Foundation's spring skateboard program held at Louis L. Valentine Boys & Girls Club on May 26, 2021. (WTTW News)