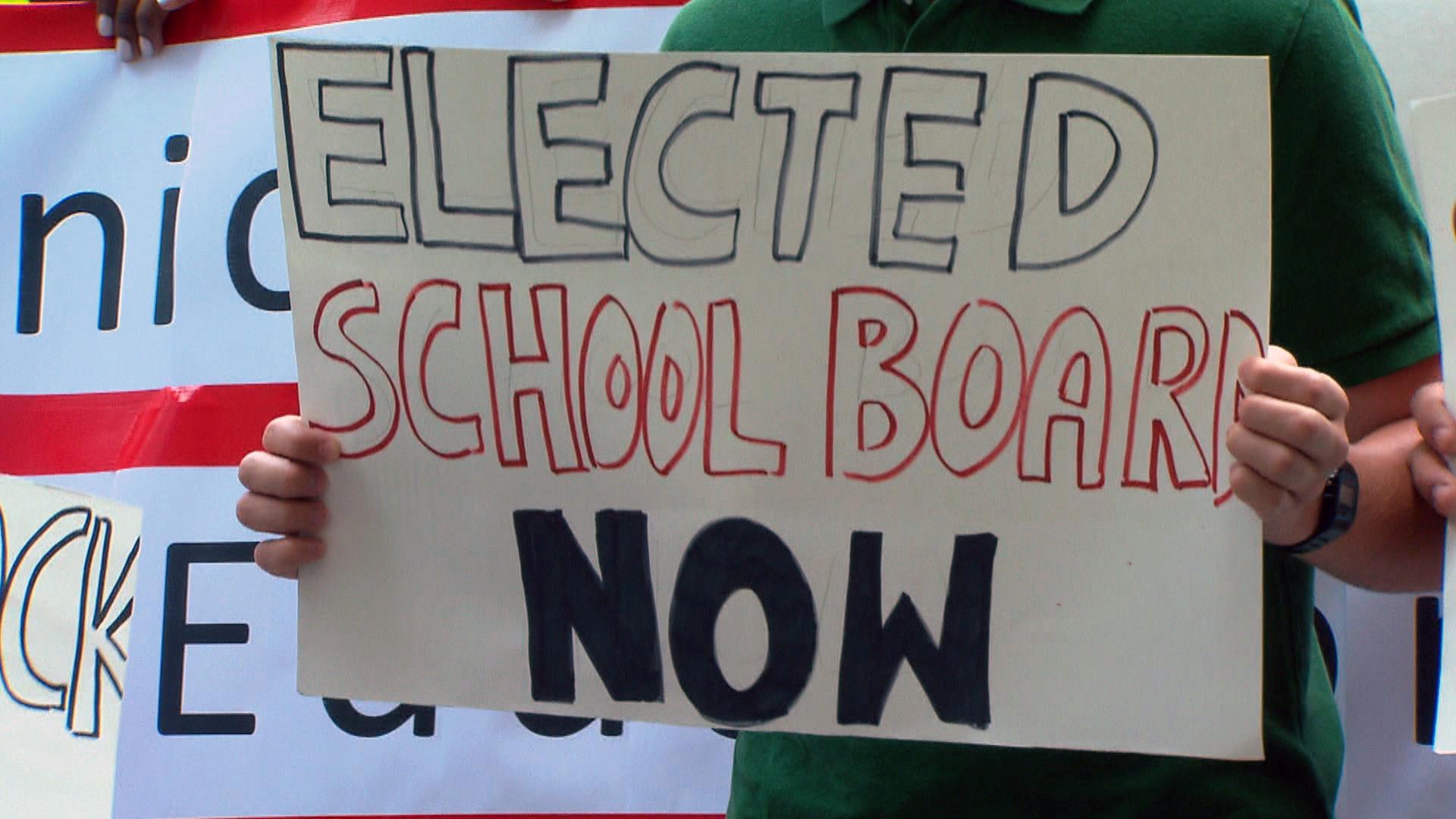 Supporters of an elected school board demonstrate in April 2019. (WTTW News)
Republicans were in control of state government in 1995, when a change in Illinois law gave the mayor of Chicago the authority to appoint board members to run the city's school district.
Fast forward to 2021, and Republicans – who no longer control the governor's office, state Senate or House – continue to favor that setup.
House GOP Leader Jim Durkin, of Western Springs, said he believes in local control, but not when the Chicago Teachers Union is part of the equation.
"I don't believe that the CTU should take over the Chicago school board. It is a dangerous situation," Durkin said. "I'm not going to give it over to a group of activists who have nothing but … their only desire is to win the mayor's office."
Durkin said that wouldn't be right for Chicago taxpayers or their children.
There are no Republicans in Chicago's delegation to Springfield. Former Rep. Mike McAuliffe was the only Chicago Republican member of the Illinois House when he retired in 2019.
Durkin's comments, in response to a question on "Chicago Tonight," came as a CPS elected school board is close to becoming a reality.
The concept cleared a major hurdle Tuesday, when the Illinois Senate, on mostly partisan lines, passed legislation (House Bill 2908) that would transition CPS to an all-elected school board by 2027.
The board would have a hybrid makeup, with some members appointed with consent of the City Council, and others elected, until then.
The measure's House sponsor, Rep. Delia Ramirez, D-Chicago, said in a statement that although the proposal "does not set a timeline that I would have wanted or that Chicagoans deserve" because of protections, like a moratorium on school closures, she will work to pass the plan when the House next convenes.
The CTU backs an elected board.
The union signed onto a letter with some 50 other organizations in April, that reads in part: "The families we serve, and the neighborhoods in which we live and work, have been harmed by decades of unelected school boards. The destruction includes: closure of scores of schools, including 49 schools in 2013 alone, privatization of services with a decline in quality, failures in meeting the needs of students in experiencing homelessness, failures in educating special education students resulting in a state takeover of CPS' special education department, corruption scandals involving two CEOs, adoption of risky financial schemes like toxic interest-rate swaps, disparate discipline outcomes for students, and increased police school presence, to name a few."
Follow Amanda Vinicky on Twitter: @AmandaVinicky
---