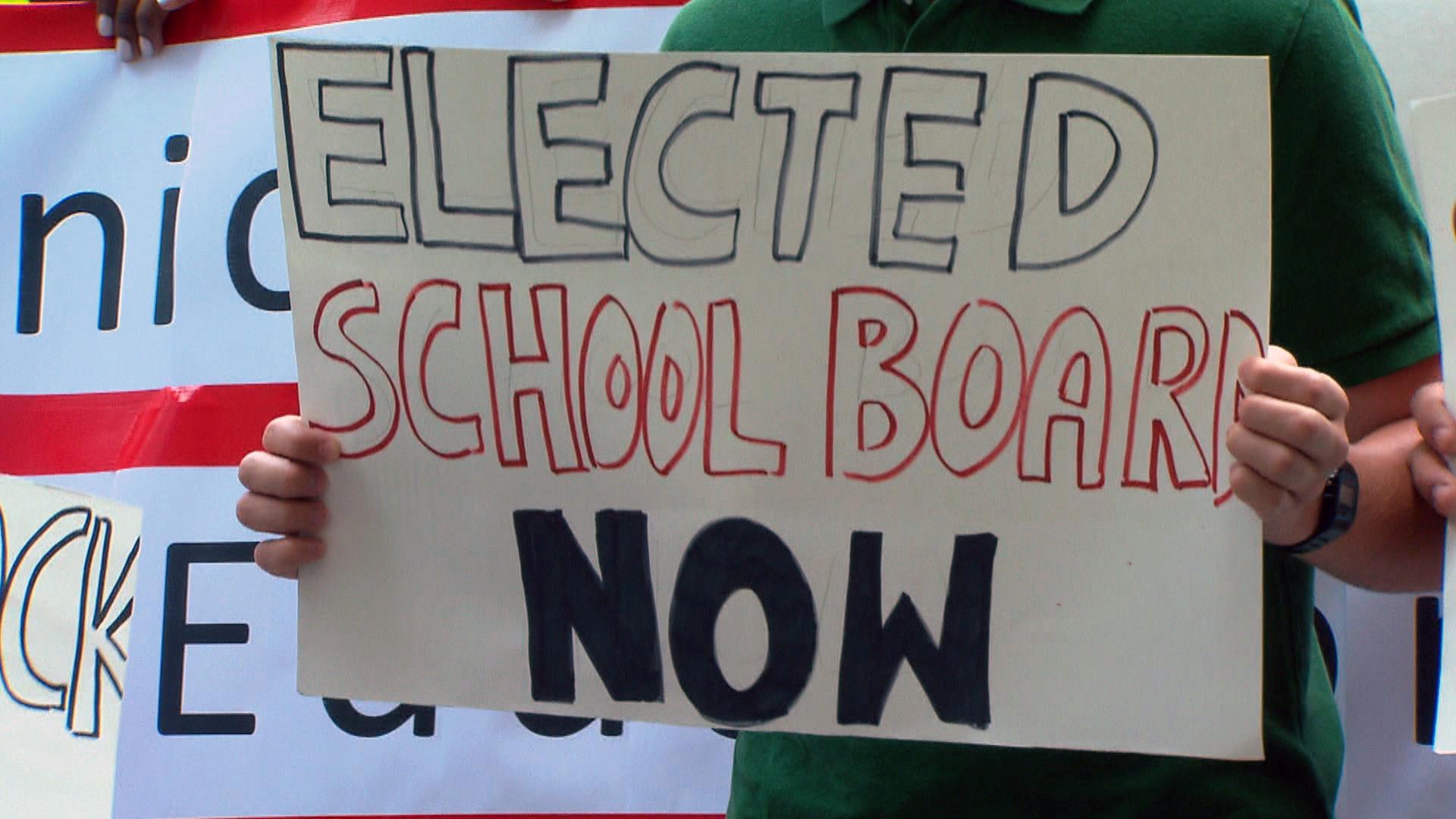 Supporters of an elected school board demonstrate in April 2019. (WTTW News)
The city of Chicago could begin holding elections for seats on the Board of Education as soon as 2024, with a fully elected school board in place by 2027, under legislation approved Tuesday evening by the Illinois Senate.
More from Springfield: Illinois Lawmakers Pass Budget, Ethics Reform
Chicago Public Schools is currently the lone district in Illinois with a school board appointed by the mayor. But under the new bill, the Chicago Board of Education would transition, first in 2025 to a hybrid board made of elected and appointed members, before fully transforming into an elected body by 2027.
The bill was approved by the state Senate with 36 yeas, 15 nays and two members abstaining. It will now go back to the Illinois House for another vote. 
Under the legislation, Chicago would be divided into 10 separate electoral districts for the 2024 elections and into 20 districts for the 2026 elections. From January 2025 to January 2027, each district would be represented both by one elected member serving a four-year term and one appointed member serving a two-year term.
"A 20-member board ensures that every corner of the city has the ability to elect someone that they know, who has worked in their community, has been involved in (local school councils) and has been involved in PTAs and has been involved in community groups and neighborhood groups and their participation matters more than their money," bill sponsor and state Sen. Rob Martwick, D-Chicago, said during a committee hearing Tuesday.
Beyond being handpicked by the mayor, appointed board members would also need to receive the "consent of the City Council," according to the bill.
After those two-year terms expire in January 2027, each district would be represented by one elected member. Another candidate would run at-large in the 2026 elections to serve as board president.
The legislation also includes a moratorium on school closures in Chicago.
Chicago's mayor has had control over school board appointments since 1995 when the Chicago School Reform Act was adopted — eliminating a nominating committee that would screen and select candidates for mayoral approval.
Advocates of an elected school board have fought that change for years, arguing that it's undemocratic to allow the mayor to control appointments. House lawmakers in years past have voted overwhelmingly in favor of a change to an elected body, but various bills failed to make it through the Senate and to the governor's desk.
As a candidate, Mayor Lori Lightfoot supported an elected school board, but she has since expressed support instead for a hybrid model. Sybil Madison, Chicago's deputy mayor for education, told legislators Tuesday the city believes this bill was "rushed" and is "flawed in ways that could have grave consequences for our students."
Current board President Miguel del Valle, who was appointed by Lightfoot following her election in 2019, testified about the bill during a committee hearing Tuesday, saying he's in favor of an elected school board, but expressed concerns about the size and potential negative influence of campaign finances in board member races.
Detractors of an elected board have often pointed to school board races in Los Angeles, where millions of dollars are spent backing special interest candidates.
"So much money being poured into races means that the average person, the average parent who should be running for a school board seat gets shoved aside, pushed aside, doesn't stand a chance," del Valle said. "This cannot be a school board that's torn between loyalty to the unions and loyalty to the corporate sector and the charter schools. It has to be a board that responds to all sectors."
Contact Matt Masterson: @ByMattMasterson | [email protected] | (773) 509-5431
---