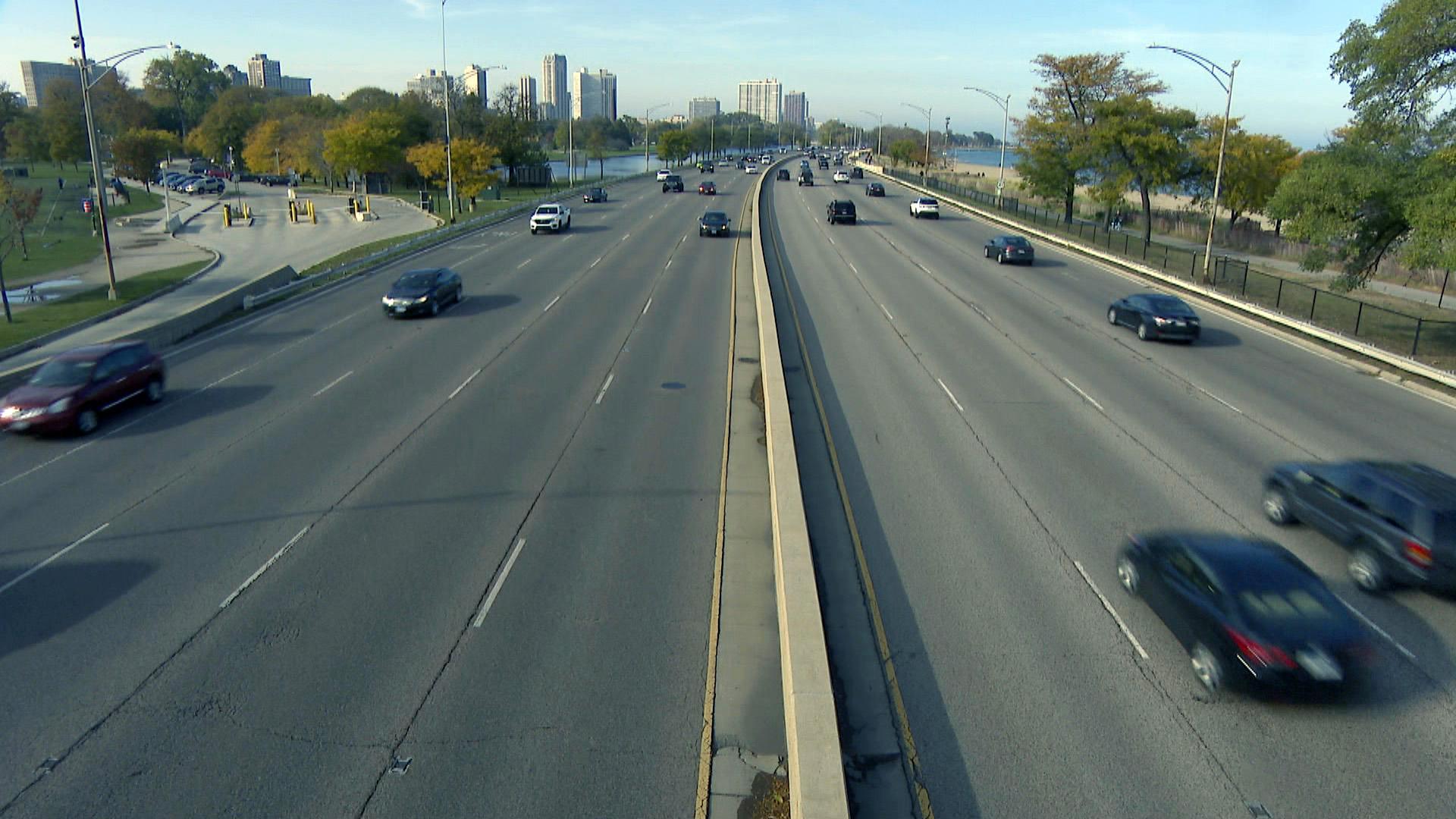 (WTTW News)
No residences would need their addresses changed if outer Lake Shore Drive is renamed DuSable Drive, but the Field Museum, the Shedd Aquarium, the Adler Planetarium and the Museum of Science and Industry would, according to an analysis by the Chicago Department of Transportation that was shared with aldermen.
The analysis surfaced as part of a series of emails between Ald. Sophia King (4th Ward) and Ald. Brian Hopkins (2nd Ward) after Wednesday's cacophonous City Council meeting. King, one of the lead sponsors of the push to honor Jean Baptiste Point DuSable, Chicago's first permanent non-Indigenous settler, asked Hopkins why he used a parliamentary maneuver to block a vote on the controversial measure.
Hopkins told WTTW News he joined Ald. Ariel Reboyras (30th Ward) in preventing a vote Wednesday because he had been inundated with complaints from residents of seven buildings — 505 N. Lake Shore Drive, 500 N. Lake Shore Drive, 520-30 N. Lake Shore Drive, 474 N. Lake Shore Drive, 600 N. Lake Shore Drive and 400 N. Lake Shore Drive — who do not want to have their addresses changed, forcing them to change legal documents and get new government-issued identification cards.
"There is no inner drive at that point, so all these buildings would appear to be directly impacted by any name change to the Outer Drive," Hopkins said. 
But an analysis from Chicago Department of Transportation Public Way Unit Manager Bill Higgins found that no residences would be impacted by the proposed name change.
"I'm unsure about CDOT's statement that these buildings don't have to change their address. If your address is on a street and that street name changes, you just ignore the change? Is that what is being suggested?" Hopkins said.
The residents of those buildings have shared "extensive and vehement" objections to the renaming, Hopkins said.
While those buildings would not be impacted by the change to DuSable Drive, four of Chicago's museums would have to change their addresses, along with McCormick Place and six facilities owned and operated by the park district, including DuSable Harbor at 111 N. Shore Drive, according to CDOT's analysis.
A spokesperson for CDOT Commissioner Gia Biagi did not respond to a request for clarification about Higgins' analysis.
The Metropolitan Pier and Exposition Authority, which operates McCormick Place, declined to comment on the potential address change in response to a request from WTTW News, as did the Field Museum. Representatives of the Museum of Science and Industry and the Adler Planetarium did not respond to a request for comment.
However, before the City Council's Transportation Committee considered the proposal to rename Lake Shore Drive at a raucous hearing in April, representatives of the museums were told that all four of their addresses were grandfathered in when Lake Shore Drive was rerouted decades ago to reduce crashes, sources told WTTW News. 
That would put the Shedd Aquarium and Adler Planetarium on Solidarity Drive, the Field Museum on McFetridge Drive and the Museum of Science and Industry on 57th Street, sources said. 
That leaves museum officials unsure about what the name change would mean for them, sources said.
However, Andrea Rodgers, the senior vice president for external affairs and marketing for the Shedd Aquarium, said an address change would come at a significant cost that the Shedd would struggle to cover after the COVID-19 pandemic forced it to close to visitors for much of the past year.
"We are disappointed there has not been a clear process to either gain information or provide input," Rodgers told WTTW News. "Following devastating pandemic-driven financial loss and business disruption, a name change of any kind will require significant economic investment and staff resources further straining our organization at a very difficult time. This includes but is not limited to changes to hundreds of legal documents."
King and Ald. David Moore (17th Ward), the lead sponsor of the proposal, have repeatedly said that limiting the change to outer Lake Shore Drive would only force harbors to change their addresses.
The renaming push has been complicated by the fact that outer Lake Shore Drive is not defined in the city's code. The proposed ordinance would rename 17 miles between Hollywood Avenue in Edgewater and 67th Street in Woodlawn.
After Wednesday's City Council meeting, Lightfoot said Lake Shore Drive is an "iconic" name that should be preserved in total.
"When you say Lake Shore Drive, people know you're talking about Chicago," Lightfoot said. "And I think that's very important."
Lightfoot also acknowledged that it was "way past time, that as a city, to formally take steps to formally take steps to recognize, in a permanent way, the incredibly important role that DuSable played in the founding of the city."
Lightfoot renewed that effort Thursday by again proposing that a better way to honor DuSable and his wife, Kitihawa, a member of the Potawatomi tribe, would be to complete the long-delayed DuSable Park along the Lakefront and connect it to a Riverwalk renamed in DuSable's honor. Three statues would mark the way, Lightfoot said. 
When Lightfoot first made that proposal, it was ignored by aldermen and dismissed by Moore as irrelevant to the discussion of renaming Lake Shore Drive.
The city will also host an annual DuSable Festival to celebrate the legacy of DuSable and Kitihawa, Lightfoot proposed. 
Lightfoot said that would cost $40 million, with $10 million coming from Related Midwest for the long-delayed completion of DuSable Park on a 3.3-acre peninsula adjacent to the planned towers. Former Mayor Harold Washington proposed creating the park to honor DuSable.
Related Midwest agreed to that contribution as part of the agreement with the city to build two towers with 1,100 units along the Ogden Slip west of Lake Shore Drive. The two towers would rise 875 feet and 765 feet — a far cry from the original plan for the site, which called for the Spire to be the tallest building in the United States and the third tallest in the world.
The city's contribution would come from "a variety of sources, including, but not limited to open space impact fees, the capital plan and the city's corporate budget," said Asha Binbek, a spokesperson for Lightfoot.
Contact Heather Cherone: @HeatherCherone | (773) 569-1863 | [email protected]
---