Known as Paseo Boricua, Division Street in Humboldt Park has been the heart and soul of Chicago's Puerto Rican community for decades.
But the area has been impacted in recent years by gentrification and displacement of some longtime residents, as rents rise and luxury buildings sprout up on its borders. 
Interactive map: More from our community reporting series
As the neighborhood eyes a recovery from COVID-19, local leaders want to ensure the people who've called the neighborhood home for generations can stick around.
That's especially true for the people behind Paseo Boricua's dozens of murals: local artists. But for many in the arts, making ends meet can be tough. 
To help artists stay in the area, a new building going up on Division Street will feature 24 units of affordable housing, made up of live-work spaces, a gallery, and retail space including a wine and spirits bar.
The project has been in the works for more than a decade and a half, and it's been driven by Eduardo Arocho, a Humboldt Park native working with the Puerto Rican Cultural Center who says gentrification's not going to easily erase this community.
"A project like this is going to make sure we're going to be around for a while as a community. It's going to be an economic anchor to stimulate not only the longtime businesses here but create new businesses, and allow longtime artists to consider Paseo Boricua, Humboldt Park, their home," Arocho said.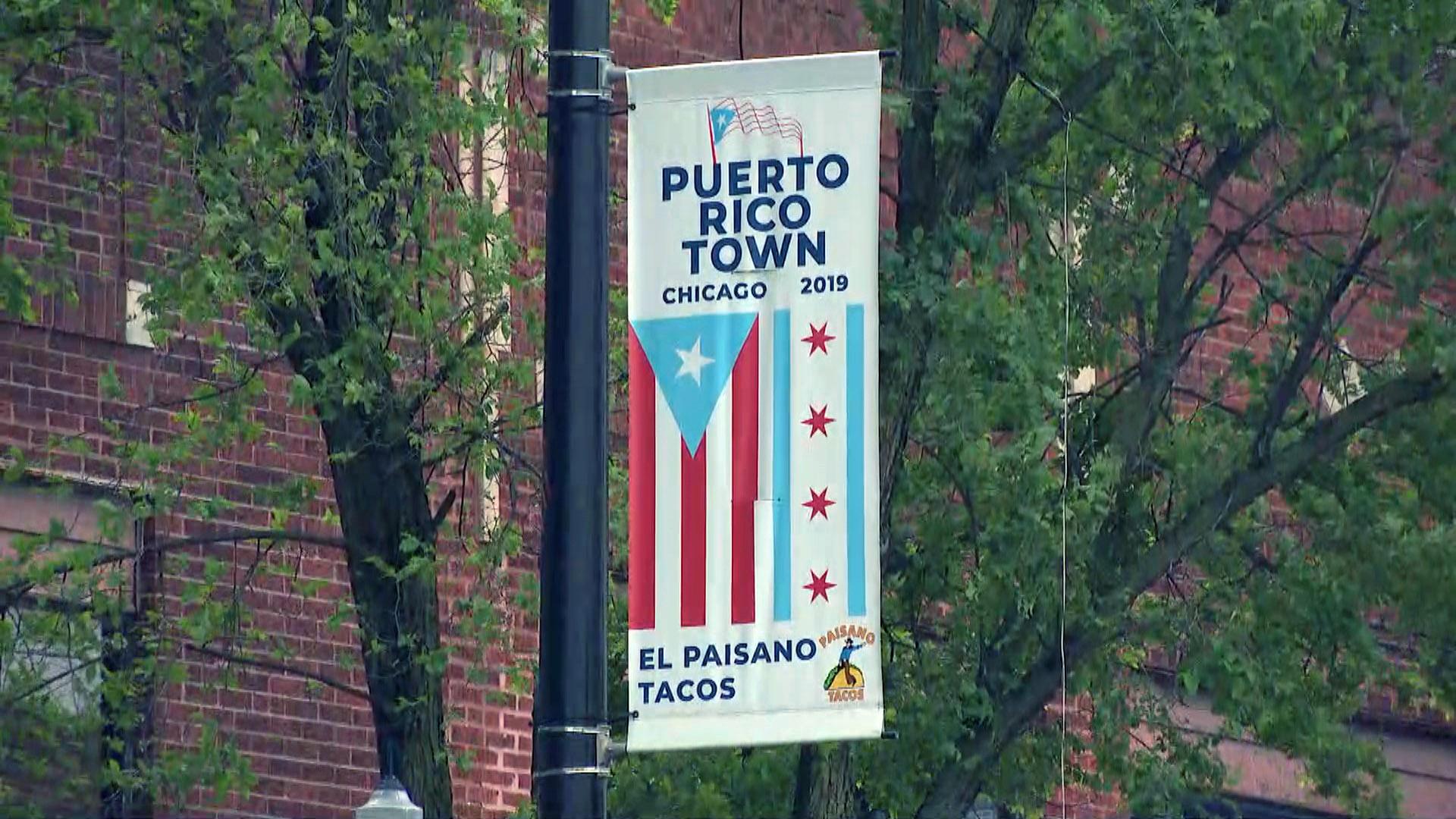 (WTTW News)
The building will also be the new home of Urban Theater Company, currently located just down the street. 
Co-founder Ivan Vega says the company's mission is to represent its community, especially for young people in the audience who might not think theater is for them at first.
"If they don't see Black and brown faces onstage, they cannot relate to the work. And it is uber important that we make sure these stories are accessible. And when we have that access for our youth, we automatically grab them," Vega said. "Theater is transformative, and through theater we can really stay connected not only to the work but to our community as a whole." 
A short walk from the theater is the Lolita Lebron Family Learning Center, where young parents can drop off their children so they can attend Pedro Albizu Campos high school next door. 
Administrators say COVID-19 has been difficult for many students, as they deal with remote learning while still needing to work to support their families. 
"Young people right now are dealing with a lot. There's a lot of anxiety, a lot of fear, and they tend to be strong and they're going to be resilient, but they need to talk about their feelings," said Melissa Lewis, principal at Pedro Albizu Campos. "We need to model what does that look like and how do you have honest conversations." 
Video: Watch our full interview with Melissa Lewis, principal at Pedro Albizu Campos High School
---
On the western edge of Humboldt Park, Chicago Youth Centers runs programs for children ages 15 months to 5 years old. Director of early childhood education Talina Carter says that as the pandemic hopefully winds down, the organization is doing everything they can to keep children safe, and their development on track. Carter is the director of early childhood education for Chicago Youth Centers
"The teachers feel great about the recovery and coming back and welcoming [children]. We're still here, we're still here to serve families, provide those intentional early childhood experiences in an early learning environment that's safe for all," Carter said. 
Video: Watch our full interview with Talina Carter director of early childhood education for Chicago Youth Centers 
---
Back on Paseo Boricua, Honeycomb Network co-founder Cristina Gutierrez is also thinking about education and wellness, with an eye toward inclusion. Honeycomb is a boutique apothecary and coworking space that offers things like mental health resources and workshops on herbalism.
"There are a lot of spaces that are white-led, and don't create safety for folks that are unpacking things around wellness," she said. "We are a coworking space, but many of the people that co-work here are working in the community, doing outreach, working on things that have challenges around them. So the feedback I've had consistently from people that come here is … that they feel so safe here."
Honeycomb opened in October 2020, and despite the challenges of the pandemic, Gutierrez is proud to say it was 100% community supported. 
That was the message from Eduardo Arocho too, who said a lot of people had to come together to make the Paseo Boricua Arts Building happen.
"We don't all have J-Lo money, but it took us, with a lot of determination it took us 12 years to get the financing just to make this happen," he said. "It's been talked about many years, but now it's finally happening, and I think it's bringing a lot of hope to a lot of the businesses and a lot of the people who come here for services, and it's making a lot of people happy." 
---
Community Reporting Series
"Chicago Tonight" is expanding its community reporting. We're hitting the streets to speak with your neighbors, local businesses, agencies and leaders about COVID-19, the economy, racial justice, education and more. See where we've been and what we've learned by using the map below. Or select a community using the drop-down menu. Points in red represent our series COVID-19 Across Chicago; blue marks our series "Chicago Tonight" in Your Neighborhood.
---