One year ago, the world watched a horrific, pivotal video of George Floyd gasping for air under the knee of former police Officer Derek Chauvin in Minneapolis.
Floyd's death sent a nation of people in quarantine out into the streets in mass protests. Major corporations issued statements in support of Black Lives Matter. Politicians promised a new direction.
A year later, some activists argue there is more work to be done to reach equity and social justice for Black and brown people.
Todd Belcore, co-founder and executive director of the national nonprofit Social Change, says when it comes to corporations and philanthropy, evidence of true commitment has been a mixed bag over the last year. 
Some organizations have "gone above and beyond to make sure they're listening," he said, but "other companies have presented us what they're going to do for us without allowing us to actually weigh in and share the needs, concerns and the real issues that people are dealing with." This take-it-or-leave-it approach "from the same corporations that have these glowing Black Lives Matter sort of statements — there's a disconnect there," he said.
Tanya Watkins, executive director of the South Side community organization Southsiders Organized for Unity and Liberation Chicago, says the last year has been an amplification of the work her organization does.
"There were lots of new folks engaging with our organization as well as organizations all across the city and all across the country that have been really struggling to get this message around police violence out for a very long time," she said.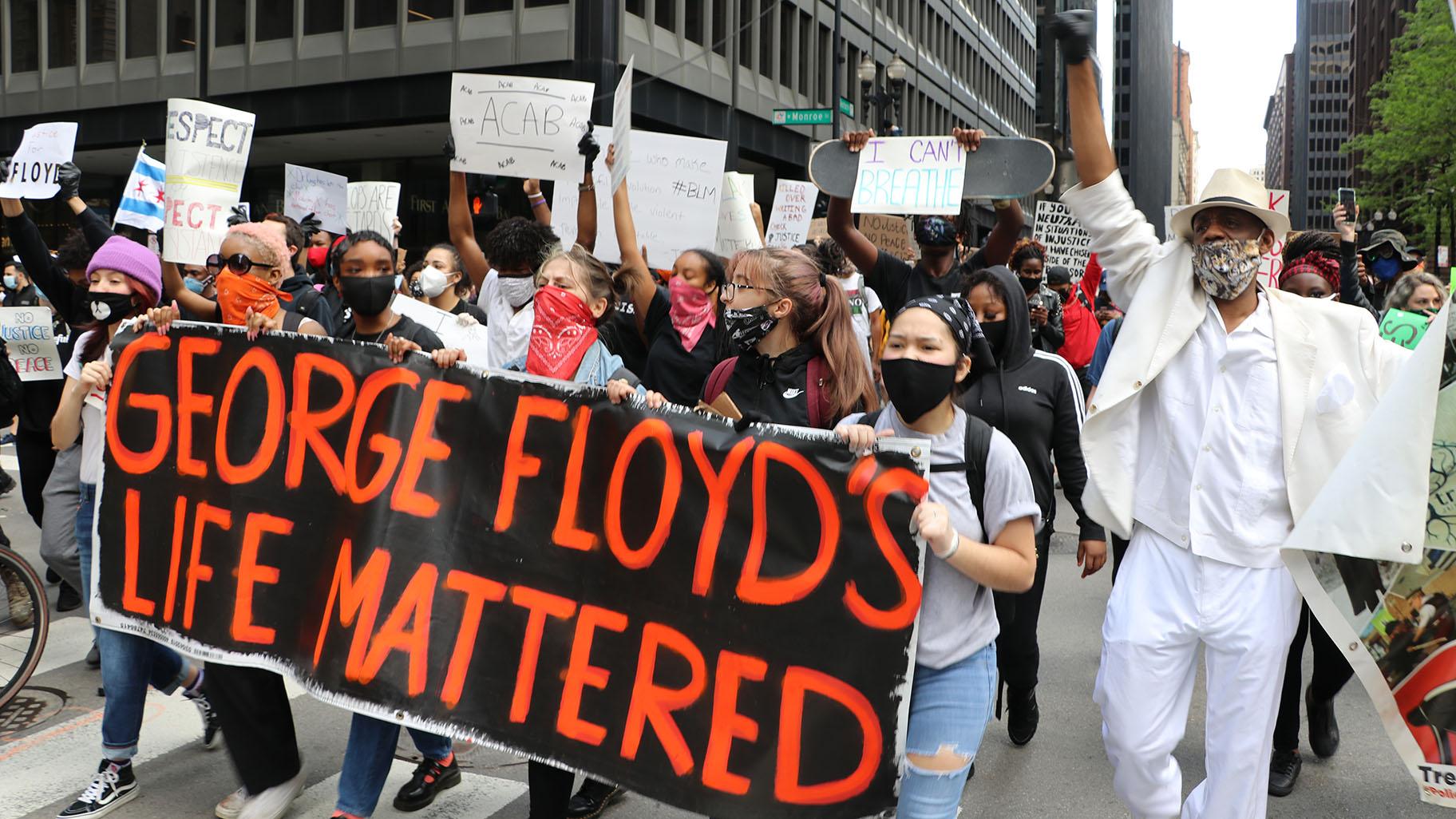 Protesters march along Dearborn Street while holding a sign honoring George Floyd on Saturday, May 30, 2020. (Evan Garcia / WTTW News)
Watkins says that while it's impossible to sustain the kind of energy and engagement seen in last year's protests, people are still showing up for the movement.
"Capitalism is forcing people to go back to work and pushing people to go back to school," she said. "So we understand that people have life barriers where they can't take the streets and sustain that kind of movement. But there are lots more folks who are not only engaging in this work, but there are people talking about it. There are folks putting pressure on their elected officials to really shrink the footprint of police in our communities."
Asiaha Butler, founder and president of the Resident Association of Greater Englewood, recalls how looting in her neighborhood sparked a revelation.
"I unfortunately had to witness looting from my porch for about 72 hours," Butler said. "Something that I've never seen in my life, up close, something that hit my stomach like I was at a funeral of a loved one. That moment showed me how economically starved and empty our community was. … And so I think for me … it was truly the consumers really getting back at this capitalistic environment who have been robbed economically for decades. And I just saw that burst out into the rage we saw on the street."
For Belcore, the confluence of the pandemic and protests exposed realities that drew people in who might otherwise turn away.
"The entire world watched as George Floyd cried out for his mother," he said. "And I think that … call out for our basic humanity has been a clarion call that we've been used to organize and give. People may have been on the fence or otherwise disinclined to engage in police reform work to come to the table and do something meaningful to do something better than we've been doing historically. As a result, we were able to get some legislation moved in Illinois that was signed by the governor that would revolutionize how police are to consider what's an actual threat, to revolutionize how police are."
Butler also believes the protests were a galvanizing moment for the work her organization does.
"What I've said several times before is that we had a visual effect of a policeman with a knee on someone's neck," she said. "But for decades, Black people have had a knee on their neck and every single system of inequity is a knee on our neck … it's not just one police system. If we look at the banks and financial institutions and housing and land ownership wealth, we're starting to see a pattern."
---