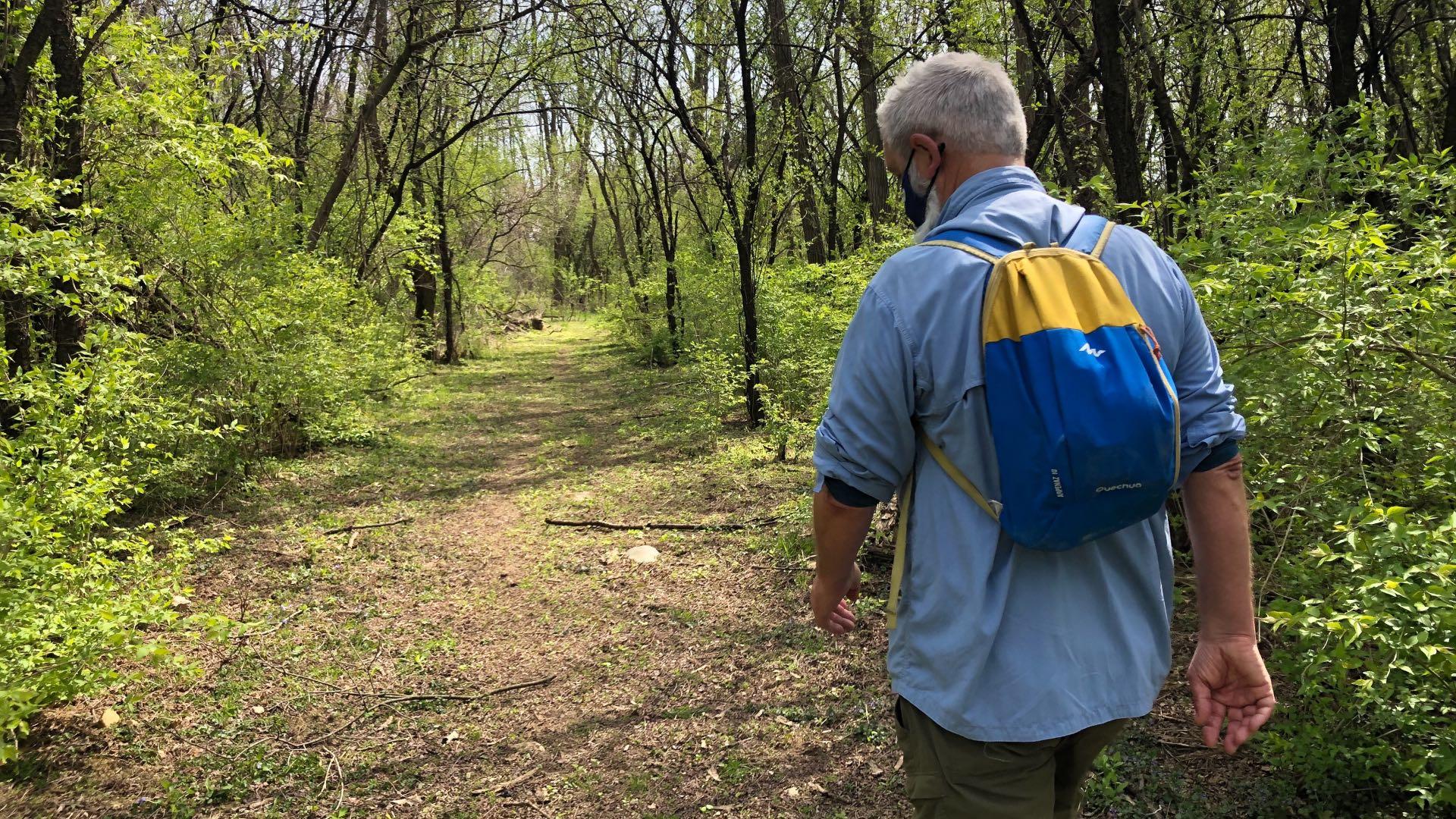 Liam Durnan hikes in Cook County's Spring Lake Nature Preserve. (Patty Wetli / WTTW News)
For the past year, Liam Durnan has been piecing together a 70,000-acre jigsaw puzzle.
Step by step, through woods, swamps and prairies, he's been hiking Cook County forest preserve trails, on a mission to walk every last one of the system's 350-plus miles.
Scratch that. "Mission" isn't the right word. Neither is "project" or "journey."
"Too highfalutin," Durnan said. "I call it a 'caper.' It wasn't to get any bumper sticker. It's just a caper." 
A coronavirus quarantine-inspired caper, that is.
In a typical year, Durnan and his wife Delia would likely have packed up their camping gear and vacationed in a national park. But in 2020, travel wasn't an option. Durnan's business, a canoe and kayak rental operation, was similarly at a standstill and he found himself, like a lot of people, with an unexpected surplus of time on his hands and nowhere in particular he needed to be.
The preserves became a substitute for more exotic getaways, beginning with the Orland Grassland Land and Nature Reserve. At some point, the idea for the caper gelled.
"It saved me from staring at the wall," said Durnan, who not only managed to stave off COVID-19 cabin fever but the winter blues, too.
"Every day in January, I was just traipsing around in the snow," he said. "As far as mental health and physical health, it's been incredibly good."
Each completed hike gets colored in red marker on one of Durnan's stash of forest preserve maps and entered in a document where he tracks his progress. At this point, there's far more red than not. He estimates he's made half of the treks solo, half with Delia at his side, and plenty of paths he's walked more than once thanks to the there-and-back nature of most trails.
"Supposing I'm doing a stretch of the Des Plaines River trail. To mark that 5 miles off, I need to walk 10," he said.
Between double-backing, wandering off trail and visiting some of the same preserves in different seasons, Durnan will ultimately log far more than 350 miles. The Proclaimers' hit song "I'm Gonna Be (500 Miles)" springs to mind, he said.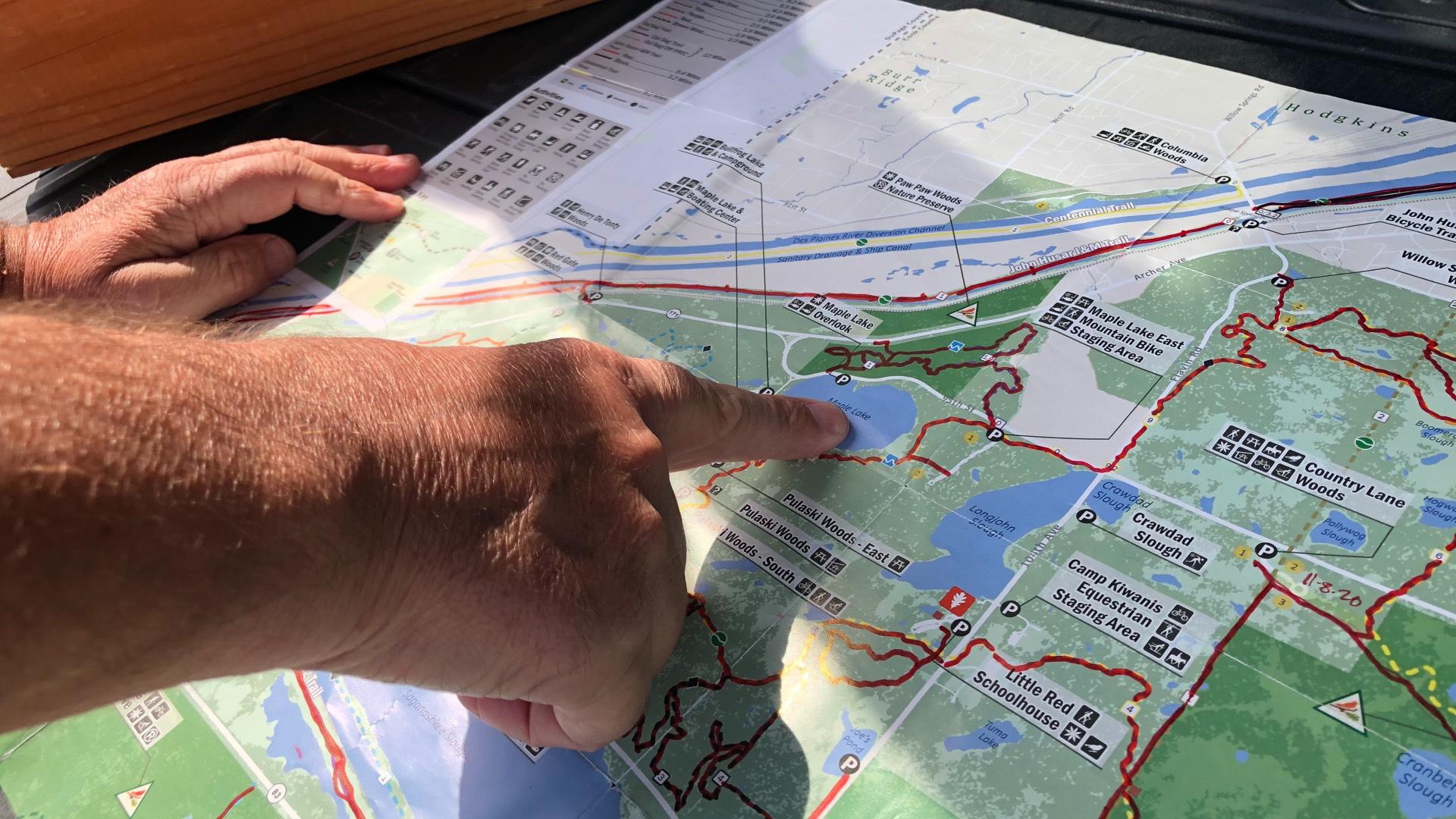 Liam Durnan's trail maps, with completed hikes marked in red. (Patty Wetli / WTTW News)
Durnan, it should be noted, is a bit of a wanderer at heart. A native of Scotland, he left home after quitting an apprenticeship, curious to see what the rest of the world was like outside Glasgow. He made his way first to France and eventually to a kibbutz in Israel. Chicago's been his home since 1982, a base for exploring the vast U.S.
The irony of the caper, Durnan said, is that while he wouldn't think twice about heading across the country to places like Death Valley or the isolated Big Bend National Park in Texas, a 40-mile drive to a Cook County preserve from his home on Chicago's North Side would give him pause. Too much of a schlep for too little reward, he thought.
He's since come around to a different way of thinking.
"That's the admission price, that's the investment you make," Durnan said. "To go out that far is worth it. When people picture the forest preserve nearest them, most people think of it being the picnic groves. They don't know how big this thing is. It's just incredible."
Seventy-five miles separate the southernmost preserve in Cook County from its northern counterpart, encompassing a surprisingly diverse geography, if not topography. While Midwestern landscapes may be more subtle than those found elsewhere — hills and curves in the road are two things Durnan misses most about Scotland — every hike has had what he called "magical bits."
"I honestly don't think there've been any duds," he said.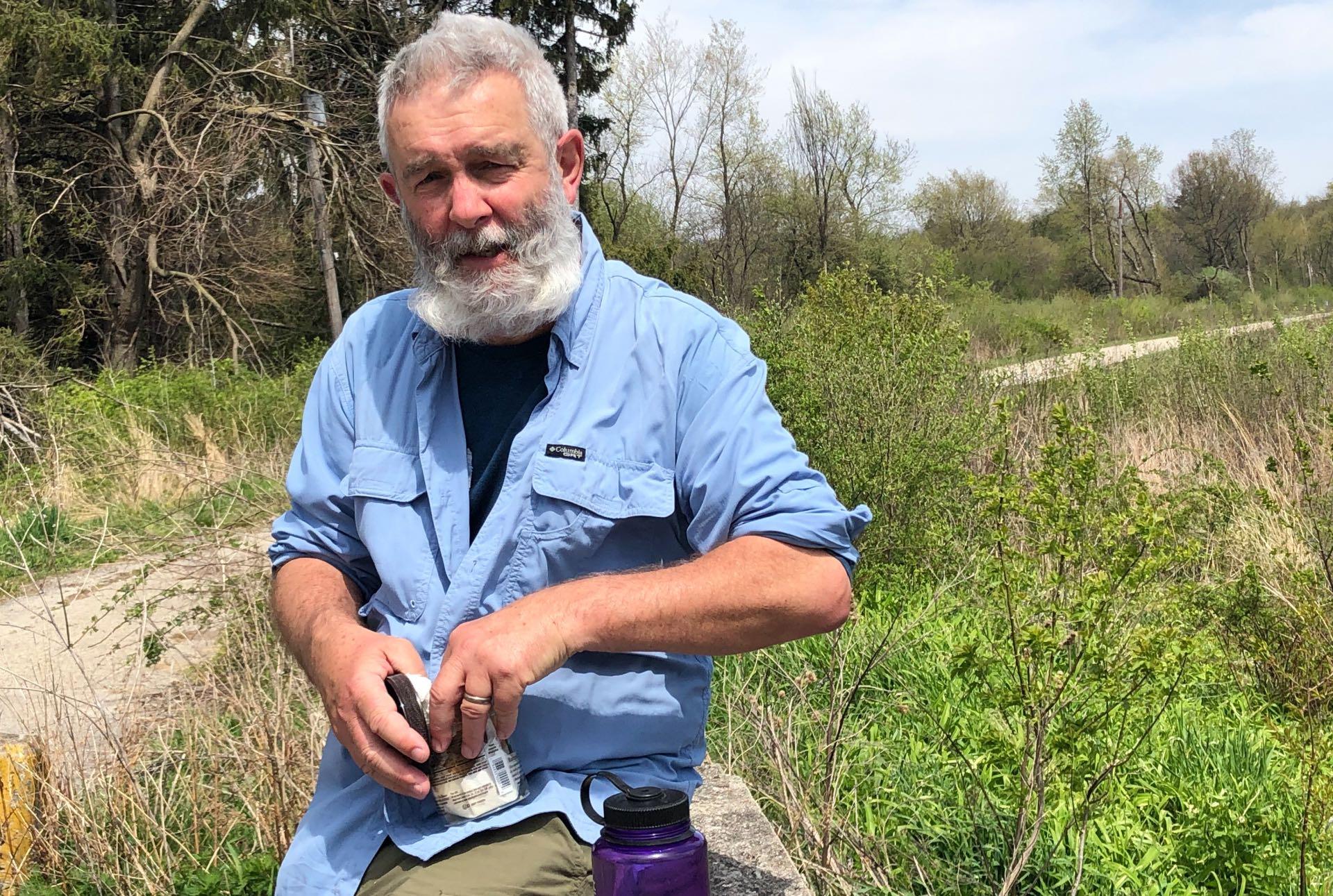 Lunch break. Liam Durnan at Spring Lake Nature Preserve. (Patty Wetli / WTTW News)
To Durnan, it's all a matter of perspective; an appreciation of what the preserves have to offer rather than what they don't.
If there are no mountains to scale or canyons to descend, well, that means no special gear is required and nature is more accessible to people of different fitness levels and ages.
And so what if a trail abruptly leaves the woods and strands people on the berm of a heavily traveled road, the lanes of which must be crossed to pick up the path on the other side? Instead of complaining about a highway cutting through a park, why not admire the fact that right next to a busy road is an incredible natural area, he said.
In the moments when he finds himself walking, mouth agape, admiring the beauty of his surroundings, Durnan will stop and pivot for a 360-degree turn. As he soaks up the vista, he likes to play a little game: "If we were to blindfold someone and ask them where they were, would they guess Cook County?"
Though Durnan uses maps for navigation, that's the extent of the research he conducts before a hike. The less he knows about a place, the more he can maintain a sense of spontaneous discovery.
Like the time he and Delia pulled into the Oak Forest Heritage Preserve after a nasty bit of construction on I-57 and were left scratching their heads. "Why is this called a 'heritage preserve?'"
The site, they learned through interpretive signage, was once a tuberculosis hospital and is home to a potter's field of some 90,000 graves.
"They've made it a memorial," Durnan said. "This place was friggin' gorgeous."
"Gorgeous" and "incredible" are words Durnan turns to time and again to describe his experiences during the year of the caper. 
He's seen eagle nests and wild turkeys and learned to identify coyote scat. Once, hiking in the Palos region, he came across dozens and dozens of pelicans "the size of golden retrievers."
He's trampled through spring forests just beginning to leaf out and spied a hint of his homeland's lochs in the region's sloughs. "All this farmland was like the Everglades," Durnan said.
Not for nothing, Durnan has dubbed his 22-year-old Ford Explorer the Tardis, after Doctor Who's time ship. It's mostly an inside joke, but in truth, preserves are frequently remnants of what the Chicago area used to look like, pre-settlement. Stepping into a wetland is a bit like time traveling.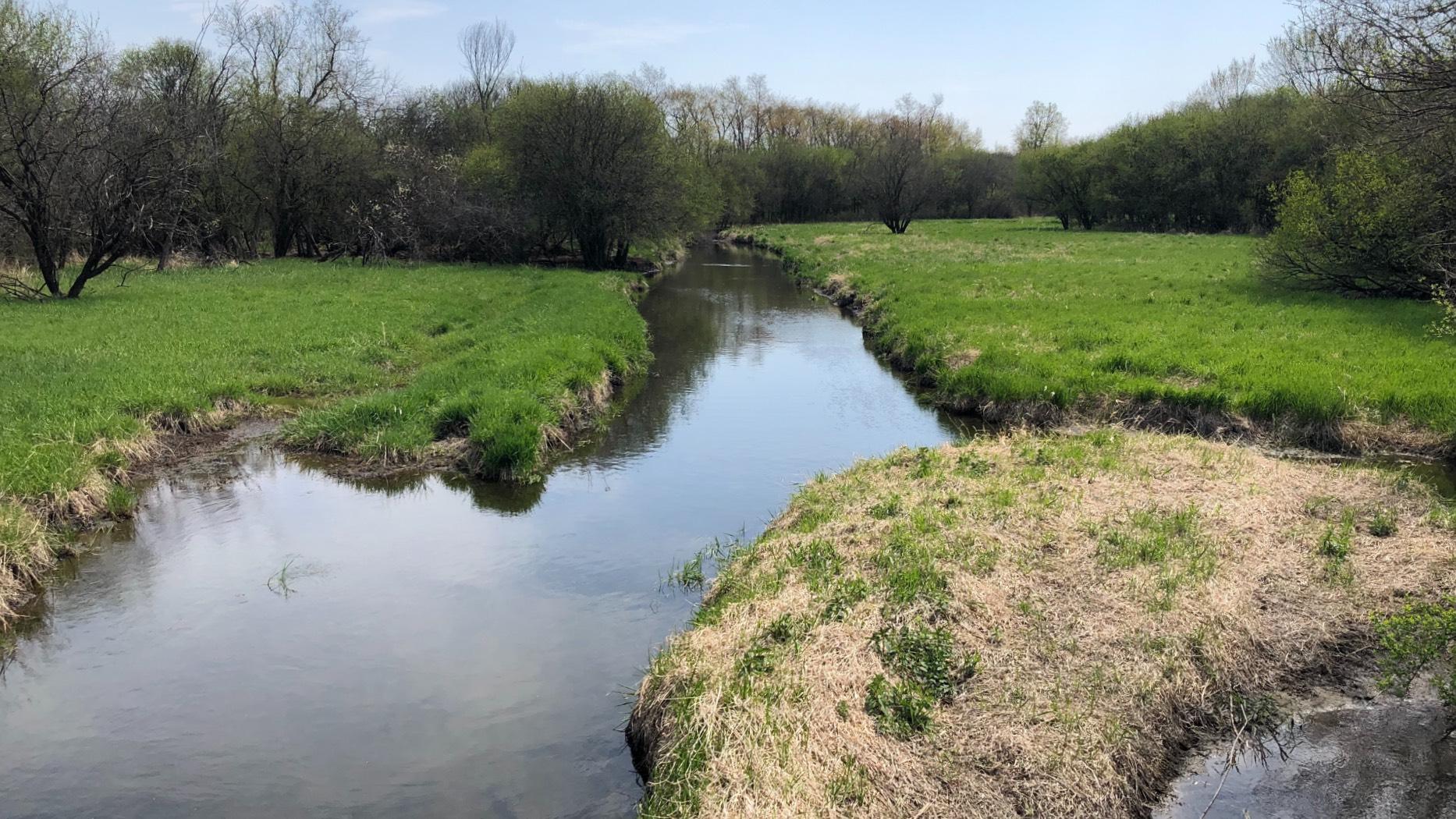 Spring Lake Nature Preserve, at the northern edge of the Cook County Forest Preserve District. (Patty Wetli / WTTW News)
As the caper winds down, Durnan is still left puzzled by two great mysteries of the preserves.
One: Why are there so many bottles of Fireball littering paths? It's a question he posed in all seriousness while hiking with this reporter on a spring afternoon. At any point where a trail is bisected by a road, discarded Fireball containers are sure to be found. As if on cue, a bottle drained of its contents turned up underfoot at that very moment. Durnan stopped to examine it like an archeological find. It's always Fireball, he said. 
The second enigma: Where is everybody?
Durnan has been to some pretty remote places. He and Delia once camped in the Barry Goldwater Air Force Range, 2.7 million acres of nearly undisturbed wilderness on the Arizona-Mexico border. That's the kind of spot a person could rightfully expect to not encounter another human.
But forest preserves in Cook County, population 5 million?
"Some of these paths, you'll see nobody," Durnan said.
To prove his point, Durnan arranged to meet this reporter at one of the caper's great revelations, the Spring Lake Nature Preserve, situated at the northwest tip of the county. 
"This thing is like a spaghetti bowl, there's hundreds of paths," Durnan said of the preserve's 45 miles of unmarked trails. "I'm almost certain we won't meet a soul. And this is a local park."
Four hours later, Durnan's prediction was spot-on. And not just because it was a weekday afternoon, he said. Regardless of day or time, he's always had the place to himself.
"I think people just don't realize it's here," he said. 
A year ago, Durnan was one of them.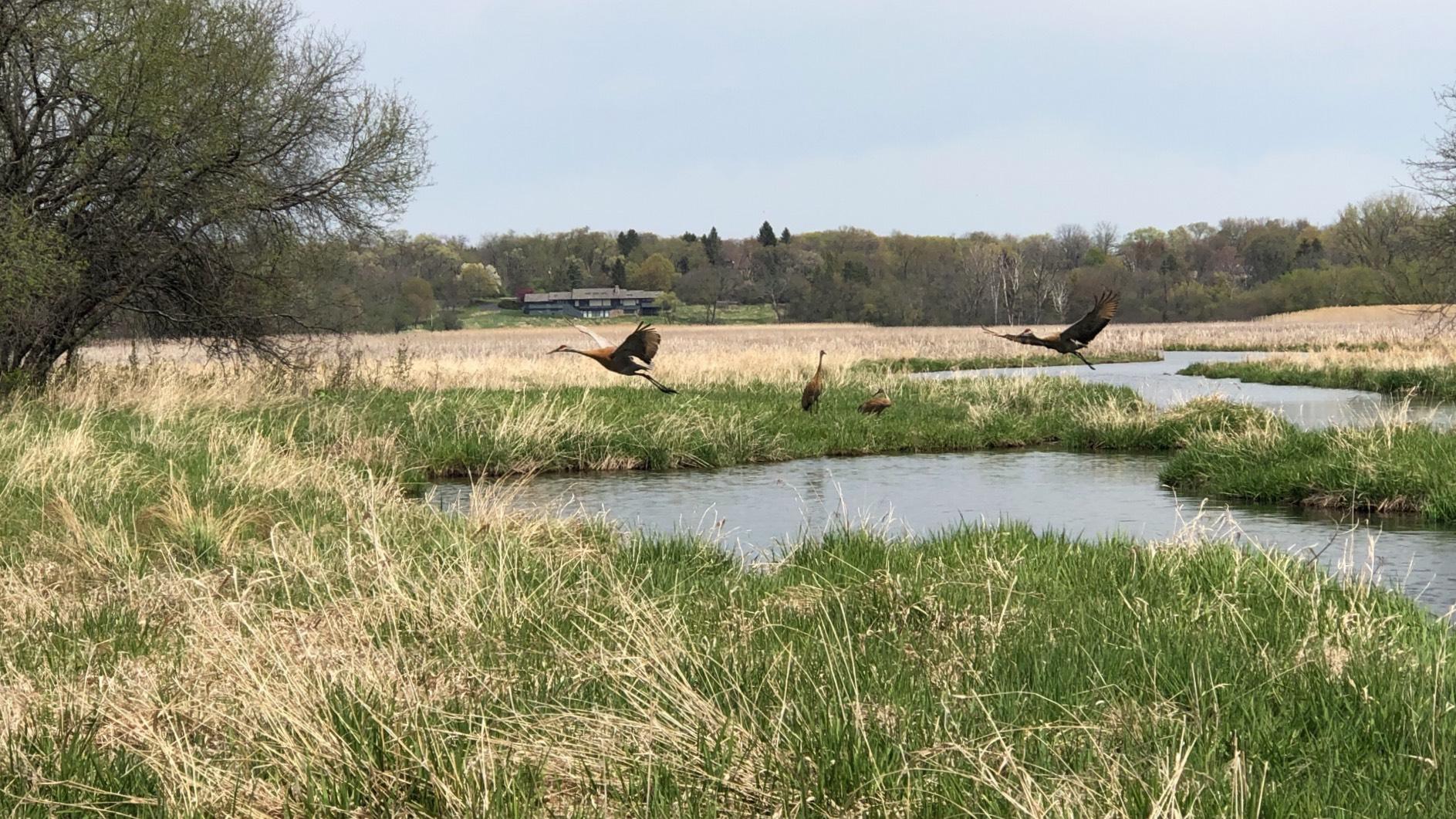 Sandhill cranes take flight at Spring Lake Nature Preserve. (Patty Wetli / WTTW News)
There are, to be sure, highly used preserves and areas that draw crowds. Durnan rents out boats at some of the most popular sites, like Busse Woods. (The Forest Preserve District is essentially his landlord, but that had zero impact on the caper, he said.)
But a huge portion of the preserves are overlooked and underappreciated. If the caper is to have a purpose beyond Durnan, perhaps it's to encourage more people to explore the system's nooks and crannies, those "magical bits."
As Durnan nears the end of the proverbial road, with just a handful of miles left to complete, he's not necessarily contemplating such weighty matters as "What did it all mean?" He's been thinking about how to commemorate the occasion, and has hit upon the perfect way to celebrate.
He'll toast the end of the caper with, what else, a shot of Fireball. 
Contact Patty Wetli: @pattywetli | (773) 509-5623 |  [email protected]
---