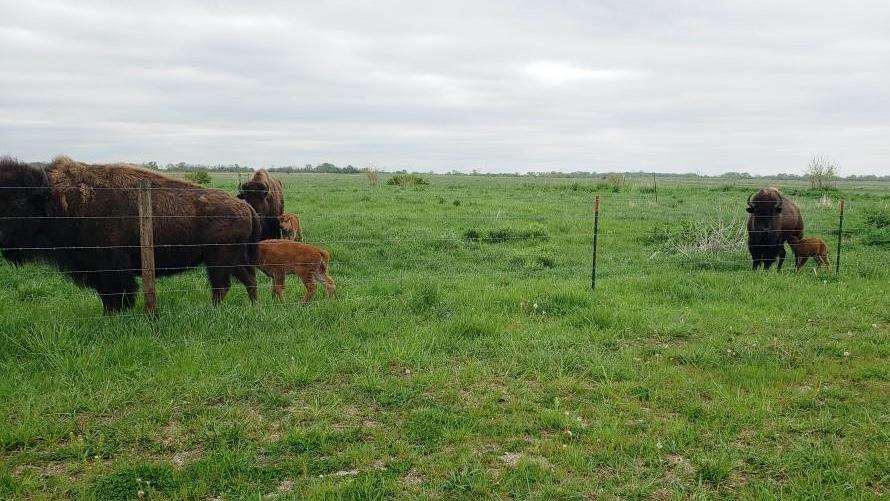 Three new calves were spotted at Midewin National Tallgrass Prairie. (Chris Lundgren / USDA Forest Service)
Staff at Midewin National Tallgrass Prairie are celebrating a bison baby boom, with three new calves spotted this week.
The youngsters, with their distinctive reddish-brown coats, are born with their eyes open, stand within minutes after entering the world, and are off and running just hours later.
Mating season for bison takes place in July and August. With a nine-month gestation period similar to humans, calves typically arrive in April or May. Because Midewin's bison herd roams freely over 1,000 acres and breeds naturally, staff are still waiting to see if more calves are born this year.
While there's no guarantee that visitors to Midewin will be rewarded with a bison sighting, the best chance is to hike to the preserve's bison overlook, starting out from the Iron Bridge trailhead. There are spotting scopes at the overlook, but if you have your own pair of binoculars, bring them along.
A small 27-member herd — four bulls and 23 cows — was introduced to Midewin in 2015 as an experiment. The question is whether the bison, which have quite different grazing habits from cattle, will better promote restoration of the site as a tallgrass prairie. The effects are being studied over a 20-year period.
Bison are North America's largest land mammal, with males weighing up to 2,000 pounds and females up to 1,000. An estimated 30 million to 60 million used to roam across the U.S. plains and prairies. Today, there are approximately 30,000 wild bison. Yellowstone National Park is the only place in the country where bison have lived continuously since prehistoric times.  
Contact Patty Wetli: @pattywetli | (773) 509-5623 |  [email protected]
---