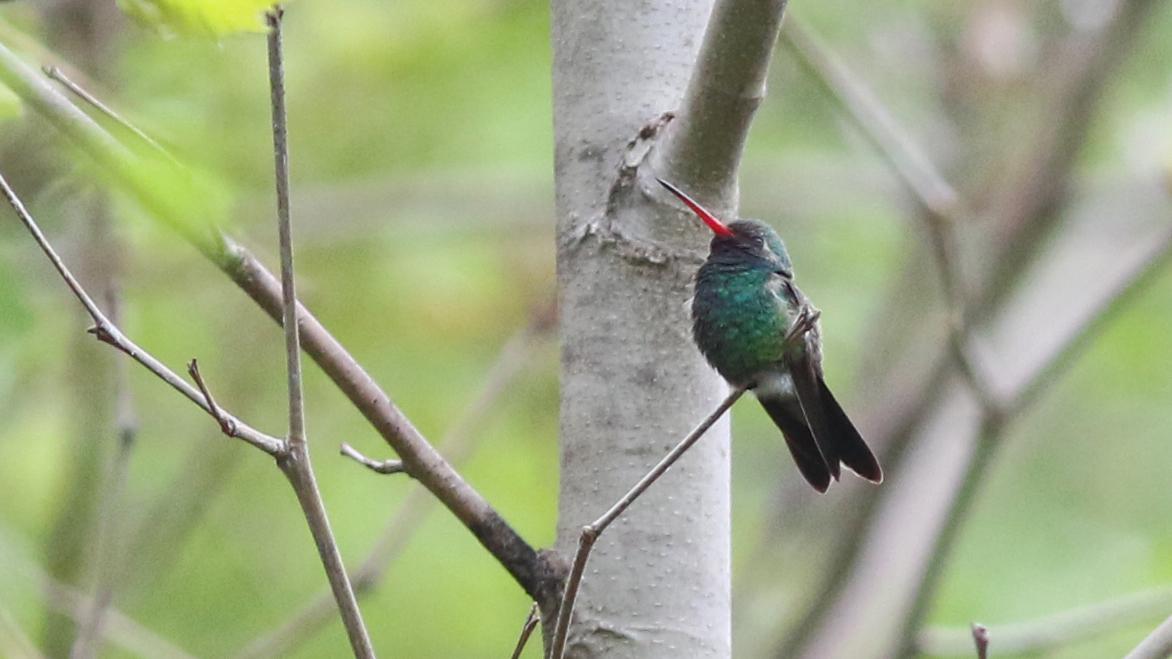 Vivid blue-green plumage and an unmistakable bright red bill are hallmarks of the male broad-billed hummingbird. (Courtesy of Nathan Goldberg)
Nathan Goldberg spent 2020 chasing birds across Illinois, notching 341 species in 365 days for a state record "big year."
So it takes a lot to make his jaw drop.
That's what happened Monday during a birdwatching trek through LaBagh Woods forest preserve.
A flash of a hummingbird caught his eye, but it wasn't the species Goldberg, who's been birding for half his 25 years, had come to expect. This one had vivid blue-green plumage and an unmistakable bright red bill. 
"I put my binoculars up and started screaming expletives. There was only one thing it could be," recalled Goldberg.
What he'd stumbled upon was a male broad-billed hummingbird, well beyond its normal range, which doesn't stretch much north of the Mexico-Arizona-New Mexico border. 
"It was such an off-the-wall sighting, my deepest gut-wrenching fear was that I wouldn't get a photo to document it," Goldberg said.
As soon as Goldberg captured an image of the hummingbird, he shared word of the astonishing sighting with his fellow birders, scores of whom have since made their way to LaBagh to catch a glimpse of the wayward broad-billed.
It's only the third time the bird has been recorded in Illinois and the broad-billed is "far and away" the rarest bird ever observed at LaBagh Woods, according to Jeff Skrentny, coordinator of the Chicago Ornithological Society's habitat restoration work at the forest preserve.
"It's so rare to see one in a forest," said Goldberg, explaining that most off-course hummingbirds are spotted at backyard bird feeders. "And it's sticking around."
The broad-billed hummingbird has found refuge at LaBagh Woods. (Courtesy of Nathan Goldberg)
How long the broad-billed will stay in Chicago is anyone's guess. How it got here is a mystery, too.
Birds found outside their known range are called "vagrants" and unusual weather patterns, such as hurricanes, are typically responsible for the geographic oddities.
"There's so little known about why vagrants like these end up where they do and even less about where they go," said Edward Warden, president of the Chicago Ornithological Society. "Usually these species hang around for a few hours or days, and then disappear. In some very unique cases, we get lucky and can follow their journeys if they get seen again in different locations."
This winter, Warden said, a rare goose was seen at multiple points along the Lake Michigan shoreline as it worked its way from Wisconsin to Indiana.
It's possible for a healthy vagrant to return to its normal home, but it's also possible their adventure ends up being fatal, especially if they can't find food, said Warden.
"In this case, this hummingbird is extremely lucky that a small number of flowering trees — specifically a couple of Ohio buckeyes — are in full bloom," he said. "If it had showed up just a week ago, this would probably be a different story."
Contact Patty Wetli: @pattywetli | (773) 509-5623 |  [email protected]
---