Dr. Martin Luther King Jr. called minister and fellow civil rights pioneer Dr. C.T. Vivian "the greatest preacher to ever live." But well before he worked alongside King and other activists across the country, Vivian was participating in nonviolent protests in Illinois, starting with a 1947 sit-in demonstration at Bishop's Cafeteria in Peoria.
Vivian died in 2020 at age 95, just as he was nearing completion of his memoir, leaving co-author Steve Fiffer to finish the book.
The result of their collaboration is this month's Black Voices Book Club selection, "It's in the Action: Memories of a Nonviolent Warrior."
Fiffer recalled how he first encountered Vivian while researching another book about civil rights history that focused on the fight for voting rights in Alabama: "Jimmy Lee and James: Two Lives, Two Deaths and the Movement that Changed America."
"Dr. Vivian was in Selma at that time in 1965, very involved in that movement and I wanted to interview him for the book," said Fiffer. "I called him and we struck up a lovely correspondence and when I learned that here was this man, 90 years old and he had been so involved in almost every stop along the journey of the civil rights movement and he hadn't written a book about his activities. I said, you've got to write a memoir and we went back and forth on it for a while and we finally decided to collaborate."
Fiffer said it was difficult to continue working on the book after Vivian's death—archive materials allowed him to complete the memoir—but that wasn't the only challenge he encountered.
"Martin Luther King Jr. called him the greatest preacher who ever lived. So channeling that voice is rather daunting for anyone," he said.
In 2013, Vivian was awarded the Presidential Medal of Freedom by former President Barack Obama, who said he was among the generation of people inspired by Vivian. Fiffer says Vivian had a "very soft spot in his heart" for Obama, in part due to a 2007 incident when Obama, then a candidate, gave a speech in Selma.
"Obama had a list of all the dignitaries who were in the audience to hear him. But Dr. Vivian's name was not on that list. And Obama had looked and said, 'There's one person who is not on that list. I can see him out there in the crowd, we wouldn't be there without him. And that's Reverend C T. Vivian who Martin Luther King called the greatest preacher who ever lived.' And Dr. Vivian said he actually got tears in his eyes when candidate Obama recognized him."
Fiffer says he hopes the book will cement Vivian's work and legacy among the pantheon of civil rights pioneers.
"Dr. Vivian was all about the action and he was always busy, always doing something even after the movement, as Obama said," said Fiffer. "He fought white supremacy long before it became popular to do so. And I think that he just was so busy and also a very humble man that he just didn't have time or think he was kind of worthy to do a memoir and it couldn't be further from the truth. This is, I believe, a really important book to inspire a whole new generation of people to be active."
Below, an excerpt from "It's in the Action: Memories of a Nonviolent Warrior," by C.T. Vivian with Steve Fiffer.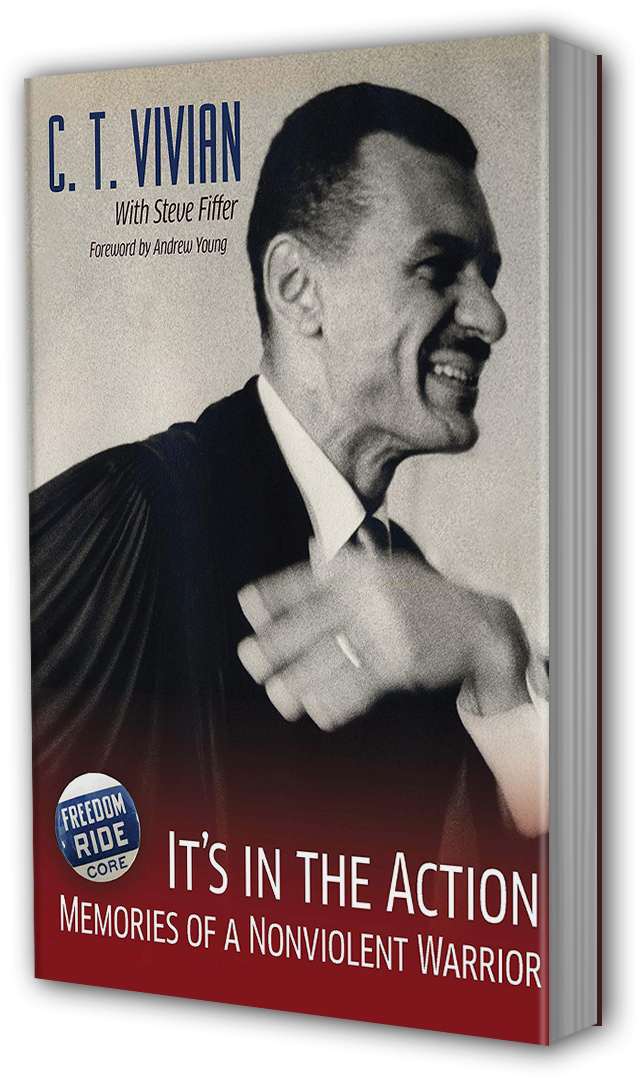 Civil rights legend C.T. Vivian, called "the greatest preacher to ever live" by Martin Luther King Jr., credited his maternal grandmother, Annie Woods Tindell, for stressing the importance of education and teaching him how to read before he was school aged. In this passage, he writes about how she introduced him to the church at the same time.
Religion was just as important to my grandmother as education. My own sense of faith was born from going with her to Church of God the Christ in Boonville. I loved the church from the earliest age. How much? One Sunday when I was five, my grandmother told me I had to stay home from services. I was so disappointed that I ran out of the house and lay in a rut in the road. I was going to let the cars run over me if I couldn't go to church.
Why such passion? There was more life going on at God the Christ than any other place. There were all kinds of people—at least all kinds of Black people; the church was segregated like just about everything else in town. Our congregation sang loud and clear and didn't mind letting you know. They witnessed. This was different and more engaging than anything I had experienced. I don't think you can understand African American history without talking about religious life. In fact I don't think you can understand any group that has been enslaved without talking about faith in God. Case in point: Moses and the Jewish people.
When you have a grandmother as religious as mine, you know you are going to be taken care of. And most folks in the African American community had our kind of faith. We believed that somehow God was going to take care of us. We had to believe—because there sure wasn't much else in the country that said we should survive. Even though America was a democracy, we knew it wasn't a democracy for us; it was supposed to be a Christian culture, but it wasn't.
Ironically, the saving grace for us was that Blacks and Whites weren't in the same church. With few exceptions, Whites didn't want us praying with them. And for Southern Whites in particular, the church wasn't really God's, it was theirs. By having our own churches, we could have our faith without any people who opposed the movement telling us we had to obey them. Regardless of our particular denominations, we all became one faith. We were Christians, and it was God who would save us from the terrible conditions we endured. It's no surprise that the leadership in the civil rights movement came out of the church.
---