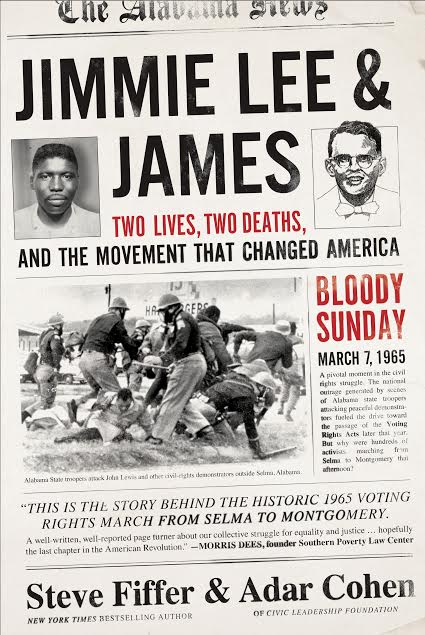 This year marks the 50th anniversary of the Voting Rights Act of 1965, which ended discriminatory tactics that made it difficult for African-Americans to vote. A new book, Jimmie Lee and James: Two Lives, Two Deaths, and the Movement that Changed America, tells the story of two of the unsung civil rights heroes who were pivotal in the passage of this landmark legislation.
Joining us tonight are the authors of the book, Steve Fiffer and Adar Cohen.
Death of Jackson, Reeb
In 1965, an Alabama State Trooper shot and killed Jimmie Lee Jackson, an unarmed 26-year-old African-American civil rights protester who was participating in a nighttime march in the city of Marion.
In the wake of Jackson's death, on March 7, Alabama authorities brutally attacked peaceful civil rights marchers on their way from Selma to Montgomery on a day that came to be known as Bloody Sunday. In response, a white 38-year-old Boston minister named James Reeb arrived in Selma to assist in the cause for social justice and was violently attacked and killed by racist vigilantes who were also white.
Read an excerpt from the book below.
Jimmie Lee and James: Two Lives, Two Deaths, and the Movement that Changed America

By Steve Fiffer and Adar Cohen

Chapter Five: "How Do You Murder People?"

Reverend James Reeb

March 8, 1965

James Reeb has posted a prayer over his desk at the American Friends Service Committee (AFSC) office on Blue Hill Avenue in the tough Boston neighborhood of Roxbury:

Grant us peace fearlessly to contend against evil and to make no peace with oppression and, that we may reverently use our freedom, help us employ it in the maintenance of justice among men and nations.

On the day after the bloody police action on the Edmund Pettus Bridge, the minister turned community organizer is not at peace. A fellow Unitarian has just called to tell him of Martin Luther King's appeal for help some 1,250 miles to the south. Reeb is horrified by the televised images of state troopers beating helpless black men and women, and his immediate reaction is to get on an airplane and join other clergy for the next day's march in Selma.

But he is not certain he should go. He has a wife and four young children at home. What if something should happen to him? He is also embroiled in a contentious fight with the city of Boston over a recent fire in the African American community and the need for better building codes. What message will he be sending to his opponents as well as those he represents if he leaves town?

From Jimmie Lee and James: Two Lives, Two Deaths, and the Movement that Changed America, on sale now. Reprinted by arrangement with Regan Arts. Copyright © 2015 by Steve Fiffer and Adar Cohen.
---
Read another excerpt from the prologue to Jimmie Lee and James. 
Jimmie Lee Jackson Prologue: March 6, 2005

The Anniston Star is barely off the presses, and Michael Jackson's phone is already ringing. Did you see what Fowler said? What are you going to do about it? Can you reopen the case?

Jackson has been in office for only two months, but as the first African American elected to serve as district attorney in the west-central Alabama jurisdiction that includes Selma and Marion, the town of 3,800 where state trooper James Bonard Fowler shot Jimmie Lee Jackson (no relation) forty years earlier, the forty-one-year-old prosecutor has heard the story of the death that changed the civil rights movement:

How, since the beginning of 1965, blacks in Selma and Marion, with the help of Dr. Martin Luther King and the Southern Christian Leadership Conference (SCLC), had intensified their efforts to win the right to vote.

How, on the night of February 18, 1965, state and local police turned off the streetlights in Marion and, along with deputized white citizens, attacked scores of men and women as they marched out of Zion United Methodist Church to peacefully protest the arrest of SCLC organizer James Orange.

How, in the chaos that followed, many were beaten as they knelt in prayer, while others hid under cars to avoid billy clubs and baseball bats, and still others sought refuge in nearby Mack's Café.

How, when one of those who had been in the church, Jimmie Lee Jackson, entered Mack's in search of his injured eighty two-year-old grandfather, he saw his mother wrestling with an Alabama state trooper and rushed to her defense.

How the trooper shot Jimmie Lee in the stomach. How Jimmie Lee ran out of the café and was immediately attacked by several white men, including, it was believed, other police.

How the wounded and beaten 26-year-old farmer and pulpwood chopper was left on the street to die.

How he was finally taken to a hospital in Marion and then to a hospital in Selma, where he passed away eight days later.

From Jimmie Lee and James: Two Lives, Two Deaths, and the Movement that Changed America, on sale now. Reprinted by arrangement with Regan Arts. Copyright © 2015 by Steve Fiffer and Adar Cohen.
---
The Voting Rights Act of 1965
Jimmie Lee and James documents the civil rights events of 1965 and takes a closer look at the stories of Jackson and Reeb, as well as their influence on the passage of the Voting Rights Act, which was signed into law on Aug. 6, 1965, by President Lyndon B. Johnson as an "act to enforce the 15th amendment to the Constitution."
Section 2 of the Voting Rights Act reads as follows:
SEC. 2. No voting qualifications or prerequisite to voting, or standard, practice, or procedure shall be imposed or applied by any State or political subdivision to deny or abridge the right of any citizen of the United States to vote on account of race or color.