More than 9 million doses of the COVID-19 vaccine have been administered in the state of Illinois. And with each coveted shot comes a vaccination card.
While people are told to bring their vaccination cards to their second appointment (if they received a two-dose shot), not much else is said about what to do with those cards.
So, we asked local doctors, federal, state and local health officials for guidance.
---
What is a COVID-19 vaccination card, and how do I get one?
A vaccine card identifies you by name and date of birth and provides information about the vaccine you received, including the date or dates in which you got the shot, which vaccine it was and where it was administered.
When you receive the vaccine, you'll be given the card automatically. You should not have to ask for it and you should not be asked to pay for it.
Do they look different depending on what shot I get or where I get it?
All Centers for Disease Control and Prevention COVID-19 vaccine cards look the same regardless of the setting in which you were vaccinated, according to Illinois Department of Public Health spokesperson Melaney Arnold.
---
Can I buy a COVID-19 vaccination card?
No. Any social media posts or companies advertising blank CDC vaccination cards are fake, according to Illinois Attorney General Kwame Raoul's office. Legitimate vaccination cards are given by providers when they administer the vaccine.
Spotting fakes can be difficult "because it's just a piece of paper," said Dr. Susan Bleasdale, medical director of infection prevention and control at UI Health. But the information the cards contain, like the vaccine's lot number and where it was given, can be validated, according to Bleasdale.
"I'm not sure why someone would want to replicate cards because the vaccine is not required. Maybe because some employers require it now," she said.
READ: Vaccine Mandates Legal, But Employment Experts Say Incentives May Work Better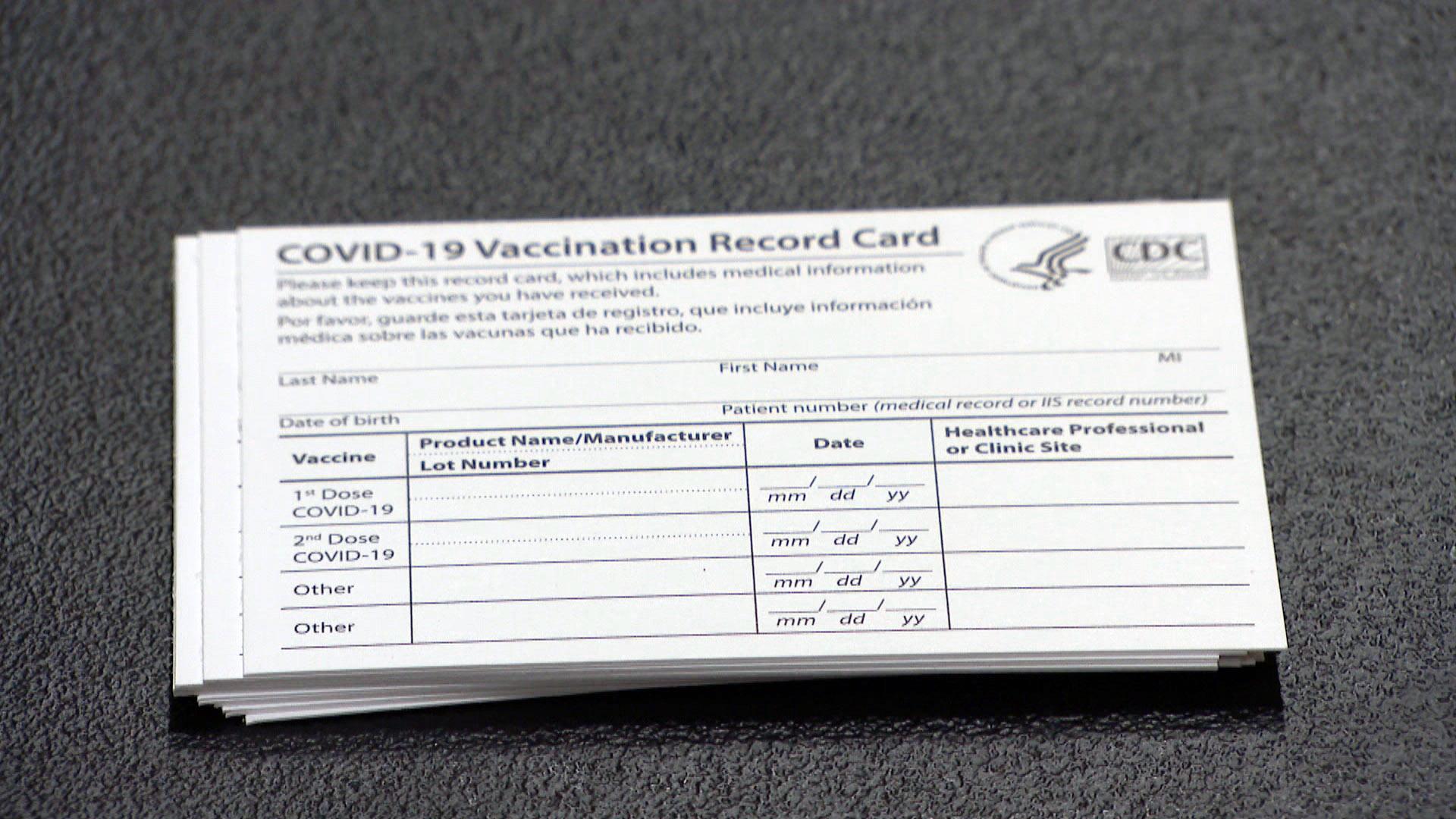 Individuals are issued a COVID-19 vaccination card when they're vaccinated. (WTTW News)
I didn't get a vaccination card at my appointment. How can I get one?
The CDC recommends contacting the vaccination provider where you got your shot. You can also request a proof of vaccination from the Illinois Department of Public Health, which keeps records of patients' immunizations in its Illinois Comprehensive Automated Immunization Registry Exchange, or I-CARE, database. You can request that information by submitting an immunization record request.
---
What should I do if lost my card?
Start by requesting a copy of your records from the provider who vaccinated you. "If you lost your card, we can give you a new one," said Bleasdale.
Regardless of where you were vaccinated — whether it was in a physician's office, a pharmacy or mass vaccination site — providers will be able to supply you with proof of vaccination such as a printout of your immunization record from the state's I-CARE database, according to Dr. Jacqueline Korpics, medical director of the Cook County Department of Public Health's COVID-19 response.
Chicagoans can request a copy of their vaccination records from the Chicago Department of Public Health by emailing [email protected]
If you enrolled in the CDC's V-safe or VaxText programs after your first vaccine dose, you can use them to access your vaccination information. 
If you didn't register for either program or can't remember your registration code, you can request your vaccination information from the state by submitting an immunization record request.
---
Should I carry my vaccine card with me?
No. "Keep the original in a safe place next to other important documents," said Korpics.
---
How can I prove my vaccination status without carrying my card everywhere?
"On the whole, proof of vaccination is not being required at this time," said Arnold. "IDPH is evaluating ways to provide vaccine verification to the public."
Chicago officials plan to launch a vaccination passport that would provide vaccinated residents with a "Vax Pass" to attend summer events and concerts like Lollapalooza. A formal announcement is expected in May.
The CDC advises snapping a photo of the card to use as a backup copy. But don't share photos of your card on social media. Scammers can use your name, birthdate, the location of where you got the shot and metadata from photos to get your contact information, according to Illinois Attorney General Kwame Raoul.
---
Should I laminate my vaccine card?
The answer isn't clear.
"You may choose to if you would like, but we do not recommend carrying the original around with you," said Korpics.
While lamination protects the card from the elements, there are blank spaces for potential vaccine boosters, according to Bleasdale.
IDPH says research is still being conducted on the need for a booster dose and more information about documentation will be available when a recommendation is made.
READ: How Long Does Protection From COVID-19 Vaccines Last?
If boosters are needed, they will be recorded in the state's I-CARE system, so don't sweat it if you've already laminated your card or plan to.
Alternatives to laminating cards include placing them in Ziploc bags or picture frames, and some stores have started selling plastic vaccination card protectors.
Contact Kristen Thometz: @kristenthometz | (773) 509-5452 |  [email protected]
---