In Pilsen, scientists are currently exploring centuries-old paintings from colonial-era Mexico. They are searching for clues to find out more about the artwork. We visited the National Museum of Mexican Art for a meet-up of art and science.
The museum has been closed to the public for more than a year.
But the staff stays busy – they're assisting visiting scientists who hope to discover new information about some curious canvases.
---
TRANSCRIPT
Cesario Moreno, National Museum of Mexican Art:
We have the incredible privilege of being able to look into the past of some of our pieces from the collection, and so we've taken them down from the permanent exhibition here at the National Museum of Mexican Art, and we've taken them across the hall into a temporary laboratory where they're being examined and scrutinized to see what they're true story may be.
Marc Vitali: The paintings are devotional images of Christianity, most of them from the 18th century.
Moreno: In Mexico, the colonial era ends technically as soon as Mexico becomes a republic, so 1810 is usually the cutoff date. The pieces that are being examined we believe are from the colonial era or right around there and certainly feature ideas, concepts, beliefs from that time period.
Vitali: Researchers are collecting data with a combination of hyperspectral imaging and x-ray fluorescence.
The mobile lab was set up by the Center for Scientific Studies in the Arts – a collaboration between Northwestern University and the Art Institute of Chicago.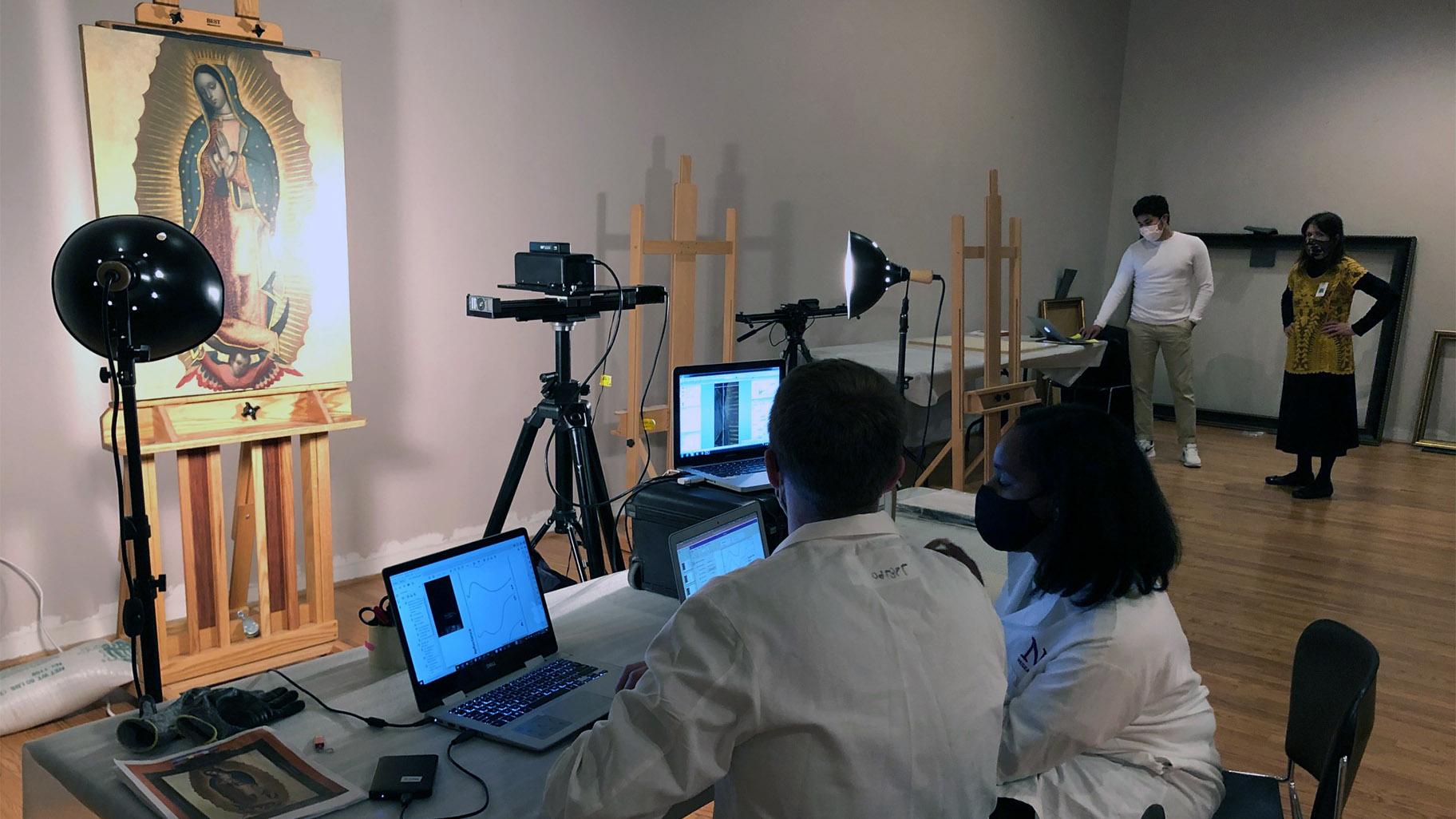 Researchers from the Center for Scientific Studies in the Arts examine works in the National Museum of Mexican Art to learn more about their history, April 23, 2021. (Marc Vitali / WTTW News)
Alicia McGeachy, Center for Scientific Studies in the Arts:
Center for Scientific Studies in the Arts It's something that the Center is really designed to do, to travel to museums and various institutions to provide technical and local support where there is otherwise no opportunity to do so.
So today we're here, midway through our campaign with the museum, looking at six colonial paintings to understand a lot more about the history of art production at this time in Mexico.
Vitali: They hope to find out what kind of pigments were used and whether they were European-made or Indigenous.
Rebecca Meyers, National Museum of Mexican Art:
They've been showing us some areas that have genuine gold in them or finding copper in some of the greens.
Also, they'll be looking for what's called 'pentimento' which is a beautiful Italian word for how an artist changes their mind in the design of the piece, like maybe they started with a certain sketch and then they painted over that.
Vitali: The science team also views their museum trip as a kind of outreach project.
Marc Vermeulen, Center for Scientific Studies in the Arts: It is indeed a scientific study but there's a broader scope which is to bring science and science for art to a wider audience, which is always very nice for us scientists.
Vitali: They're still in the data-collecting phase. A full report will come later.
McGeachy: So what follows from this trip is a lot of post-production, so a lot of analysis of the results, an interpretation of the results, conversations back and forth w/the folks here.               
Moreno: This is sort of a genealogy project of the works of art. We're going to take a look at our treasures, the cultural treasures that we have, and really see where they came from and what their history was. And of course, that will just add so much more to the stories of our community, whether it's here in Chicago or in Mexico.
---
More on this story
The work wraps up this week. We'll update the story when the findings of the report are released later this year.
For more information, visit The National Museum of Mexican Art  and The Center for Scientific Studies in the Arts.
Follow Marc Vitali on Twitter: @MarcVitaliArts
---