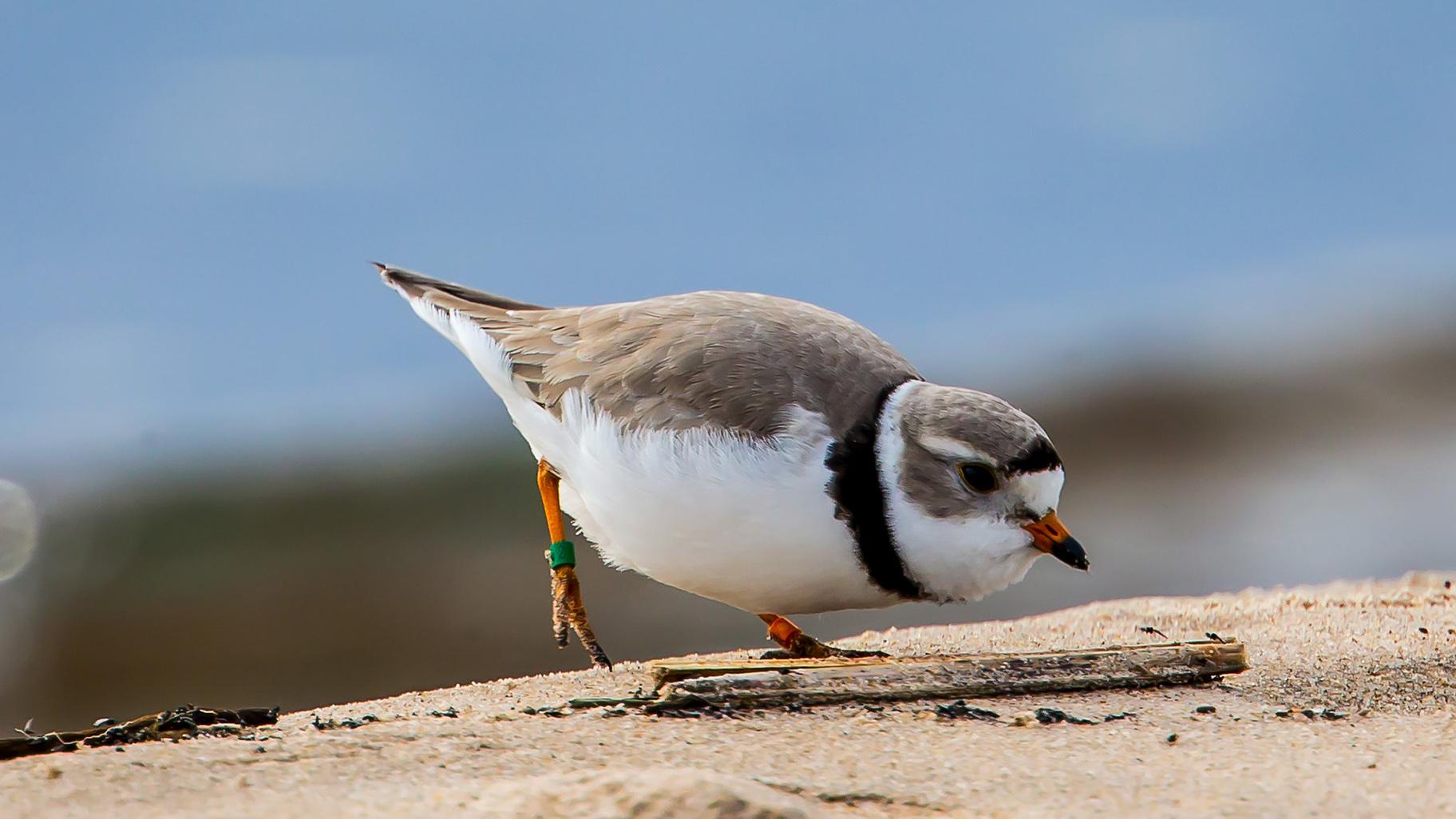 A piping plover on Waukegan Beach in 2018. (Ethan Ellis / Flickr)
UPDATE: Reunited: Monty and Rose Both Confirmed at Montrose Dune. Time to Get Reacquainted
It was the moment Chicago's birding community has been waiting for.
The piping plovers are back at Montrose Beach Dune.
Mark Kolasa, who ventures to the dune nearly every day, made the first sighting of what's now confirmed to be Rose, one half of Chicago's beloved piping plover duo.
"It was really cold and really windy. There was no one out," Kolasa recalled. Around 7:30 a.m., he spotted "this little thing" in the sand and his heart leapt. It was a plover, "pretty much right in front of me," he said.
Kolasa knew to look for a colored band on the bird's leg. Through his binoculars, it appeared to be blue, Rose's color. But in the morning's poor lighting, Kolasa couldn't be sure it wasn't green, which would have identified Monty, Rose's mate. 
Hours later, after Kolasa was joined by fellow birders with more powerful scopes and camera lenses, the bird was confirmed as Rose.
"It felt really good," said Kolasa. "The amazing thing is, I was the person to see their last chick leave last year."
Kolasa had been part of a group prepping the area the previous day for the plovers' highly anticipated return. The endangered birds are quite faithful to a breeding site once they've successfully hatched a chick there, birders say, and Monty and Rose have now reared successive broods at Montrose.
"It's so neat that he was the one who found Rose the very next day," said Leslie Borns, site steward for the dunes.
Now the wait is on for Monty, Rose's mate of the past three years. Kolasa was back at the beach Monday morning, hoping for a sighting, but no luck as of press time. Monty was confirmed to have spent the winter in Texas, while Rose was seen in Florida. In 2020, despite setting out from such far-flung starting points, the pair arrived at Montrose Beach within a day of each other.
Monty and Rose stunned the world in the best way when they chose Montrose Beach, in the heart of Chicago's busy lakefront, to build a nest in 2019. The Great Lakes piping plover population was once down to 20 breeding pairs, in large part due to loss of habitat. That a crowded urban area could support a pair was a remarkable tribute to conservation efforts at Montrose.
Earlier in April, the Chicago Park District announced an expansion of the dune's protected area, giving the plovers more room to roam. Though Monty and Rose are the site's most high-profile occupants, other shorebirds rely on the natural area for food and shelter either year-round or on their migratory routes. Rare plant species have also taken hold at the site.
Is this plover at Montrose Beach today @RosePlover? Band color combo matches but number is unreadable. Photo: Jamie Burning pic.twitter.com/Pbr1BFoNWj

— Bob Dolgan (@bobdolgan) April 25, 2021
---
Contact Patty Wetli: @pattywetli | (773) 509-5623 |  [email protected]