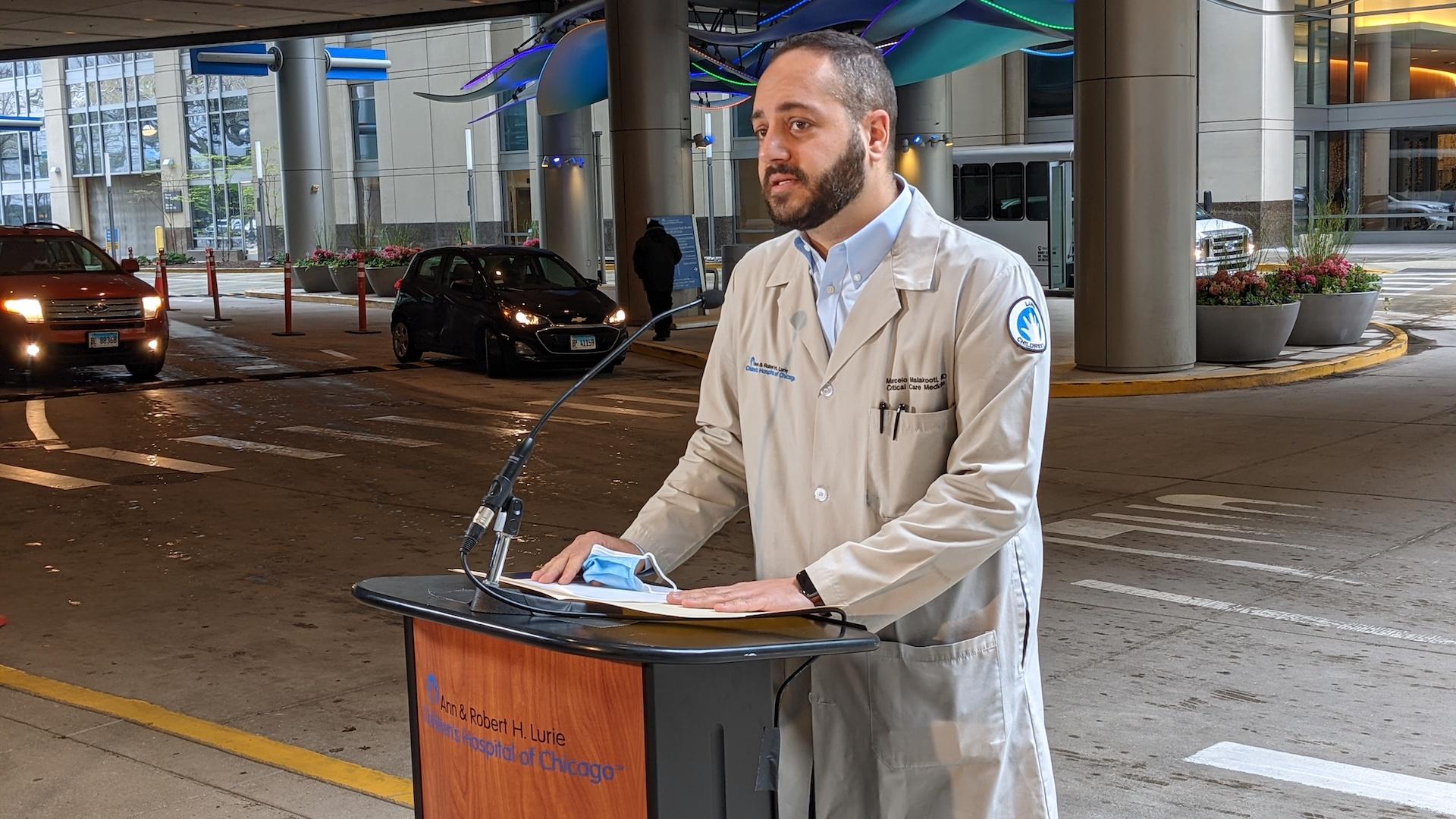 Dr. Marcelo Malakooti, medical director at Lurie Children's Hospital, provides an update to reporters on Monday, April 19 outside the hospital on the condition of 22-month-old Kayden Swann, who was shot April 6. (Matt Masterson / WTTW News)
Kayden Swann, the 22-month-old boy who was shot in the head earlier this month while in a car on Lake Shore Drive, is breathing on his own and has been moved out of the intensive care unit, continuing what his doctors have called a "remarkable" recovery.
Dr. Marcelo Malakooti, medical director at Lurie Children's Hospital, told reporters Monday that Swann has continued to demonstrate good progress and he's "optimistic" about the boy's continued neurological recovery.
"He has obviously suffered a great head injury, and he has had an extremely positive outcome," Malakooti said during a briefing at the hospital. "The degree of recovery he has (made) is certainly remarkable. We do have cases where (people have) recovered this well, but it is in the minority of cases."
Swann has been hospitalized since the shooting, which occurred in broad daylight on the busy thoroughfare.
He was riding in a car with his grandmother and another man, Jushawn Brown, on South Lake Shore Drive just after 11 a.m. on April 6 when an SUV traveling at a high speed merged into their lane and nearly struck their vehicle, Cook County prosecutors said during a court hearing earlier this month.
Brown pulled over and yelled at the driver of the SUV, who then brandished a firearm and asked Brown "what (he) wanted to do about it." Brown then allegedly grabbed his own 9 mm handgun and placed it on his own lap.
Brown attempted to drive across several lanes of traffic to get away from the SUV, which was following closely behind them. Prosecutors said the SUV's driver then fired "several" shots at Brown's vehicle, striking Swann in the right temple.
Brown has been charged with one count of unlawful use of a weapon. The shooter has not yet been identified and no additional arrests have been made.
Malakooti said Swann is going to require intense rehabilitation, but he currently has a "very good" prognosis. He is able to move his extremities and has been "alert and active," according to his doctors.
The boy's family has remained at his bedside over the past two weeks, Malakooti said, and they "could not be more thrilled" with Monday's news.
While there's no set date for Swann to be released from the hospital, Malakooti said it's "going to be pretty soon."
"This is extremely good news for Kayden and his family," he said, "and for all of us as we wrestle with continued incidents of gun violence."
Contact Matt Masterson: @ByMattMasterson | (773) 509-5431 | [email protected] 
---