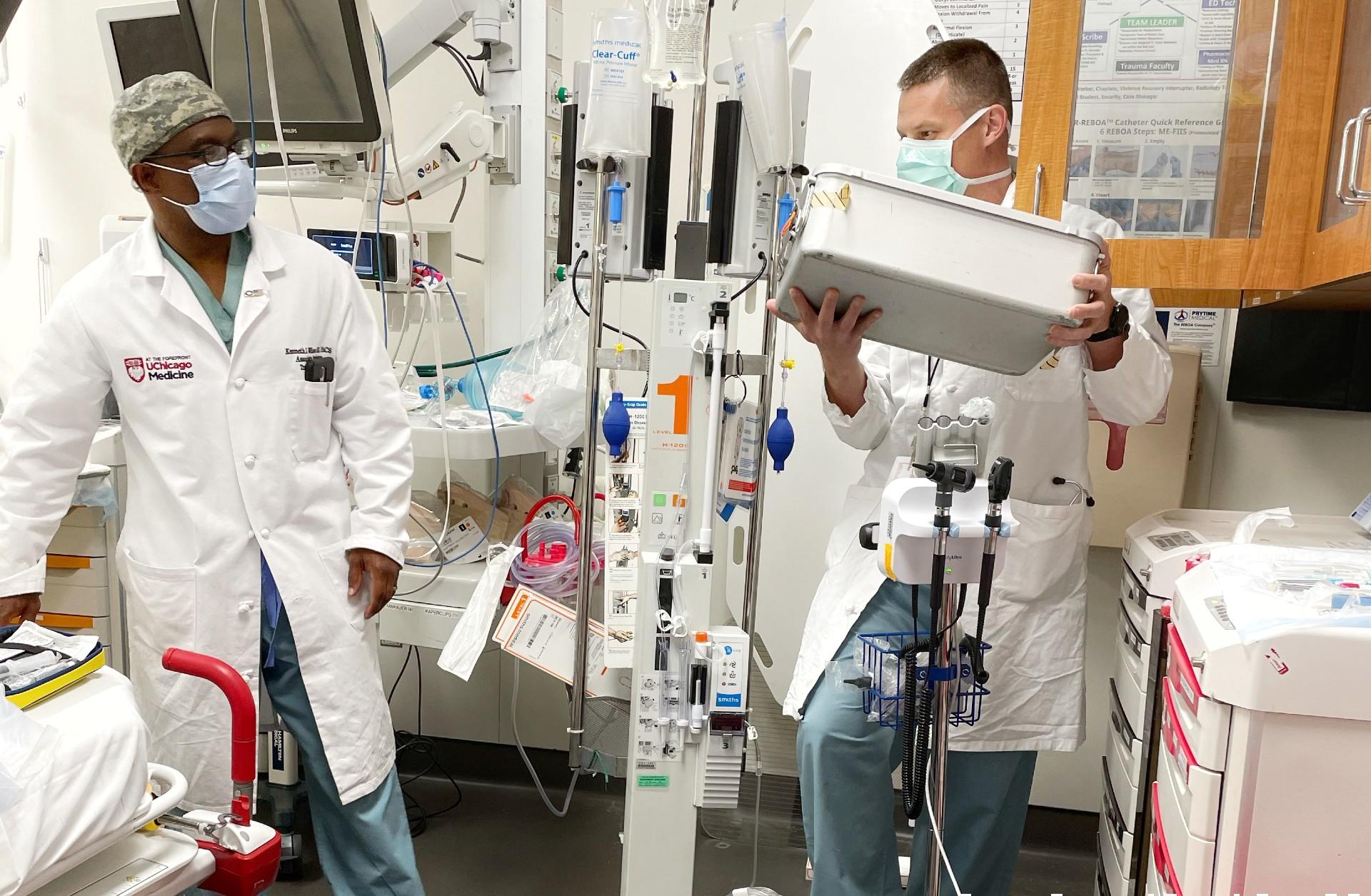 Dr. Kenneth Wilson, left, medical director of University of Chicago Medicine's trauma center, works with Lt. Col. Timothy Plackett, DO, a trauma surgeon from the U.S. Army who is spending the next three years working at the Hyde Park academic medical center. (Credit: University of Chicago Medicine)
U.S. Army surgeons, nurses and combat medics are trained to provide lifesaving care on the front lines, but keeping those skills sharp away from the battlefield can be a challenge.
To help, the U.S. Army has joined forces with the University of Chicago Medical Center to train military health care personnel at the Hyde Park trauma center ahead of their deployments.
"Today marks the beginning of a unique partnership that will allow active service members to enhance and sustain their skills for battlefield medicine while also providing much needed supplemental resources to the South Side of Chicago," Ka Yee C. Lee, provost of the University of Chicago, said Thursday morning.
Major General Telita Crosland, deputy surgeon general of the U.S. Army Medical Command, said the partnership was vital to service members' ability to sustain their trauma skill sets because they would be working in one of the nation's busiest trauma centers.
Last year, UChicago Medicine's trauma center cared for 4,391 adult and pediatric patients, a 47% increase from 2019, according to university staff. Of the roughly 3,800 adult patients treated, 57% had blunt trauma injuries from incidents like car accidents and falls, while an additional 41% had penetrating trauma wounds from shootings or stabbings.
Dr. Kenneth Wilson, medical director of UChicago Medicine's trauma center and military surgeon in the U.S. Army Reserves, was a driving force behind the new partnership. Wilson, who has served multiple deployments in Iraq and Afghanistan, says trauma training is important for battlefield readiness.
"When you're on a military installation as a member of a medical team, you're not doing a lot of trauma care every day. Military hospitals mainly provide health care services to a young healthy population, so there are rarely the types of injuries you'd see in a busy civilian trauma center that regularly treats people who've been in high-speed crashes or drive-by shootings," Wilson said in a statement. "So, it can be a steep learning curve to go from that kind of environment to someplace like Syria. Hospitals like UChicago Medicine provide an ideal middle ground that lets the team train together, build their 'muscle memory' and keep their skills fresh."
Launched in 2019, the Army Medicine Department Military-Civilian Trauma Team Training (AMCT3) program operates at seven busy trauma centers across the country, including Vanderbilt University Medical Center and the University of North Carolina Medical Center.
UChicago Medicine was chosen to participate in the program because it had the "secret sauce" of having the right workload, relationships and willingness to work with the Army, according to Crosland.  
While the primary focus will be on "maintaining individual medical skills, (the partnership) is a tremendous opportunity to work as a team caring for patients who have suffered from trauma and are critically ill," Crosland said.
The first 20-member cohort of Army clinicians is slated to begin arriving this fall at UChicago Medicine from Fort Bragg in North Carolina. Army medical personnel will serve on short-term rotational assignments or be embedded at UChicago Medicine where they will work as full-time staff for up to three years.
Lt. Col Timothy Plackett, a trauma surgeon, arrived ahead of the cohort and has been working at UChicago Medicine since January. Plackett says the program benefits Army clinicians, the hospital and community as service members and hospital staff learn from each other.
"We're learning best practices from one another and using what's been learned in Iraq and Afghanistan to directly change the care we're providing on the South Side," Plackett said in a statement. "And the care we'll be providing on the South Side will directly change the care we'll be able to provide when our team is deployed."
Eventually, as many as 30 Army medical personnel will train in Chicago each year, including surgeons, emergency medicine physicians, nurses, combat medics, anesthesiologists and others.
Contact Kristen Thometz: @kristenthometz | (773) 509-5452 |  [email protected]
---