Despite Harold Washington's reputation as a gifted orator, precious few audio recordings exist of speeches made by the groundbreaking reformer, who served as mayor of Chicago from 1983 until his sudden death in 1987.
The Chicago Public Library has now filled a gap in Washington's legacy by digitizing scores of the mayor's written speeches, available to the public in a searchable online collection, library officials announced this week.
"I'm thrilled that CPL will be providing access to the speeches of one of Chicago's most impactful and trailblazing leaders," said CPL Commissioner Chris Brown. "Harold Washington's powerful rhetoric left an impact on Chicago that we still see today in our city's important equity work."
The speeches, digitized in their original typewritten form, cover the breadth of remarks Washington delivered in his role as mayor, from the civic to the ceremonial to the political, be they comments welcoming a visiting dignitary or an annual budget address.
The collection offers a window into Washington's mind and values — in addressing a national gathering of city planners, he describes himself as a "practical visionary" — as well as his sense of humor.
"What struck me most was Washington's warmth and his optimism that differences could be overcome, even with his strongest opponents," said Morag Walsh, lead archivist for the project, in a statement.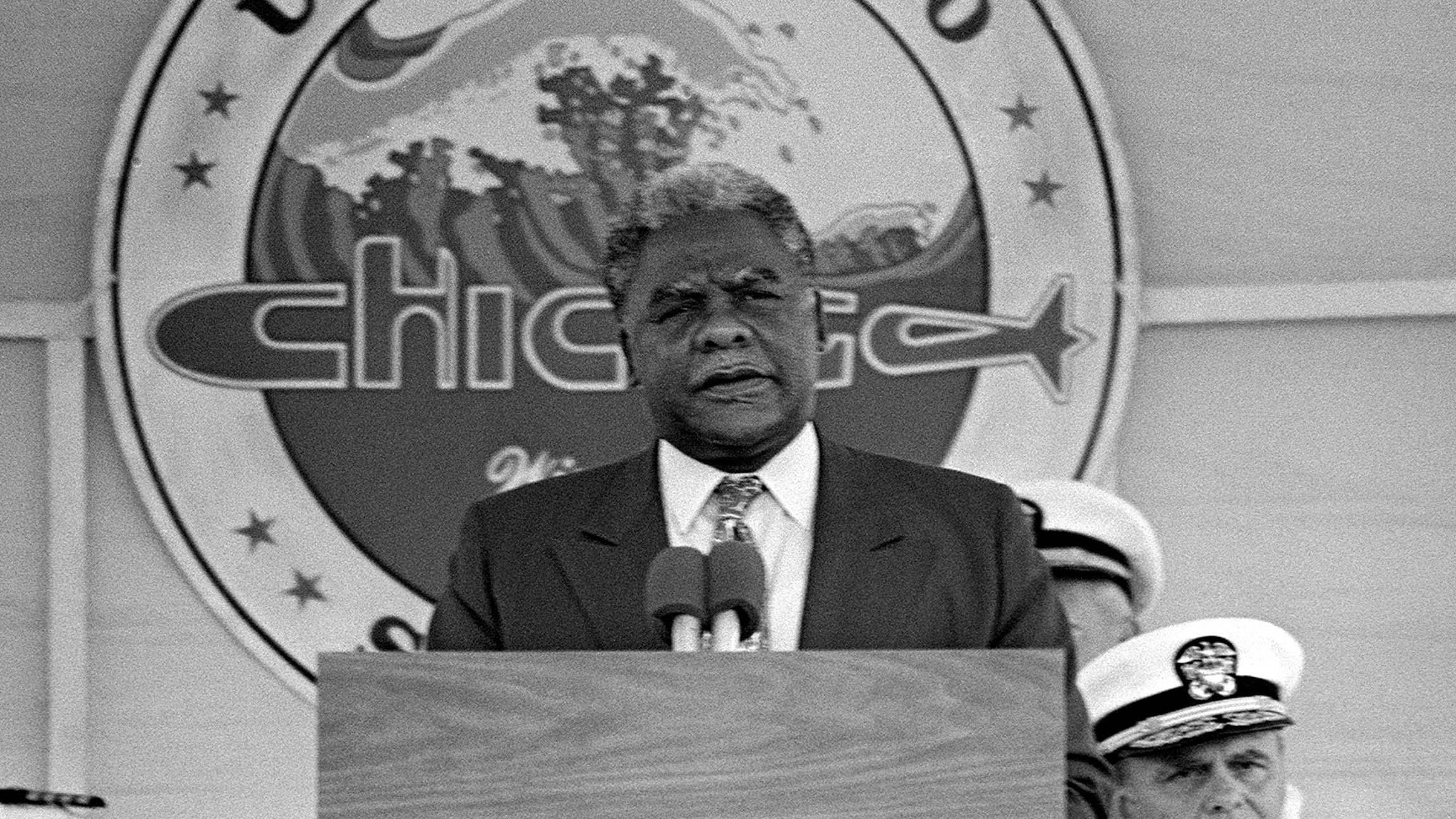 Chicago Mayor Harold Washington speaks during the commissioning of the nuclear-powered attack submarine USS Chicago in September 1986 in Norfolk, Virginia. (The U.S. National Archives)
An example of that optimism is on full display in the text of a commencement speech Washington delivered at Columbia College, just 35 days into his first term:
"As I was coming here tonight and the sun was setting behind the rooftops of our great city, I reflected on how this extraordinary month may someday be remembered in time. I would like to think that it's going to be remembered well. What is being reported presently by our media as a sporting event will be recorded by scholars as a spring-time in which some glorious civic flowers were brought to bloom."
Students of history will find echoes of contemporary politics in texts Washington and his team drafted nearly 40 years ago, like the speech Washington made in the fall of 1983 at an A.M.E. Church convention held in Toronto, describing the forces that swept him into office as Chicago's first Black mayor:
"The striking political fact about this penultimate decade of the century is the groundswell of black political activism everyplace in America…. In the six months before the mayoral primary this year, community organizations, many of them led by clergymen from the A.M.E. Church, registered nearly 200,000 black voters for the first time. The sentiment tore like a prairie fire through the neighborhoods. A movement had begun in a thousand churches and a million homes. My election as mayor of Chicago simply followed the parade."
The library's announcement of the new digital collection is particularly timely: Thursday marks what would have been Washington's 99th birthday.
A permanent exhibit dedicated to his life can be found on the 9th floor of the Harold Washington Library Center. 
Contact Patty Wetli: @pattywetli | (773) 509-5623 |  [email protected]
---