Video showing the foot chase and fatal shooting by a Chicago police officer of 13-year-old Adam Toledo has been viewed by the Toledo family, but will not be immediately made public.
In anticipation of potential outcry over the video, Chicago police have taken precautions "to maintain the safety of our city and its residents," like canceling scheduled days off for detectives and members of strategic policing teams.
We have increased our operational posture to ensure we are as prepared as possible to maintain the safety of our city and its residents. pic.twitter.com/26AWTj659k

— Chicago Police Communications & News Affairs (@CPD_Media) April 12, 2021
These preparations come at a time when there is also widespread anger about a Minnesota police officer shooting and killing 20-year-old Daunte Wright during a traffic stop on Sunday. That shooting occurred miles from where last May Minneapolis police officer Derek Chauvin killed George Floyd, and as Chauvin's trial for second- and third-degree murder continues. The prosecution on Tuesday rested its case and the defense called its first batch of witnesses.
 A handful of officers looked on Tuesday evening as a group of approximately 100 gathered near the Cloud Gate sculpture downtown to protest police brutality.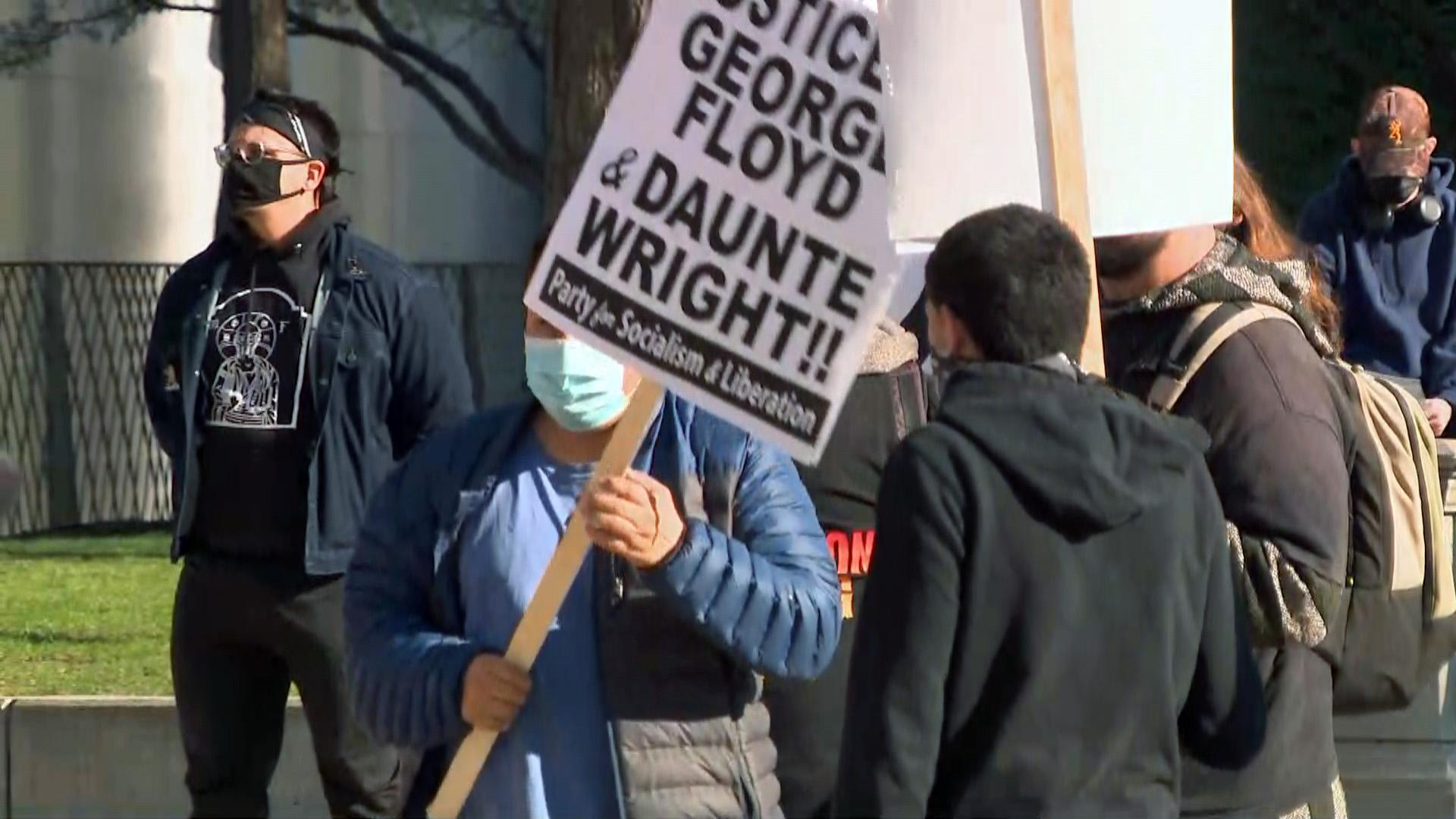 A group of approximately 100 protesters gathered near the Cloud Gate sculpture in Millennium Park to protest police brutality on April 13, 2021. (WTTW News)
Tree of Life Justice League of Illinois leader Eric Russell said the killing of Black people by police is the modern-day version of lynching. 
"The Klan used to take us out into the back woods, by torchlight, wearing hoods and sheets but now the Klan, the prevailing opinion is that the Klan has turned in their white sheets for blue uniform, and now they carry guns and badges, and they lynch us in broad daylight with cameras rolling for the world to see," Russell said.
Follow Amanda Vinicky on Twitter: @AmandaVinicky
---