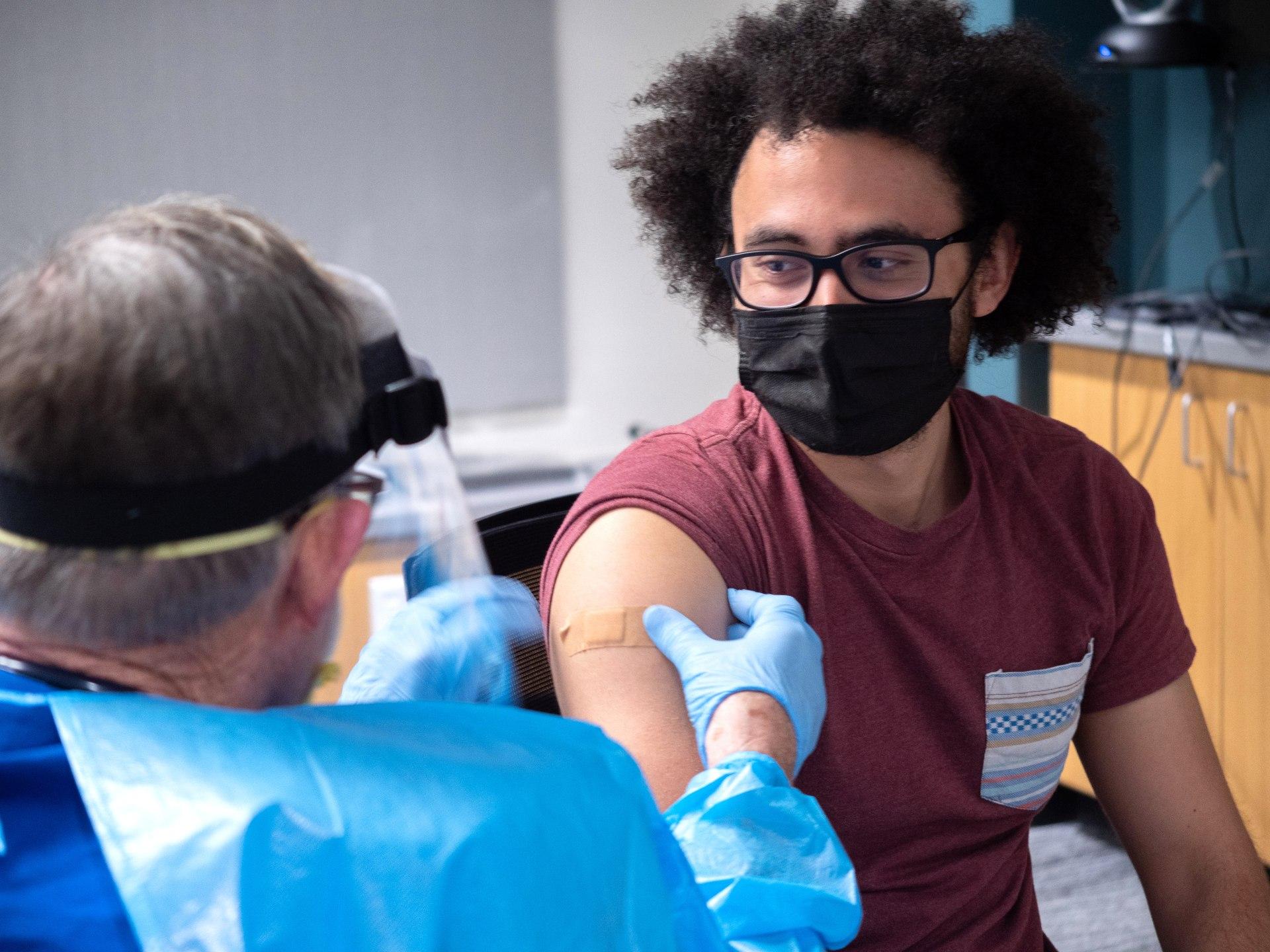 Richard Biggs, 20, an evolutionary biology major at the University of Colorado Boulder, gets his first dose of the Moderna vaccine from Dr. Laird Wolfe. Biggs is one of the first group of students in a new study to determine if the vaccine can prevent COVID-19 infection and transmission in the student population. CU Boulder students will join 12,000 other college students in the country. (Photo by Glenn Asakawa / University of Colorado)
More than 20 colleges and universities across the country are looking for students to enroll in a clinical trial to see if the COVID-19 vaccine prevents infection and the spread of the virus among college students.
The Prevent COVID U study seeks to enroll 12,000 student participants ages 18-26, including those at the University of Illinois and Northwestern University. Half of the students will be randomly selected to receive the Moderna vaccine immediately upon enrollment, while the other half will be vaccinated four months later. All participants will know at enrollment when they will receive the vaccine and will be followed for five months.
"We are grateful to be included in this global effort to better understand how we can safely return to normal as the pandemic evolves," said Luke Figora, Northwestern's vice president for operations, in a statement. "We encourage any student who is able to look into this study and consider participating in this research, for the benefit of individuals around the world."
The study will build on clinical trials that tested the ability of vaccines to prevent symptomatic and severe cases of COVID-19 in adults, according to researchers.
"The new trial will tell us whether a person can become infected after they've been vaccinated and if the vaccine will stop the virus from spreading person-to-person," said Dr. Larry Corey, one of the study's leaders and the principal investigator of COVID-19 Prevention Network's operations program, in a statement. "The answers to these questions have implications for public health and will allow us to make more science-based decisions about mask use and social distancing post-vaccination – especially when new variants are emerging."
More than 535,000 COVID-19 cases have been reported on college campuses since the beginning of the pandemic, with more than 120,000 of those reported since Jan. 1, according to a New York Times analysis.
Researchers say college settings are ideal for studying the transmission of infection.
"High-density housing, the impulse to socialize and less fear of severe disease in young people are all factors that contribute to the high burden of SARS-CoV-2 infection on college campuses," said Dr. Holly Janes, a professor at Fred Hutchinson Cancer Research Center and one of the leaders of the study, in a statement.
Throughout the study, participants will complete questionnaires, swab their nose daily for COVID-19 infection and provide periodic blood samples. This is in addition to any routine screening conducted by university testing programs.
Since the study aims to determine the vaccine's effectiveness in reducing and/or preventing transmission to others, participants will also be asked to identify close contacts to participate in the study, such as roommates or coworkers, as well as anyone they come into contact with if they contract COVID-19.
"The emphasis on following close contacts among those students who acquire COVID-19 in the trial is one of the unique aspects of the trial," said Corey, a professor at  Fred Hutchinson Cancer Center.
Researchers expect about 25,000 close contacts will be identified and asked to join the study by completing weekly questionnaires in addition to routine screening required by universities and workplaces. Close contacts will be asked to take daily swabs of their nose for two weeks and provide two blood samples if a main study participant tests positive for COVID-19.
"Our hope is that we demonstrate that COVID-19 vaccines prevent people from getting infected with coronavirus in the first place and that it stops transmission to others," said Corey.
The study is funded by the Federal COVID-19 Response Program and the National Institute of Allergy and Infectious Diseases.
Students who have previously been diagnosed with COVID-19 or who already received a vaccination are not eligible to participate in the study. All participants will be compensated, with up to $1,000 for those in the five-month study.
For more information about the study, including how to enroll, visit the Prevent COVID U website.
Contact Kristen Thometz: @kristenthometz | (773) 509-5452 |  [email protected]
---