Chicago has yet to turn the corner on recycling, with its annual rate of trash diverted from landfill mired at less than 10%. But a shakeup within the beleaguered Blue Cart program could signal that change is on the horizon.
This week, the Department of Streets and Sanitation announced Lakeshore Recycling Systems has been awarded a new three-year contract to collect residential recycling in four of Chicago's six recycling regions, with DSS crews continuing to serve the remaining two.
The city's Blue Cart program covers residential buildings with four or fewer units, reaching a total of nearly 420,000 locations representing some 620,000 households. (A small number of non-residential and city-owned facilities are included in the program.)  
It's the first time in nearly a decade that the city has sent its Blue Cart contract out for bid. Lakeshore beat out three other competitors, including Waste Management, which, until now, has been collecting recycling from half the city's regions. Lakeshore is currently a subcontractor for a single region.
In a statement, DSS said: "LRS is committed to recycling and protecting the environment. As an organization, they possess more recycling assets than any other company in the Chicago area, including a state-of-the-art single-stream recycling facility that can sort cardboard, mixed-paper, glass, steel, other metals and plastics." 
The new contract, worth nearly $80 million over three years, takes effect June 7 and runs through June 2024. The transition should be seamless, with no break in service, DSS said. 
Recycling advocates said they are cautiously optimistic about the choice of Lakeshore, as well as new language written into the contract that includes penalties for missed pickups.
"We believe that this change in providers could result in significant improvements to Chicago's Blue Cart program," said Michelle Thoma, president of the Chicago Recycling Coalition. "LRS's focus has always been on recycling, as opposed to Waste Management and other similar companies that are, at their cores, trash and landfill-centric, with recycling being an add-on service that they didn't invest in to the extent that LRS and other recycling-focused companies have."
Critics of the Blue Cart program have long pointed to Waste Management's ownership of landfills as a potential conflict. A 2018 report from the Better Government Association found that Waste Management rejected a much higher number of recycling carts as "contaminated," sending the contents to landfill instead.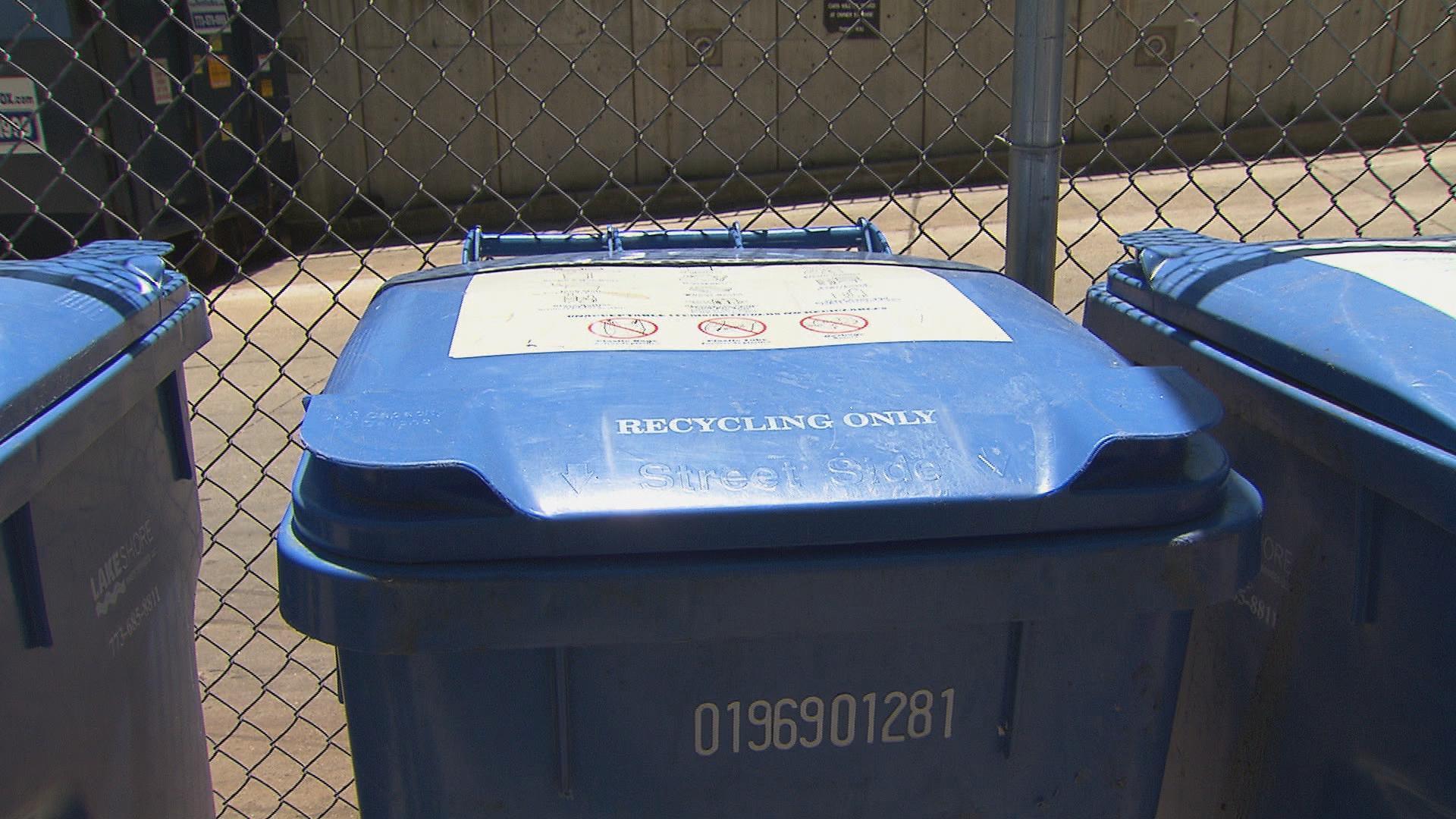 (WTTW News)
The new contract with LRS states that crews will collect recycling carts with less than 50% of contamination to ensure more waste is being recycled. 
"A clearly defined contamination threshold is a pretty substantial improvement over the status quo for all kinds of reasons," said Carter O'Brien, vice president of the Chicago Recycling Coalition. "Residents watching their recycling go into a garbage truck turned people off of recycling altogether, as it never made sense how a 'half eaten hot dog' (an oft-repeated quote from a former DSS commissioner) somehow contaminated bins full of cans, boxes and hard plastic containers. Lakeshore (LSR) understands that the job is not simply to collect the recycling, but to actually sort and process it for an end (re)user."
In addition to the Blue Cart program, Morton Grove-based LRS has been the recycling provider for Chicago Public Schools and took part in pilot composting program at schools, which bodes well for the potential to test composting more broadly, Thoma said.
Indeed, DSS and the Chicago Department of Public Health recently received a grant from the Natural Resources Defense Council to work on food waste reduction in 2021, according to DSS.
In addition to the deal with LRS, even bigger news about recycling is still to come. A study of the city's waste management practices, policies, infrastructure and data is being conducted by the Delta Institute, with results expected to be released within the next couple of months, according to DSS. 
"The study will guide the development of a framework for further improving recycling and waste diversion," the department said in a statement.
Contact Patty Wetli: @pattywetli | (773) 509-5623 |  [email protected]
---