What started as a journal to help Chicago-based artist Beth Adler process the pandemic slowly evolved into a form of healing through an entire year.
"When the pandemic hit, we were in our house and afraid to go outside. The one thing I could do was collage and cut up magazines and papers that I could use to describe what I was going through," Adler said. "I then wrote in the journal and would draw, and it became a daily practice. In the beginning, fear was a theme. We didn't know what this meant. Going through and voicing that fear was helpful."
Adler would collage and write in this journal for one month before expanding to bigger collages that she'd create each day.
"I was still fearful, but starting to think about the world around me," she said.
As a sense of COVID-19 normality began to set in, the themes in Adler's work began to change. Her daily collages expanded into prints of COVID-19 houses made on handmade paper, with a crow as the focal point.
(WTTW News)
"I really like crows and have painted them before. It became my mascot for this time. All of my prints have a crow and house that conveys a certain weariness but hopefulness," Alder said.
These prints were so well-received that Adler began to sell them, donating some of the proceeds to the Evanston Community Foundation's COVID-19 rapid response fund. 
"The house shapes in the prints inspired me to take other prints to make COVID houses. The first one I made I lined with The New Yorker's 100,000 dead from COVID. That's the memorial house. Then summer was going on. So every month I made a house, from June until February to commemorate the time in the house and each house is lined with COVID reports. Each house is a memorial. A lot of people died and it's important to not forget that. To honor those that have died, and the essential workers too," she said.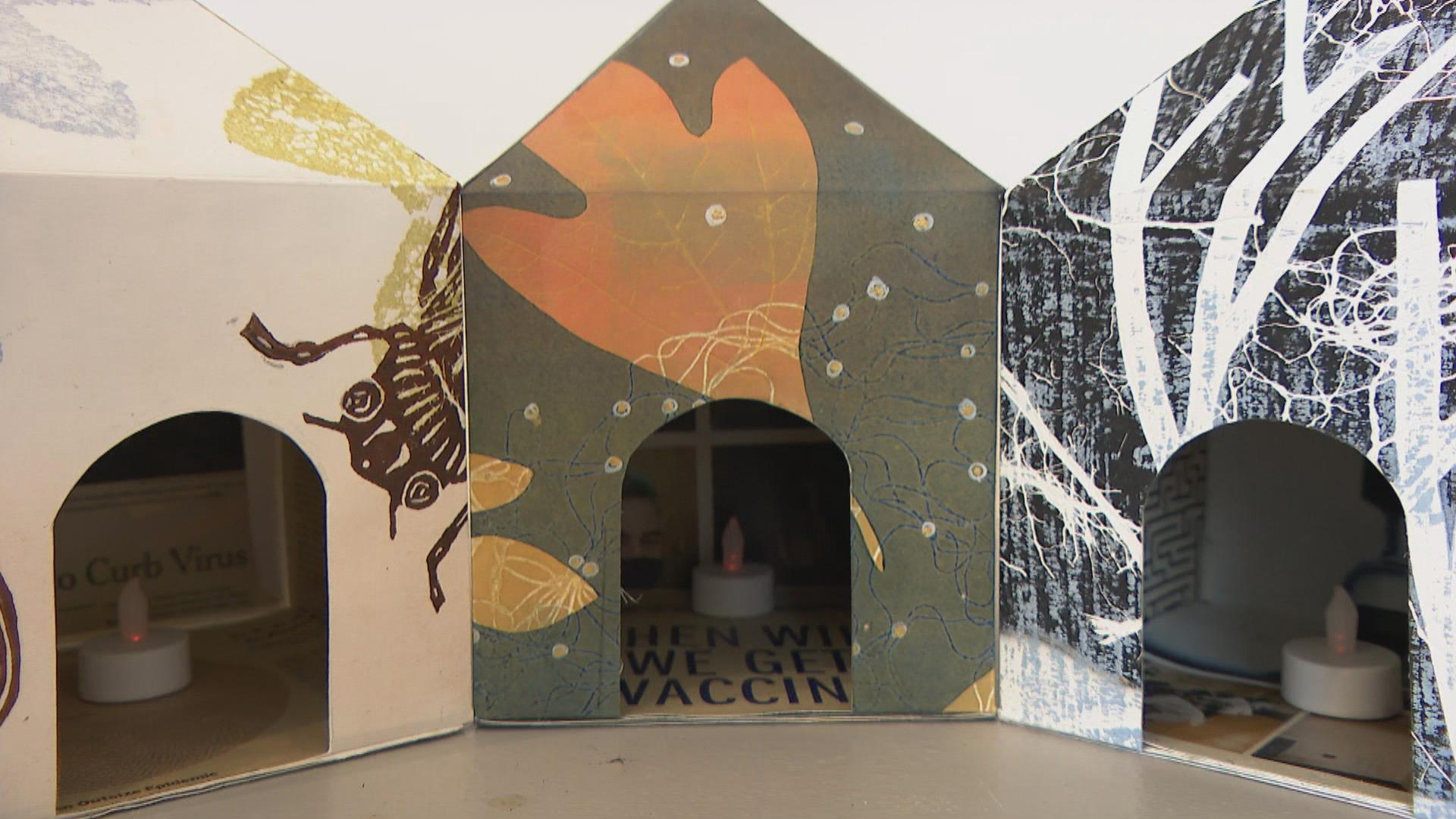 (WTTW News)
Adler's use of art to understand and explore her emotions during the pandemic is just one of the many practices encouraged at Open Studio Project, where her work is currently on display.
"Here at Open Studio Project, we are really teaching people how to utilize the arts to really go deep. Art really does open up information for people and really is an avenue to use your thought process in new ways," said Sarah Laing, the project's art therapist and executive director. "With Beth's work, we see how that documentation of time and integration of journaling and writing really helps the process, which we teach a lot here."
"I devoted myself to healing through art and this project, my COVID project, really helped me through this year enormously," Adler said. "And now I'm done."
Adler's "My COVID Year" is on display at the Open Studio Project in Evanston through March 31.
Follow Angel Idowu on Twitter: @angelidowu3
---
Angel Idowu is the JCS Fund of the DuPage Foundation Arts Correspondent.
---