The Chicago Loop Alliance wants to close State Street to vehicle traffic for as many as 12 Sundays this summer.
It's just one part of the organization's efforts to bring pedestrian traffic and retail dollars back to the city center as Chicago's COVID-19 recovery continues. The plan, outlined at the Chicago Loop Alliance's annual meeting Tuesday, is called Sundays on State. The group hopes to shut down that great street from Lake to Madison streets on Sundays from July to September.
Chicago Loop Alliance CEO Michael Edwards says the group has multiple goals in mind, including to "highlight local art and culture, which has been devastated by the pandemic and give them an opportunity to shine, but then also to encourage our retailers to start bringing merchandise out onto the street or offering tours of theaters that might not yet be open like the Chicago Theater or the Gene Siskel theater, and even bring (out) restaurants. There's talk of bringing the Walnut Room down to State Street, which would be a really unique experience."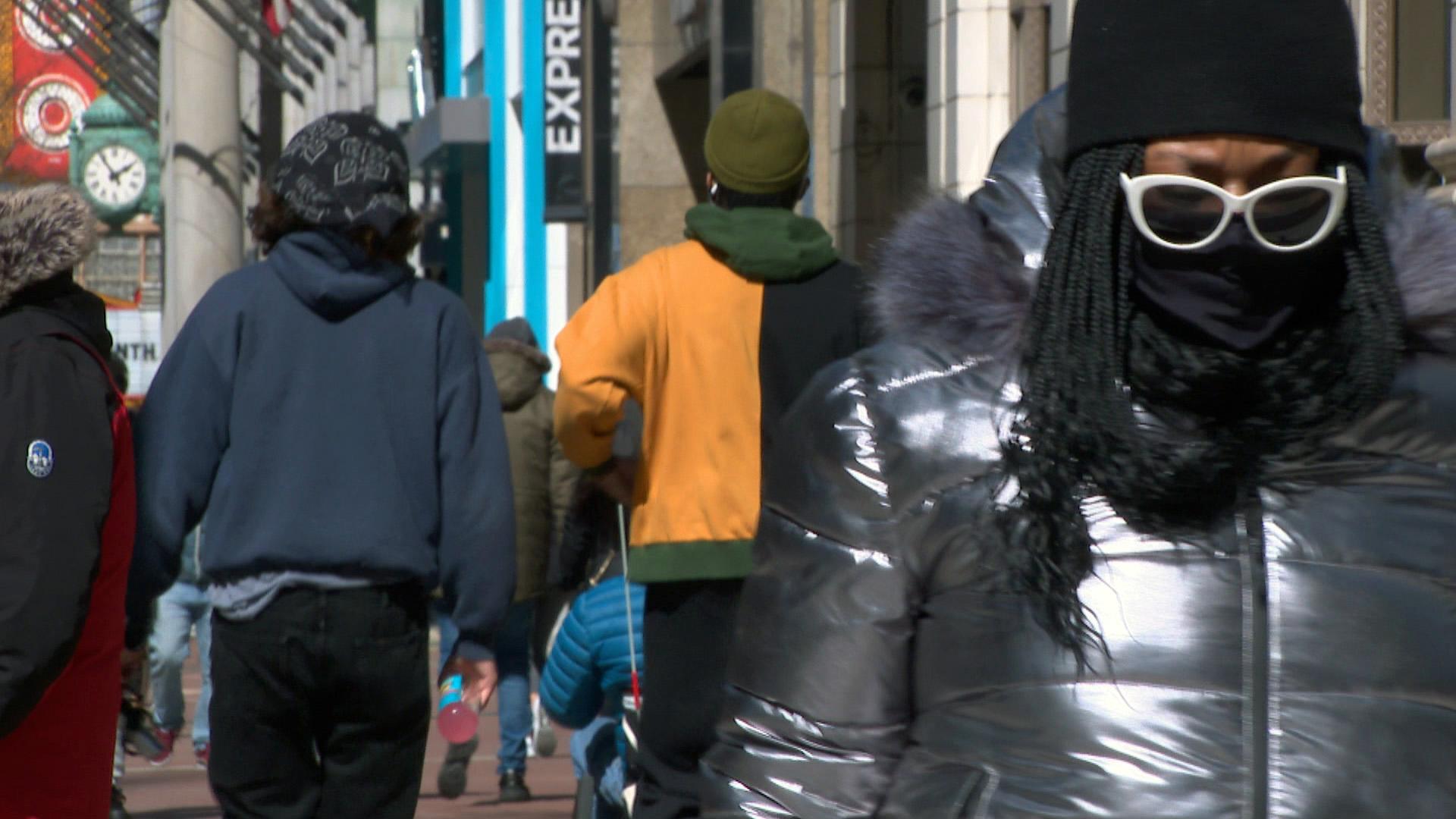 Pedestrian traffic on State Street. (WTTW News)
Edwards says the city and the local alderman are on board. CLA plans to put in some money and will be looking for sponsors as well. In addition to retail and restaurants, the group also hopes to have some programmed events for Sundays on State.
The series is similar to the city's popular open streets program that ran last year along a half-dozen corridors, including Broadway in Lakeview, though it's not officially part of that effort. The city says there's a lot of interest in bringing open streets back in some form, though it's still up in the air.
CLA is also launching a self-guided mural walk that will take people past 22 pieces of public art in the Loop, including well-known works and some lesser-known offerings. The group is also planning some art pop-ups in vacant spaces, similar to a successful program after the Great Recession.
"It showed that the space could be activated and could be a possible location for a business, and it also was a way to highlight some of our local artists," Edwards said. "Happily, those spaces got backfilled with real paying tenants, and eventually we had to move out of those kind of spaces."
Much of the focus of the group's annual meeting Tuesday was on making the Loop a more inclusive place after a year that saw major demonstrations for racial justice, and bringing back visitors, shoppers, and workers.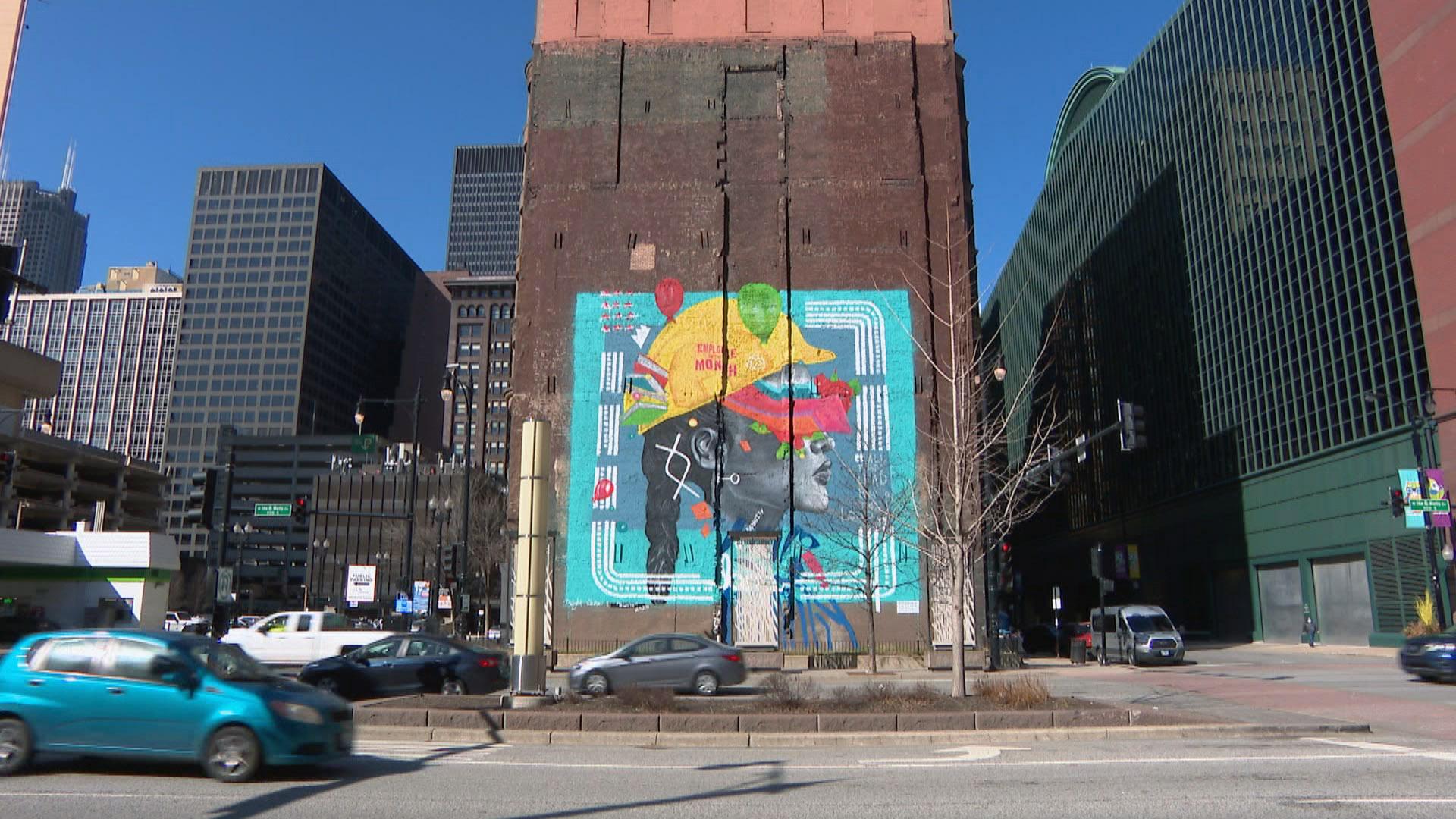 A mural in the Loop. (WTTW News)
Edwards says some businesses are a planning to return to the office in the second quarter of the year, others perhaps not until after Labor Day. But the vast majority of businesses CLA hears from have at least some in-person staff working now, and many people are eager to return at least part-time, Edwards said.
In terms of pedestrian traffic, which drives a lot of retail and restaurant spending, leaders sounded a hopeful note.
Diane Wehrle of Springboard, an analytics firm that counts pedestrians in the Loop and in city centers around the U.S. and Europe, said that foot traffic in the UK has been increasing in the wake of the country's successful vaccination rollout even though nonessential businesses are still closed.
"These increases are growing week on week," Wehrle said. "As we move towards reopening and as the vaccine program accelerates both domestically and internationally, we are undoubtedly going to see a resurgence (in pedestrian traffic)."
Edwards agreed that while things are unclear, they appear to be on the upswing and that there's a lot of pent-up demand from shoppers and staffers.
---