From Van Buren to Monroe streets, nearly two dozen fish sculptures standing 5 feet tall line Greektown's busy Halsted Street. 
The works are part of the community's "Fanciful Fish" outdoor exhibit. Every winter, Greektown's Special Service Area installs an outdoor exhibit. This year, amid the coronavirus pandemic, the project has new meaning. 
"I think it had a lot of relevance because people could not go to art galleries," Eve Moran said, a commissioner for the SSA and chair of the Greektown Arts Committee. "People couldn't go to museums and everything was sporadically… there were these ebbs and flows of what was open and what wasn't open, and here was a safe outdoor way for people to enjoy the art and be uplifted."
Moran said fish sculptures were chosen because children could easily identify them.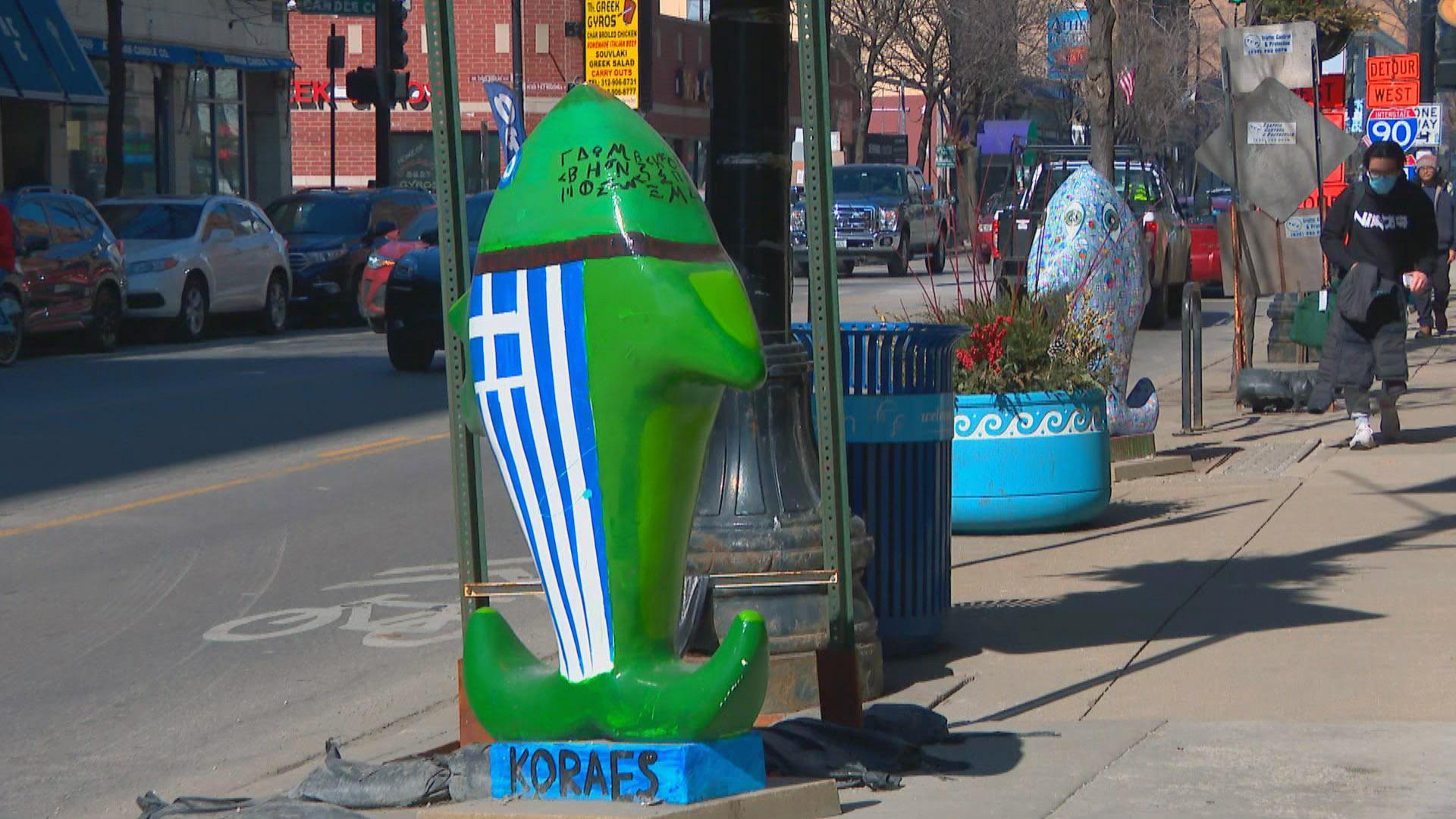 A scene from the "Fanciful Fish" outdoor exhibit along Halsted Street in Greektown. (WTTW News)
"Fish were also part of the ancient diet in Greece, because Greece is a country surrounded by waters," Moran said. 
Professional and emerging Chicago artists painted the sculptures, a process that began last spring during the state's stay-at-home order.
Logan Square-based artist Juan Cano used his signature shattered glass technique on one side of a sculpture. 
"I have Poseidon, and he's overlooking an iconic church from ancient Greece," Cano said.
On the other side, Cano painted a traditional scene of Santorini, Greece. He says creating the piece provided an escape from the uncertainty of last spring.
"It gives you an outlet to get away and to distract yourself from the current situation, which was the beginning of COVID," Cano said. "What was going to happen? People losing their jobs, the uncertainty."
Some artists centered their works around Greek mythology, while others pulled from current issues, like water conservation and the pandemic. 
Six Greek schools also painted sculptures for the exhibit. 
"Usually, my Greek school, we do it all as a school," said Nikoletta Rentzelos, a seventh grader at Coonley Elementary School. "But this year, sadly, because of COVID, we couldn't all be together, so I was selected to paint it."
Rentzelos painted the word "love" in more than two dozen languages on the sculpture.
"I really wanted to spread a message of love, and now in quarantine, it's really hard to remember and to find joy and stuff," Rentzelos said.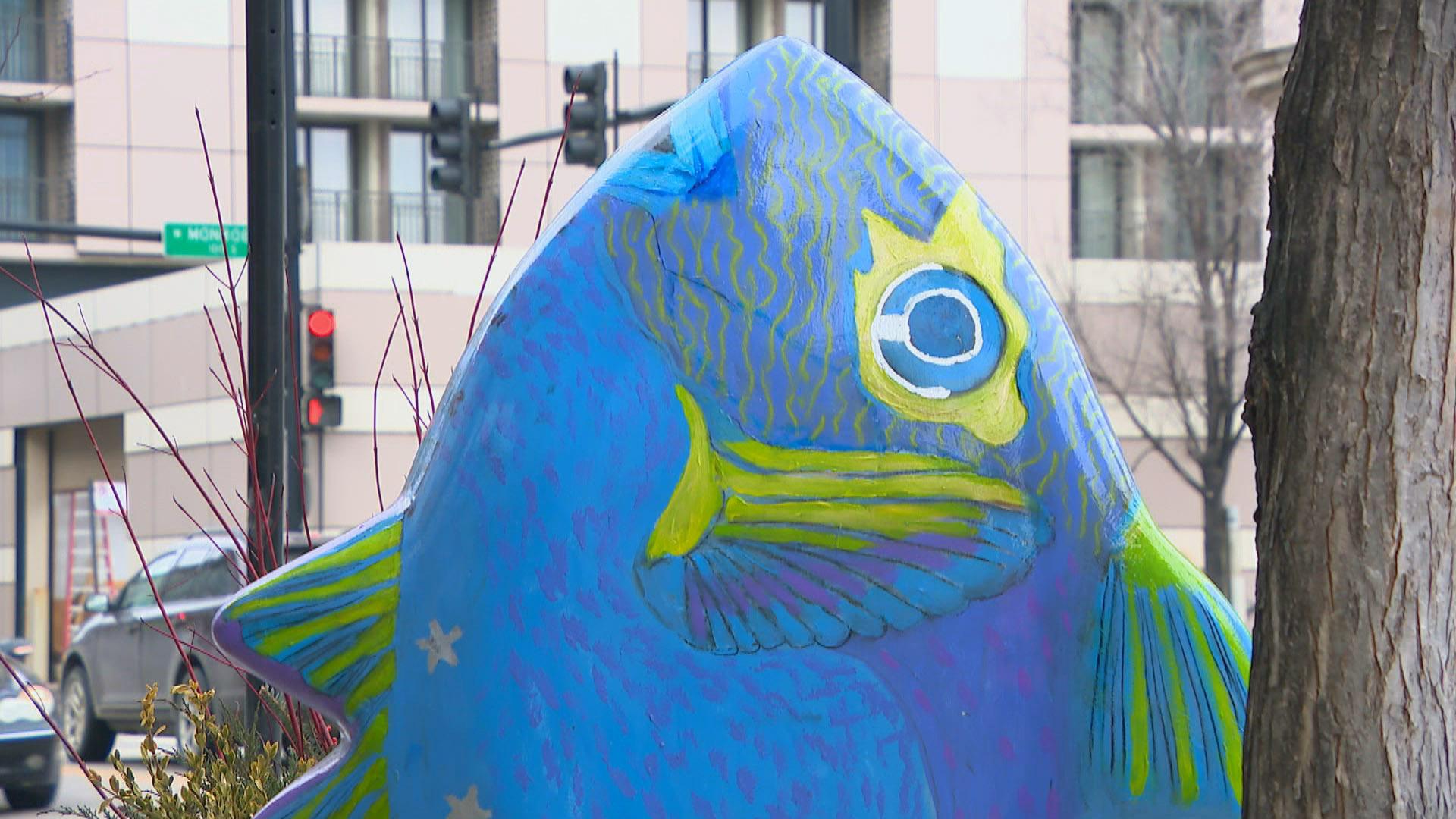 A "Fanciful Fish" in Greektown. (WTTW News)
Many of the sculptures sit outside Greektown restaurants — an essential area business that has been hard hit by the pandemic, especially without tourism to the area. 
Artists hope the exhibit can help bring more patrons back.
"I'd love to see more people coming back to Greektown. I'd love to see them joining us in ordering take out," said Kiki Whitehead, artist of the sculpture named "ΑΓΑΠΗ," which means love in Greek. 
Owner of Nine Muses and Meli Cafe, Yianni Theoharis, welcomes the artworks. He also hopes the exhibit brings more foot traffic — and business — to the area. 
"It's beautiful, you know. Don't forget. Greeks introduced the art," Theoharis said. "We suffered a lot, the restaurants everywhere, not only in Illinois, everywhere, so we appreciate whatever can be done to bring more people down."
The exhibit runs through the end of April. 
---