Despite premieres heading straight to streaming sites, movie theaters like the Music Box are still optimistic about the day they'll be able to fully reopen to the public.
"Throughout the process, we've had people checking in saying, 'I love you guys. I can't wait to get back to the Music Box, I hope you're able to keep everything going," said Buck LePard, senior operation manager at the Music Box Theatre.
The theater known for independent films temporarily reopened in the summer, and now offers rentals, in addition to weekend shows. It plans to fully reopen at the end of March.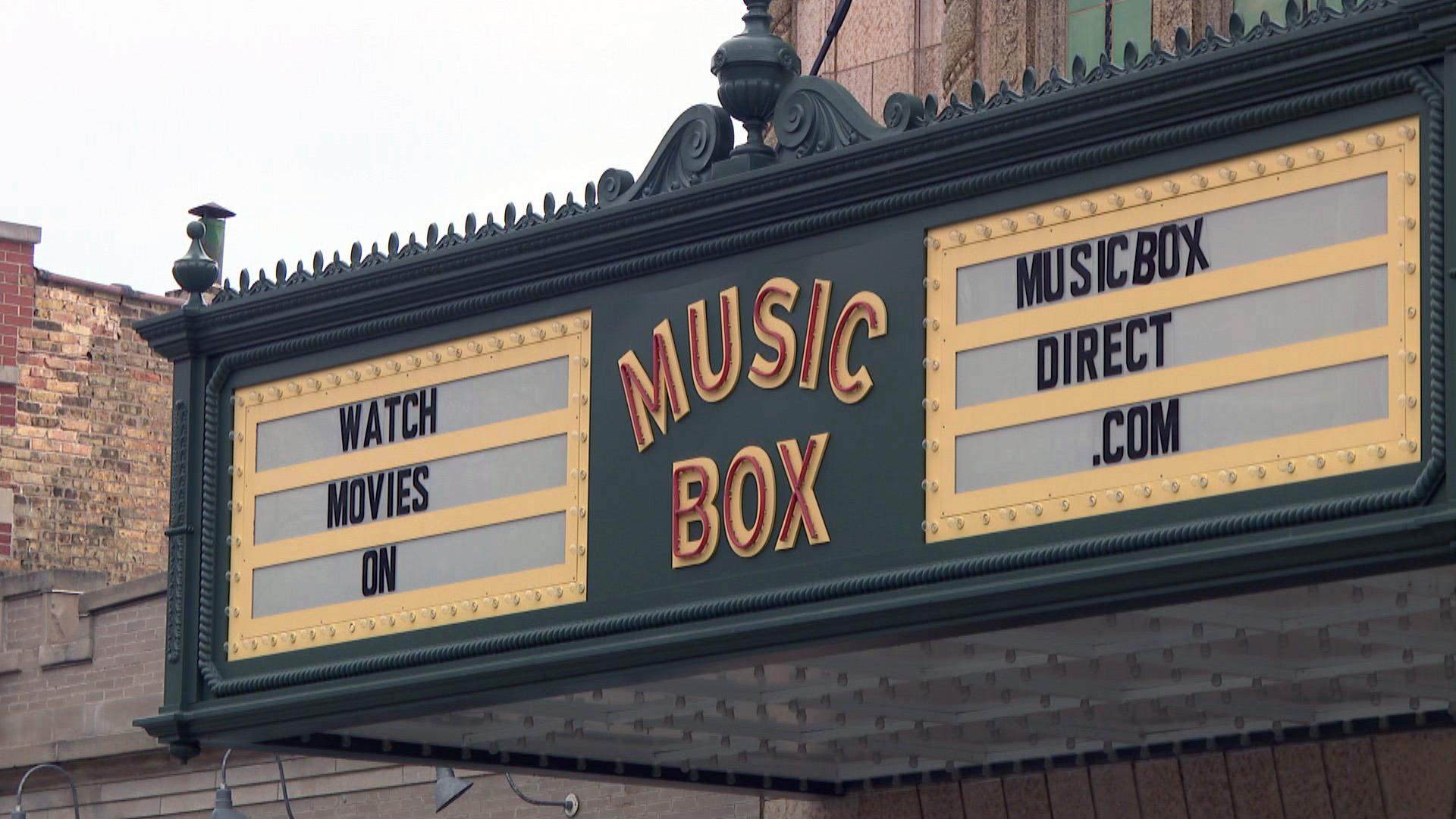 (WTTW News)
"When we first had to close, we were coming off of several good years of attendance for movies and events we had done, so we had a little bit of a nest egg to pull from. We're doing very well and are in a good position to keep moving forward," Buck said.
Bigger theater chains like Kerasotes, which operates the ShowPlace Icon Theatres at Roosevelt Collection, are also optimistic about the public's return.
"It was that way in the '50s when color TV came out," said Jim Nowicki, marketing director of Kerasotes ShowPlace Theatres. "Then people had VHS players, and then DVD players and then flat screens and then Blu-rays. So there's always been some reason people have always tried to put a nail in the movie industry's coffin. But they underestimate that the movie theater industry is constantly evolving and constantly striving so that we are relevant."
Those efforts can be seen in NATO, or the National Association of Theatre Owners, to which Kerasotes ShowPlace Theatres and the Music Box are members. Their Cinema Safe initiative provides resources to theaters across the country to help regain consumer confidence.
"We work with over 3,000 locations, over 35,000 screens, and about 1,000 companies," said Patrick Corcoran, VP and CCO of NATO.  "We've done over 40 weekly webinars with our members, about 400-500 people each time … keeping them up to date with what's going on in the industry, health protocols, the state of the vaccine, safety practices, along with the lobbying we've done for federal aid—it's been nonstop for us for about a year."
Chicagoland theaters enforce the Cinema Safe initiative per the National Association of Theatre Owners. (WTTW News)
Corcoran is hopeful that NATO's efforts will help audiences feel safe enough to come back to the theater.
"As the vaccines take hold and numbers go down, I think we'll see a return to normal," Corcoran said. "We'll see people going to the movies like they used to. These protocols are unnatural. We're social people and like to interact and experience things together. One of the oldest things we've experienced together is telling stories in the dark. You can go back to the earliest communities and see that's what we did. As we become more sophisticated with art and entertainment, it's still a common need that we have to laugh, to cry to be frightened and to do it all together. I don't think that changes."
The Music Box Theatre plans to fully reopen at the end of the month with limited showings. ShowPlace Icon Theatres will continue to operate on Tuesdays and Fridays through Sundays. Visit Cinema Safe to see if your local theater is practicing safety protocols. 
Follow Angel Idowu on Twitter: @angelidowu3
---
Angel Idowu is the JCS Fund of the DuPage Foundation Arts Correspondent.
---