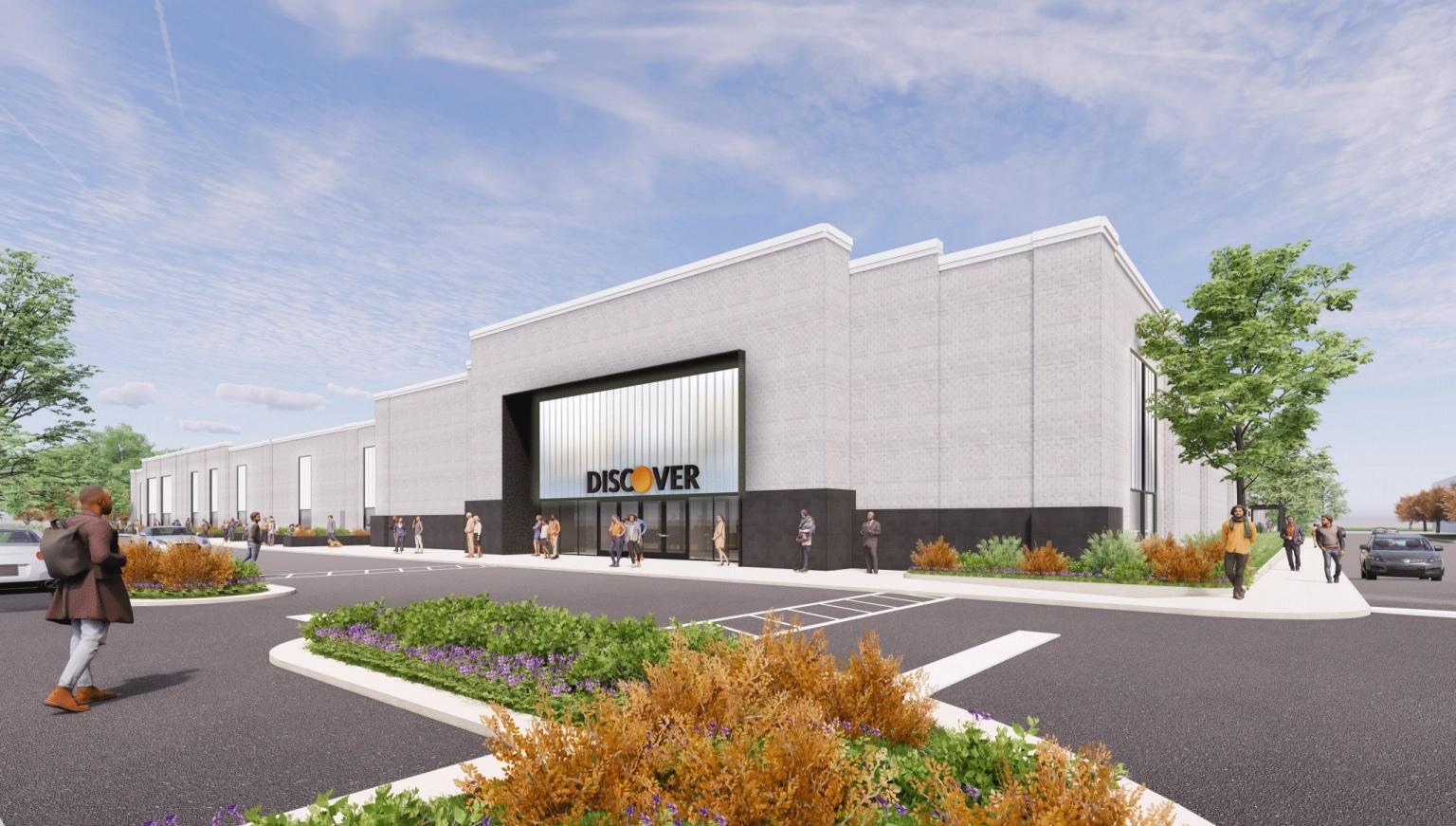 A rendering of the newly announced Discover Call Center planned for 8560 S. Cottage Grove Ave. in Chatham. (Credit: City of Chicago)
News that Target would shutter two South Side stores in February 2018 prompted deep outrage — especially since the big box retailer was in the process of opening a new store on the Far Northwest Side in a new strip mall that was getting a $13 million subsidy.
But on Thursday, South Side officials and residents celebrated the news that the shuttered Chatham store would be transformed into a call center for credit card company Discover, creating 1,000 full-time jobs that will pay at least $17 an hour near 87th Street and Cottage Grove Avenue.
"This is a great day for Chicago," Mayor Lori Lightfoot said Thursday. "We cannot be a great city if our neighborhoods are starving."
The other shuttered Target, in Morgan Park, is set to become a Blue Cross Blue Shield of Illinois wellness center with 550 jobs later this year under a plan approved in the fall by the Chicago City Council.
U.S. Rep. Bobby Rush (D-Chicago) said the closures of the Targets "left a gaping hole" on the South Side.
"This community was crying tears of sorrow," Rush said. "But today, those tears of sorrow have been changed into tears of joy, because we have been granted a greater blessing. We don't have a place to shop and spend our money. We've got a place to work and make some money."
Discover CEO Roger Hochschild said the firm selected Chatham for its new facility precisely because of the history of disinvestment on Chicago's South Side, spurred in part by this summer's nationwide reckoning about systemic racism that followed the death of George Floyd in Minneapolis Police custody.
"Discover recognizes that traditional corporate site selection has contributed to issues of unequal opportunity in our society, and we want to be part of the solution," Hochschild said in a statement. "We hope our commitment to Chatham will serve as a springboard for further economic development in the area; and we're excited to work with residents and community leaders and add to our award-winning customer service team."
Lightfoot said Discover's pick of Chatham was an endorsement of her Invest South/West initative, designed to address the root causes of crime, poverty and population loss in Chicago's Black and Latino neighborhoods with a combination of private and public investment.
"This customer care center will serve as a catalyst for the Chatham neighborhood, which has always been brimming with untapped potential," said Ald. Roderick Sawyer (6th Ward) in a statement.
The center will include gathering space that could be used by community groups, officials said.
Contact Heather Cherone: @HeatherCherone | (773) 569-1863 | [email protected]
---