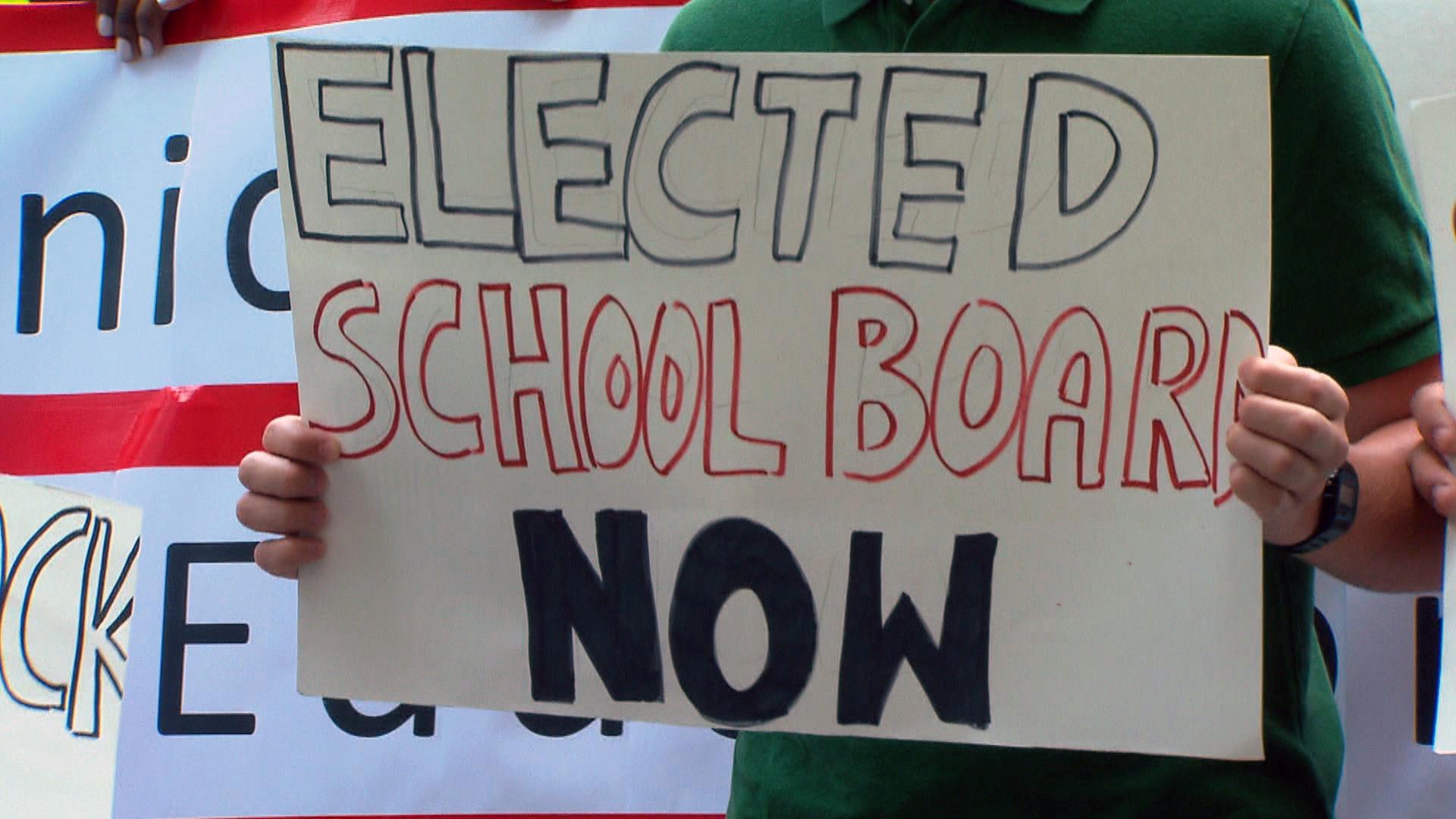 Supporters of an elected school board demonstrate in April 2019. (WTTW News)
Chicago parents and education advocates who are once again pushing lawmakers to create an elected representative school board in the city called Mayor Lori Lightfoot a "political sabotager" as she hasn't supported legislation to make that change happen after pledging to do so during her election campaign.
Activists gathered outside City Hall on Wednesday morning to call out the mayor, demanding she support state legislation that would create an elected school board for Chicago Public Schools.
"Let us have democracy in our schools," said Moises Moreno, director of The Pilsen Alliance. "Last time we were out here, we were talking about in the lame duck session that we had a chance to get this bill passed. But what had happened is that the mayor decided to step in and to act as a political sabotager to stop an elected representative school board."
The push from parents and advocates to get an elected board has gone on for years in Chicago, which remains the lone city in the state to have it's school board appointed by the mayor.
City Hall. #democratizecps pic.twitter.com/tTk7atk3sJ

— Raise Your Hand (@ILRaiseYourHand) March 3, 2021
---
During her 2019 mayoral campaign, Lightfoot expressed support for an elected school board, saying in interviews she wanted to "make sure that parents truly have a seat at the table." Following her election victory, the seven members of the Chicago Board of Education each stepped down, and Lightfoot appointed her own replacements weeks later.
That move was instantly criticized by the Chicago Teachers Union, which claimed Lightfoot "(derailed) legislation while refusing to engage with the very grassroots forces that have been fighting for this most basic democratic right."
In the nearly two years since, Lightfoot has not put forth her own model for an elected school board, but she has spoken out against bills brought by state Sen. Robert Martwick, which would create a 21-member board in 2023.
The mayor on Wednesday said there are a "number of fundamental problems," including a lack of inclusion of undocumented families. Lightfoot is also concerned school board elections could turn into million-dollar races as seen in other places like California.
"This discussion has been about power and dynamics, but has not been about our kids," Lightfoot said. "And we've got to reorient that discussion to really focus on them and making sure that the people who are most protective of our children — meaning their parents and guardians — actually have a seat at the table. And the Martwick proposal, and frankly none other that I've seen, actually make sure that that happens."
The mayor said it's "obviously important that we make sure that parents are heard" and pointed to the recent school reopening negotiations with the CTU — which nearly led to a second teachers strike during her first term — as underscoring that point.
But in a recent interview with The New York Times after striking a deal with the union, Lightfoot said Chicago schools "would never have opened without mayoral control."
The CTU in a statement said Wednesday that if the mayor truly wants parent voices to be heard, she should "work collaboratively at the City Council level regarding public finance for school board elections to ensure residents, including parents, are not locked out by big-money interests and the board is truly representative of the city."
Parents still want their voices heard, but they said it's Lightfoot who's not listening.
"We need our elected school board now," CPS parent Bridget White said Wednesday. "This fight has gone on way too long for something that is so simple — parent input, parent involvement, parent engagement. When you have staff and parents and administrators working together, that's for the best of the children. How can you not want the best for the children by putting this elected school board in place?"
Contact Matt Masterson: @ByMattMasterson | [email protected] | (773) 509-5431
---