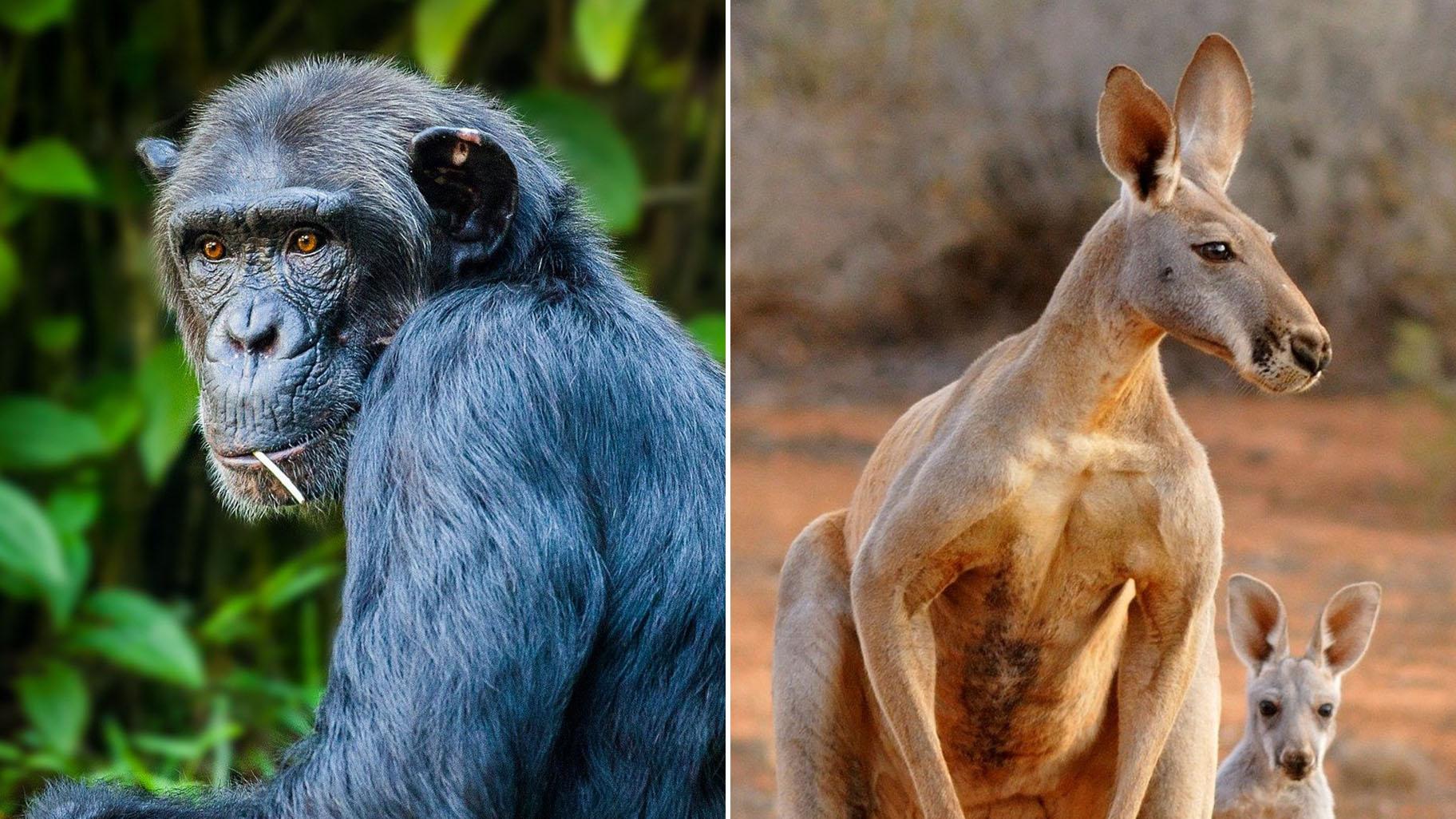 Chimpanzees and red kangaroos are among the competitors in March Mammal Madness 2021. (Simon Bardet / Pixabay; Pierre_Rigou / Pixabay)
Forget Duke versus North Carolina. March Mammal Madness raises the rivalry stakes by an order of magnitude, pitting species against species in an annual winner-takes-all online competition that's as educational as it is weird.
The tourney was created in 2013 by Katie Hinde, now an associate professor at Arizona State University. Using the bracket format popularized by the NCAA men's basketball championship, the contest gives serious consideration to the kind of conversation a person might overhear at a bar — "If a blue whale fought a tiger, who do you think would win?" — and applies actual science and animal behavior to the question. 
Last year's final came down to a gorilla versus a brown hyena, with the gorilla claiming the 2020 title.
The 2021 field of March Mammal Madness contestants was just announced, and if the top seeds survive through to the finals, a championship battle royale between the harpy eagle and red kangaroo is a distinct possibility. Or will a Cinderella contender — perhaps the goliath beetle — emerge? (And yes, Hinde knows there are non-mammals in the mix.)
Here's how it works: Hinde and a team of fellow scientists provide the play-by-play for "simulated" bouts online. Outcomes take into account an animal's attributes such as running speed, motivation and weaponry, as well as a number of other factors, including whether an animal is nursing an injury suffered in a prior round.
Bouts are set in specific ecosystems, which can have a major impact on an animal's performance. Imagine, organizers say, a cold climate species doing battle in a tropical rain forest. Upset alert!
The blow-by-blow match descriptions are designed to entertain and inform, embedded with details about inter-species interactions, natural selection and conservation management. A 2018 bout between a spotted hyena and a coyote, for example, ended with the heavily favored hyena losing out when it was rammed by a car while chasing its fellow combatant. "Vehicle collisions are a major source of mortality in wildlife," the bout description explained. "The motorist … viewed hyenas as pests and did not even try to swerve."
"Folks remember the science that ended their pick's hunt for the MMM championship," Hinde said in a recent interview with Scientific American. "There are people who can now tell you that platypus venom is seasonal."
There's still plenty of time to fill out a bracket and play along in 2021, with loads of resources available to help people make educated picks. Or just guess.
The tournament kicks off March 8 with the play-in wild card round, as the southern red-backed vole and Hopi chipmunk vie for the 64th slot. Round 1 takes place March 10-17, Round 2 is set for March 18 and 22, the Sweet 16 round is March 24, the Elite Trait round is March 25, the Final Roar is March 29, and the Championship is on March 31.
Follow battles in real time on Twitter at #2021MMM or @2021MMMletsgo. Post-match, updates will be shared on Facebook and the MMM website.  
Contact Patty Wetli: @pattywetli | (773) 509-5623 |  [email protected]
---