Video: A sweeping criminal justice measure is now law. Will it make communities more safe? Amanda Vinicky reports.
---
Gov. J.B. Pritzker on Monday signed into law a massive, 764-page criminal justice reform bill that will eliminate cash bail, require law enforcement officers to wear body cameras and create a certification program for police.
Pritzker joined several elected officials at Chicago State University on Monday afternoon to sign HB 3653 more than a month after it was approved by legislators in both the Illinois House and Senate.
"All Illinoisans will live in a safer and more just state with this law on the books," Pritzker said. "In short, this legislation marks a substantial step towards dismantling the systemic racism that plagues our communities, our state and our nation, and brings us closer to true safety, true fairness and true justice."
With the bill now signed into law, the abolition of cash bail will begin in January 2023, while the body camera requirement for officers will take effect by 2025. Additionally, the bill now allows for anonymous complaints to be made against police officers. Complainants in the past have had to sign an affidavit to do so.
Reform advocates have for years said cash bail unfairly punishes poor defendants by keeping them locked up in jail before trial, not because they are a threat to public safety or a flight risk, but because they simply cannot afford to pay their set bail amount.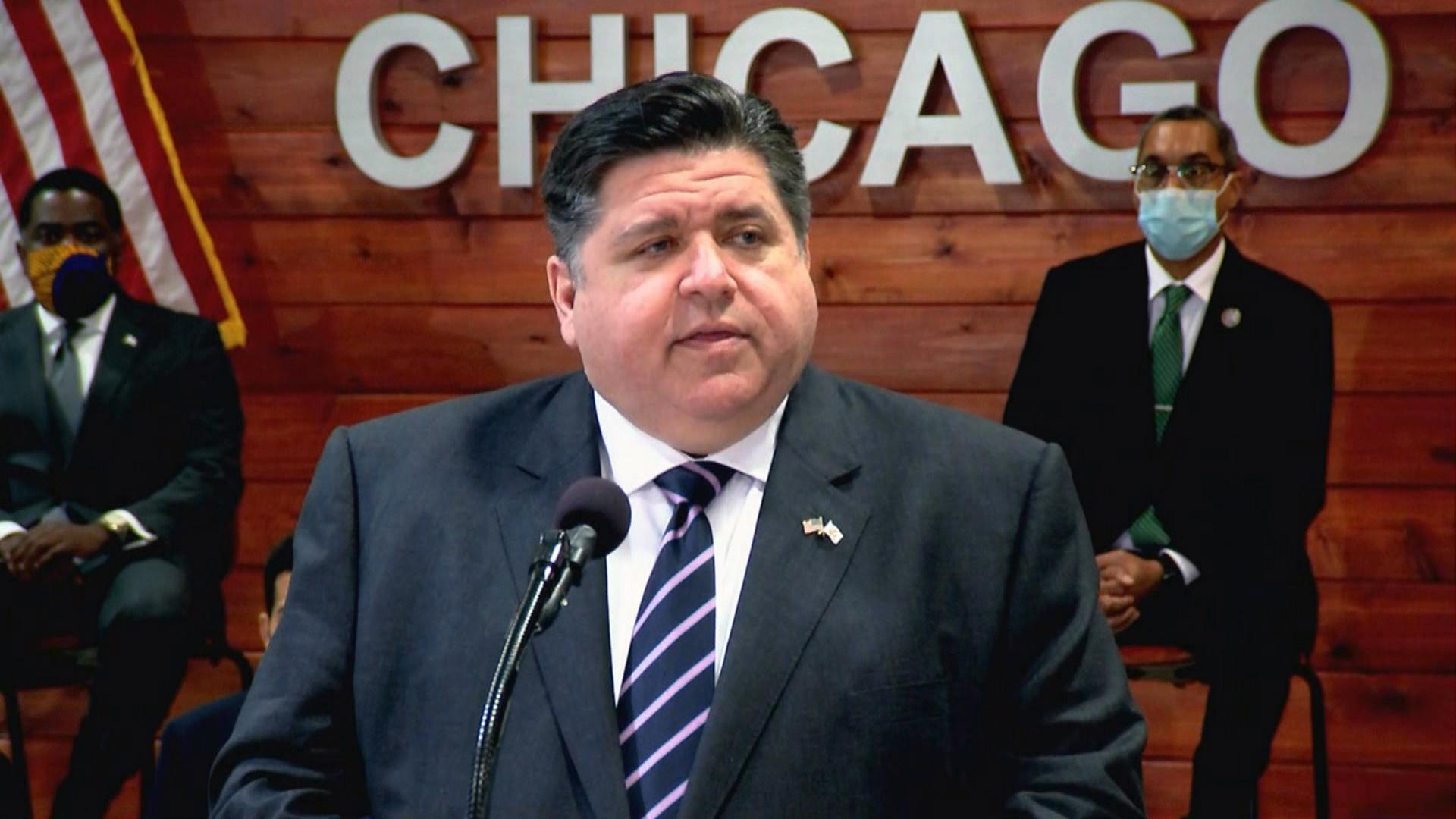 Gov. J.B. Pritzker speaks Monday, Feb. 22, 2021 at a bill-signing ceremony for a massive criminal justice reform bill. (WTTW News)
"This is a historic day for Illinois," Cook County State's Attorney Kim Foxx wrote in a tweet Monday. "#HB3653 is what real criminal justice reform looks like. I'm proud to help support this bill, and I am in awe of the hard work of the advocates, activists, and legislators that made this possible."
Legislators who pushed for these reforms have said they hope this bill can be used as a model for reform in states across the country, particularly in the wake of the police killing of George Floyd in Minneapolis last year.
And members of the Illinois Legislative Black Caucus, which was instrumental in getting this bill through the General Assembly, noted the significance of Pritzker signing it into law during Black History Month.
"It's our history that gives us the inspiration to do this work," said state Rep. Justin Slaughter, D-Chicago. "When you think of the sacrifices that Black America has been through — whether it's Harriet Tubman in the underground room, Dred Scott, our Jim Crow laws, the Civil Rights Act, the war on drugs, the Rodney King riots. All the way to our present day prison industrial complex — It's our legacy of sacrifices, our legacy of resilience and perseverance that give us the strength, the resolve and the determination to continue fighting for change."
But the changes come over the complaints of Republican legislators, law enforcement organizations and others who say the changes will decrease public safety across the state.
Illinois House Republican Leader Jim Durkin, R-Western Springs, called Pritzker's support of this legislation "an insult to our first responders, law enforcement and the law-abiding citizens of Illinois."
"It's clear that Gov. Pritzker does not understand this bill and what it means to our criminal justice system," Durkin said in a statement. "Illinois and its citizens will not be safer because of this bill."
He's been joined in his opposition to this bill by groups including the Illinois State's Attorneys Association, the Illinois Law Enforcement Coalition and the Fraternal Order of Police Lodge 7 — which represents rank-and-file officers within the Chicago Police Department.
"In signing this bill into law, Gov. Pritzker chose to listen to a few strident political voices rather than the 120,000 petition signing citizens who plainly saw the bill for what it is," those groups and others said in a statement prior to the bill signing. "This new law is a blatant move to punish an entire, honorable profession that will end up hurting law-abiding citizens the most."
But Pritzker rejected those claims, saying opponents to the bill have relied on lies and fearmongering "in defense of the status quo." He pointed to portions of the bill he says "protects police officers" and provides more to law enforcement through funding for trainings and mental health services.
"I am actually very confident this is going to make policing safer," Pritzker said, "and it's going to make the public safer."
Contact Matt Masterson: @ByMattMasterson | [email protected] | (773) 509-5431
---