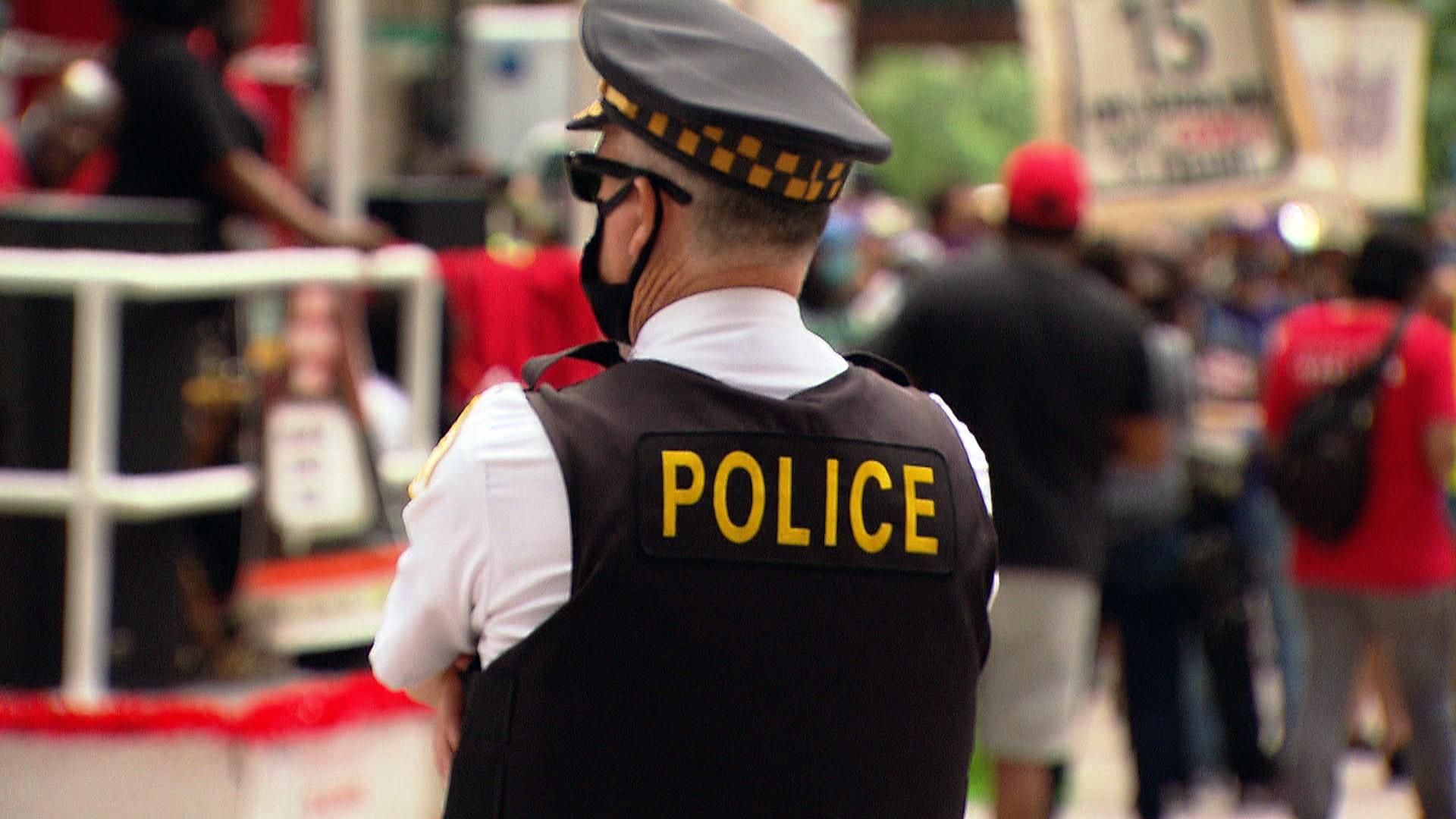 Demonstrators march in Chicago on Wednesday, June 24, 2020 to show their support for removing police officers from schools. (WTTW News)
State legislators have approved a massive 764-page police and criminal justice reform bill that could end the practice of cash bail in Illinois and make it easier to decertify officers who commit misconduct.
Both the Illinois Senate and House of Representatives approved the sweeping measure Wednesday morning, meaning it will now go to the desk of Gov. J.B. Pritzker for approval. If the governor does sign it, the legislation would require officers across Illinois to be licensed by the state and outfitted with body cameras, among other changes.
The bill would also end the use of money bond, meaning defendants in criminal cases could only be detained pretrial if they're deemed a flight risk or a risk to the community.
"Eliminating cash bail ends the practice of detaining non-violent offenders simply because they are poor while also preventing violent offenders from being released because they can afford bail," Cook County State's Attorney Kim Foxx said in a statement.
VIDEO: Kim Foxx on Capitol Riots, Police Union and Reform
Criminal justice advocacy groups like the Chicago Community Bond Fund have long pushed for an end to cash bond, calling it an "archaic practice" that has "caused irreparable harm to our communities."
"So many people have lost jobs, housing, and so much more, not because they've been found to be a danger to anyone's safety but because of the size of their bank account," state Sen. Robert Peters (D-Chicago) said in a statement. "This system has prioritized access to wealth over public safety for far too long, it has caused irreparable harm to communities across our state."
The legislation was brought forth by the Illinois Legislative Black Caucus in response to widespread unrest over the summer sparked by the police killing of George Floyd in Minneapolis.
Pritzker praised the legislation Wednesday afternoon, saying it "carries with it the opportunity to shape our state into a lesson in true justice for the nation."
"I was proud to make ending cash bail and modernizing sentencing laws a legislative priority of my administration," the governor said in a statement, "and I have long pledged my support to the Illinois Legislative Black Caucus in their efforts to pass not just criminal justice reform and police accountability measures, but also to truly root out the systemic racism that pulses through all our nation's institutions by pursuing greater equity in healthcare, higher goals in education, and deeper investments in economic opportunity for communities that have for too long been left out and left behind."
If signed into law, the measure will allow for anonymous complaints to be made against police officers — complainants currently have to sign an affidavit to do so — and would amend the state's police certification and decertification process.
Illinois Attorney General Kwame Raoul pushed for changes in that process following last year's unrest, saying police officers should be certified the way lawyers, pharmacists, doctors and hairdressers are.
The bill received pushback from law enforcement organizations including the Fraternal Order of Police Lodge 7 — which represent rank-and-file officers with the Chicago Police Department — and the Illinois Law Enforcement Coalition.
They said the legislation is a "betrayal of the public trust" that "gives many more advantages to criminals than the police."
"It ties the hands of police officers while pursuing suspects and making arrests," the Illinois Law Enforcement Coalition said in a statement, "and allows criminals to run free while out on bail."
Beyond the nuts and bolts of the bill, the groups also criticized legislators for "shoving" the measure through "in the middle of the night before the people voting on it even had a chance to read it."
"In the dark of night," the coalition said, "Illinois legislators made Illinois less safe."
Contact Matt Masterson: @ByMattMasterson | [email protected] | (773) 509-5431
---