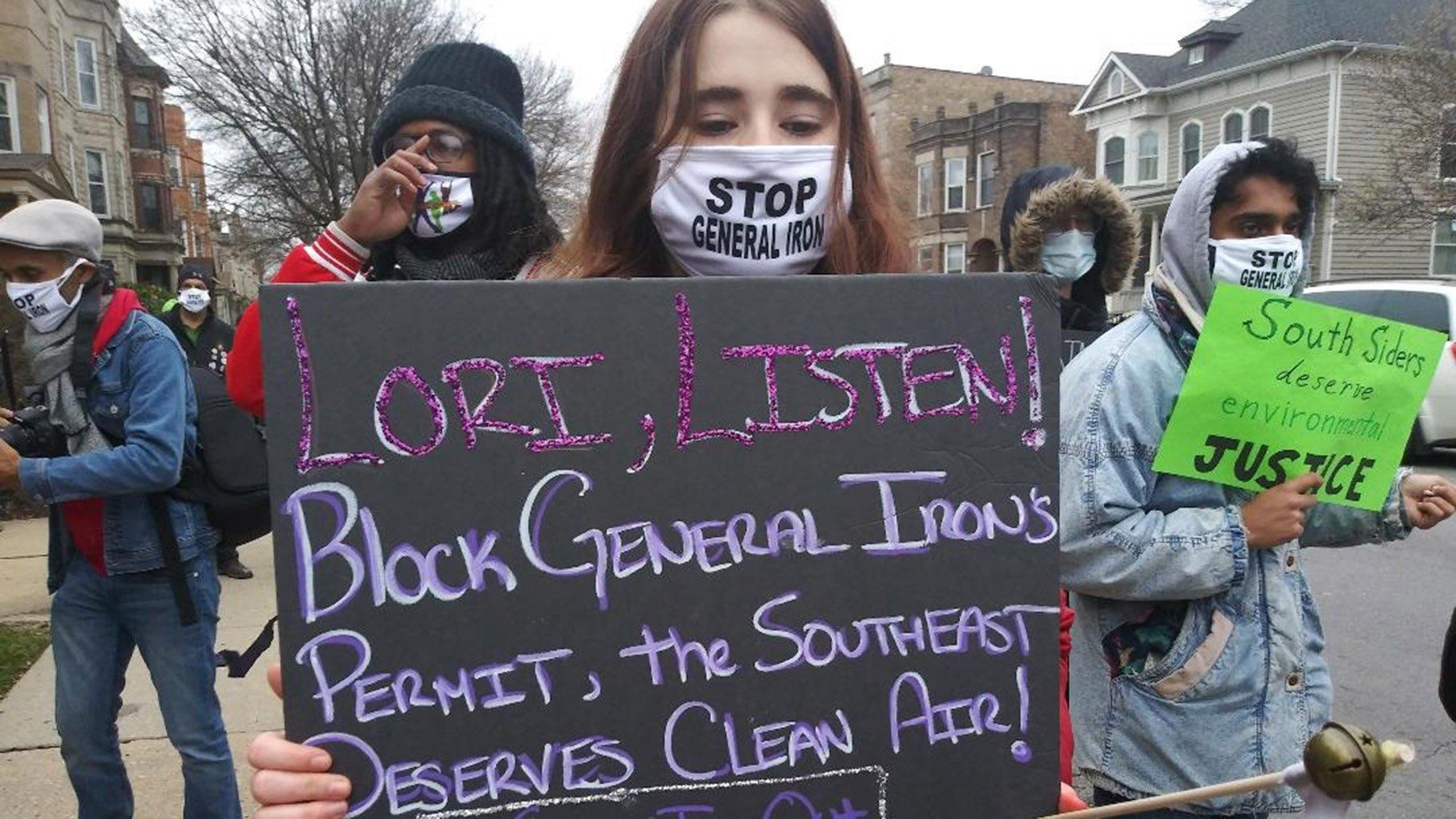 Protests against General Iron's relocation to the Southeast Side have been ongoing for months, including a march on the mayor's house in November 2020. (Annemarie Mannion / WTTW News)
Members of numerous conservation organizations in Chicago are observing a one-day fast Monday in solidarity with a nearly three week hunger strike in opposition of General Iron's plans to relocate its metal scrapping business to the Southeast Side. 
Chicago Audubon, Friends of the Parks, Friends of the Forest Preserves, Feminist Bird Club, Environmentalists of Color and the 47th Ward Green Council are among the organizations whose members have joined the hunger strike. 
"The people, wildlife and wetlands of the Calumet area have borne more than their share of pollution, and it's time for the City of Chicago to find a different way. We are using our platform to put pressure on Mayor Lori Lightfoot and Dr. Allison Arwady to do what is right," Chicago Audubon posted in a statement to its website. 
The fight over General Iron's relocation has reached a head in recent weeks, as the city's approval of a permit application from Reserve Management Group (General Iron's parent company) is the final hurdle the company needs to clear before beginning operations.
"We have spoken to some of our state senators, we have tried our best to have a meeting with the mayor," Maritza Darling-Ramos, a Southeast Side resident participating in the hunger strike, said in a recent WTTW News interview. "We did everything that we could up until this point to let them know that we don't want them here. We had to get to the point where we were starving ourselves to hopefully have them listen."
RMG spokesman Randall Samborn said it didn't have to come to this.
"We regret that these individuals have chosen to engage in conduct that we believe is unwarranted under these circumstances," Samborn said in a statement to WTTW News. "We strongly urge them to not put their own personal health at risk or to encourage others to do so."
A day of action is planned for Tuesday, including a social media blitz on Twitter, a socially-distanced candlelight vigil at City Hall at 5 p.m., and calls for more individuals to pledge one-day solidarity hunger strikes.
Chicago Audubon and friends from other conservation organizations will observe a one-day hunger strike on Monday February 22 in solidarity with @CHIhungerstrike @chi_sscbp @SEYouthAlliance @united10thward @ASEChicago @bridges_puentes and all others fighting to #stopgeneraliron pic.twitter.com/uON79JbDXp

— Chicago Audubon (@ChicagoAudubon) February 21, 2021
---
THIS TUESDAY: Citywide day of action calling on @chicagosmayor to #DenyThePermit!

Keep an eye out on more info #StopGeneralIron #ChiHungerStrike pic.twitter.com/Ob5RPTJ8pd

— #StopGeneralIron Hunger Strike (@CHIhungerstrike) February 22, 2021
---
Contact Patty Wetli: @pattywetli | (773) 509-5623 |  [email protected]