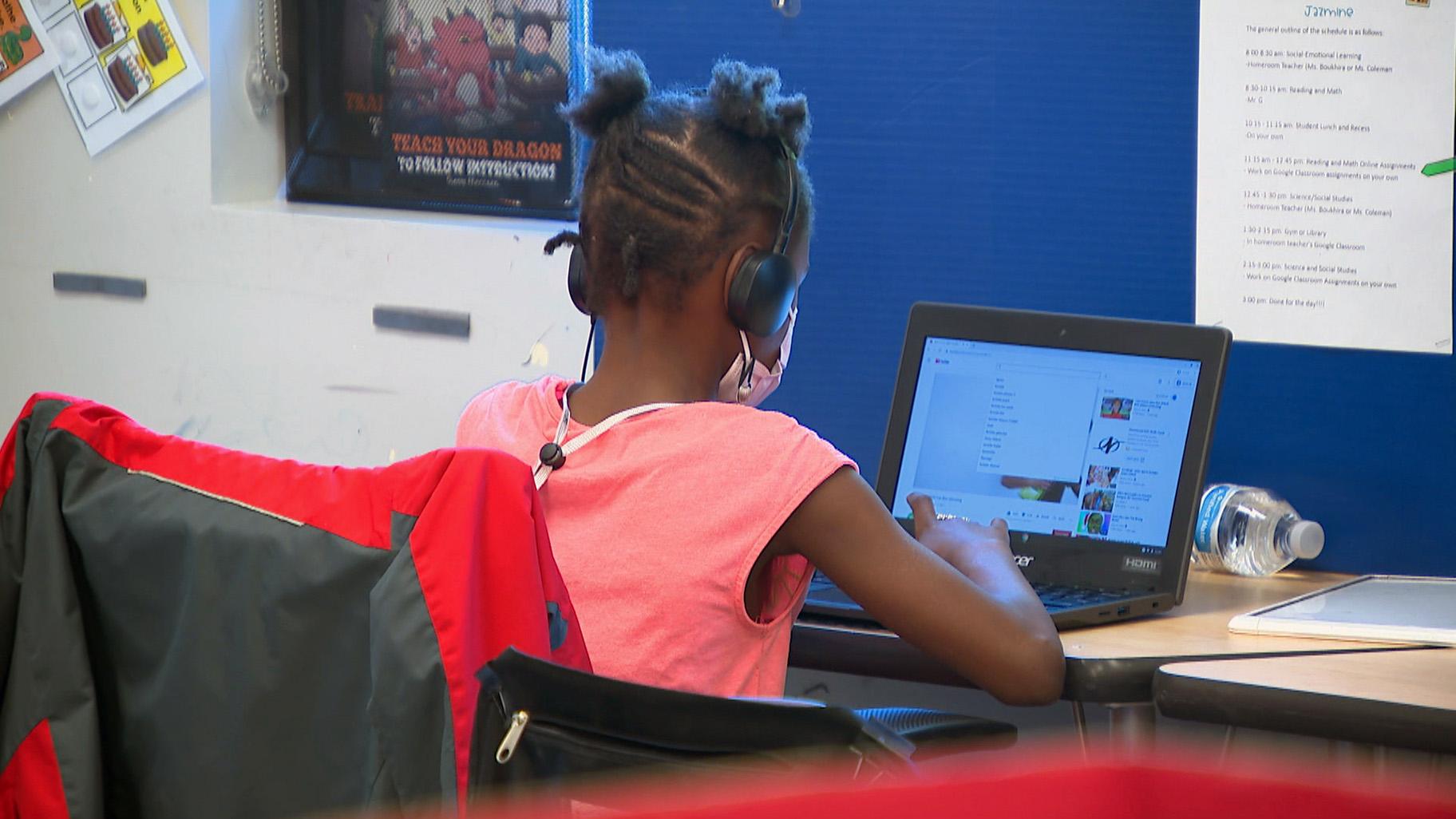 (WTTW News)
Mayor Lori Lightfoot said a deal between Chicago Public Schools and the Chicago Teachers Union must be reached as soon as possible for the "sake and sanity of our students," as another week draws to a close without an agreement over in-person learning.
Despite productive bargaining sessions earlier in the week, Lightfoot said the sides took "several steps backwards" Wednesday in their ongoing negotiations toward a safe school reopening plan during the ongoing coronavirus pandemic.
"We are deeply disappointed to announce that we still have not reached a deal," the mayor said Thursday. "We waited for hours last night, hours, and still did not receive a proposal from the Chicago Teachers Union leadership. And as of this morning we are still waiting, but to be clear, not patiently, not anymore. After 80-plus meetings and going above and beyond to address the CTU leadership's various issues and concerns, we are out of runway."
Remote learning continued Thursday for some 67,000 Chicago Public Schools students that had been expected to attend in-person this week as the district extended a "cooling off" period with the union that began earlier this week.
The mayor said agreements have been made on safety protocols, ventilation, testing for COVID-19, contact tracing and a joint safety committee. The city, she said, has also offered a "comprehensive vaccination plan" that's "sensitive to the unique demands of our communities" as well as accommodations that would allow CTU members with underlying medical conditions to continue working remotely.
But the union said more progress is needed on a CDC-based health metric for closing schools in the event of an outbreak, accommodations for educators with medically vulnerable family members and addressing "real equity needs for the vast majority of our students."
"We won't stop advocating, and we won't stop fighting until we win what our members, our students and their families deserve: a school reopening model that protects us all and gives (parents) the confidence to send your children back into classrooms to safely learn and grow," the CTU said in an open letter Thursday.
Rank-and-file CTU members last month signaled their intent to continue working remotely en masse until a school reopening agreement could be reached, adding that if CPS responded by locking them out of their Google education suites, they could go on strike.
The district has held off on doing so this week, but dozens of educators were previously locked out and have not yet had their access restored.
Asked Thursday whether those employees would continue to be locked out, CPS CEO Janice Jackson said that "despite every effort and every opportunity," those staffers have "refused to report to work and refuse to offer an explanation."
"I don't know of any organization (or) company that would allow for that," she said. "You have a responsibility to your employer as well as to your (students) to tell them why you're not coming to work, to avail yourselves of all the opportunities that we have for people that have legitimate reasons not to come to work."
The union in its letter said educators "desperately want to be back in classrooms" with students, but they aren't "willing to accept the inevitable illness and death a reckless reopening will inflict on our city."
Dr. Allison Arwady, chief of the Chicago Department of Public Health, said Thursday that the city is in its "best shape" in terms of COVID-19 since early October, with a positivity rate at 5.4% and an average of 539 new cases per day.
Thus far, 256,279 Chicagoans have received a COVID-19 vaccine, and Arwardy said 3,700 CPS employees have either been vaccinated or have been offered a dedicated vaccination spot. She said the city is dedicated to getting teachers vaccinated, but reiterated the city's stance that vaccinations are not a requirement to reopen schools as long as other mitigations such as mask wearing and social distancing are in place.
But the union has noted that even when a small number of pre-kindergarten and special education cluster program students did return to schools last month, there was an uptick in the number of COVID-19 cases.
"We want nothing more than a return to normal," the union said in its letter. "But these are far from normal times, and we are prepared to sacrifice even more to ensure real equity and safety for all."
Contact Matt Masterson: @ByMattMasterson | [email protected] | (773) 509-5431
---