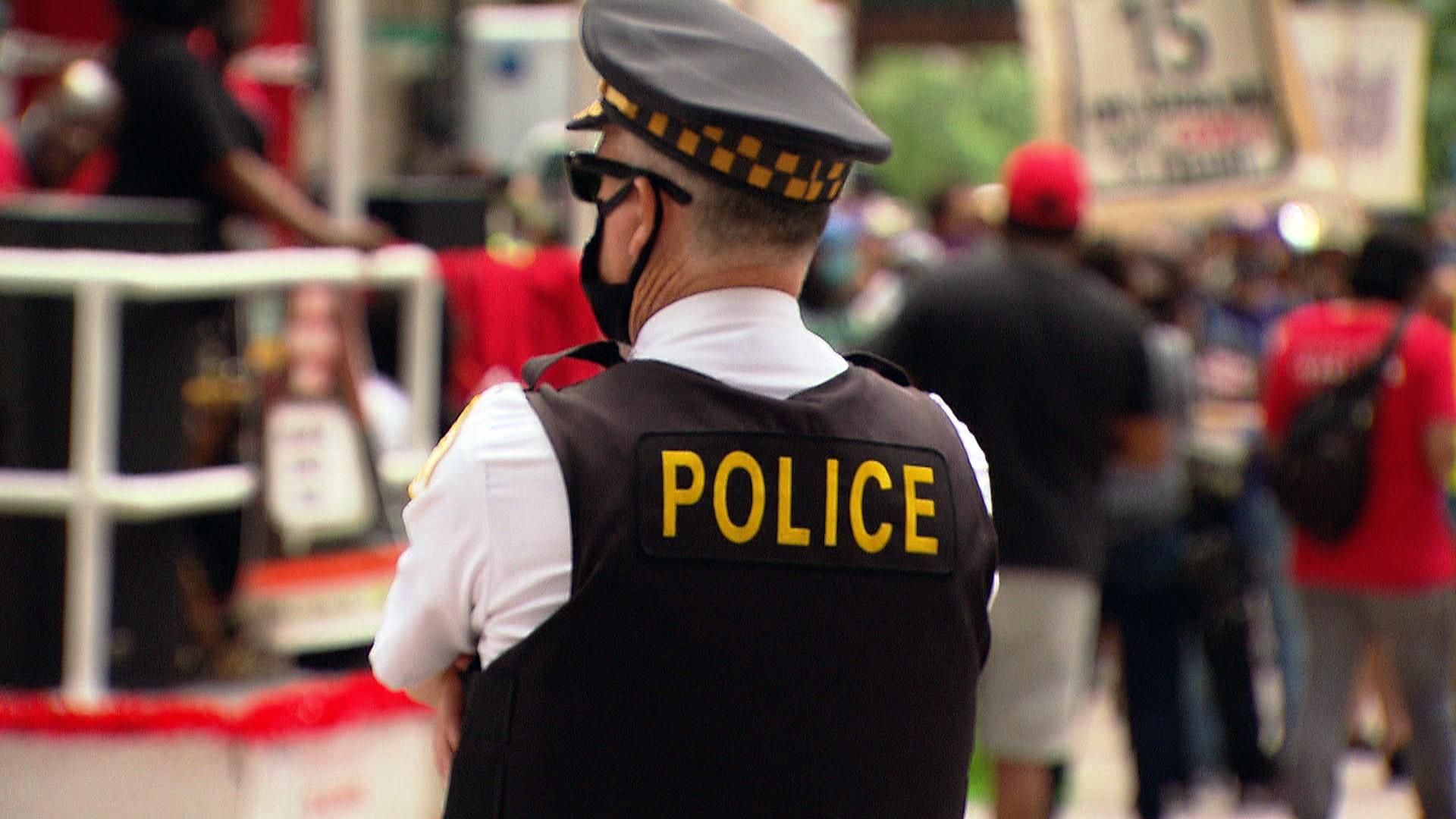 Demonstrators march in Chicago on Wednesday, June 24, 2020 to show their support for removing police officers from schools. (WTTW News)
The number of homicides and carjackings in the city of Chicago continues to rise through the first month of 2021, following a year in which both crimes spiked significantly.
According to Chicago Police Department data released Monday, the 51 homicides recorded last month mark a 46% jump over the same month last year and the city's highest total for any January since 2017, when there were 52.
Only three Januarys (2016, 2017, 2021) have topped 50 homicides since 2000, department data shows. Throughout last month, there were also 201 shooting incidents and 241 shooting victims.
Meanwhile, the number of carjackings through the first month of 2021 exploded with 218 vehicular hijackings reported, compared to 77 in January 2020, according to CPD data. That's an increase of 183%.
The department in January announced a "comprehensive" strategy to combat carjackings, including the addition of 40 officers and four sergeants to task force teams in each of Chicago's five detective areas.
The CPD said it is also working with federal, state and county partners, local prosecutors as well as youth outreach workers and community members in order to "find solutions to the root cause of the problem."
Three men arrested following two separate carjackings appeared in Cook County court Monday afternoon.
Michael Moss, 19, was ordered held without bail on a charge of aggravated vehicular hijacking after he and others allegedly carjacked a pizza delivery driver they had lured to the 5000 block of South Union on Saturday night.
According to Cook County prosecutors, the delivery driver was dispatched to that area, but realized he wouldn't be able to make it to their intended address due to the snowy conditions. Instead, the person who ordered the pizza told the driver to meet him at another area, where Moss and others allegedly forced the driver out of his car at gunpoint and drove the stolen vehicle from the area.
Moss was arrested a short time later after being identified by the victim.
In the other case, Jasper Price, 24, and Justin Jones, 19, allegedly carjacked a man whom Price had known from a previous stint in prison. Prosecutors said the victim drove Price to the 7900 block of South Luella Avenue, where they picked up Jones.
After getting into the car, Jones allegedly pointed a gun at the victim and demanded he turn over his keys and cash. The defendants allegedly made off with the vehicle, but were arrested during a traffic stop Sunday afternoon.
Like Moss, Price and Jones were also held without bail following a court hearing Monday.
The CPD has said most carjacking offenders are between the ages of 15 and 20. In a statement, the department said: "Community policing programs can shine a light on a better road to follow, but law enforcement needs to work alongside community groups to bring systemic change. This includes working with teachers, parents, mentors, ministers and other influencers to offer encouragement and support during the pivotal years of early adulthood."
Contact Matt Masterson: @ByMattMasterson | [email protected] | (773) 509-5431
---