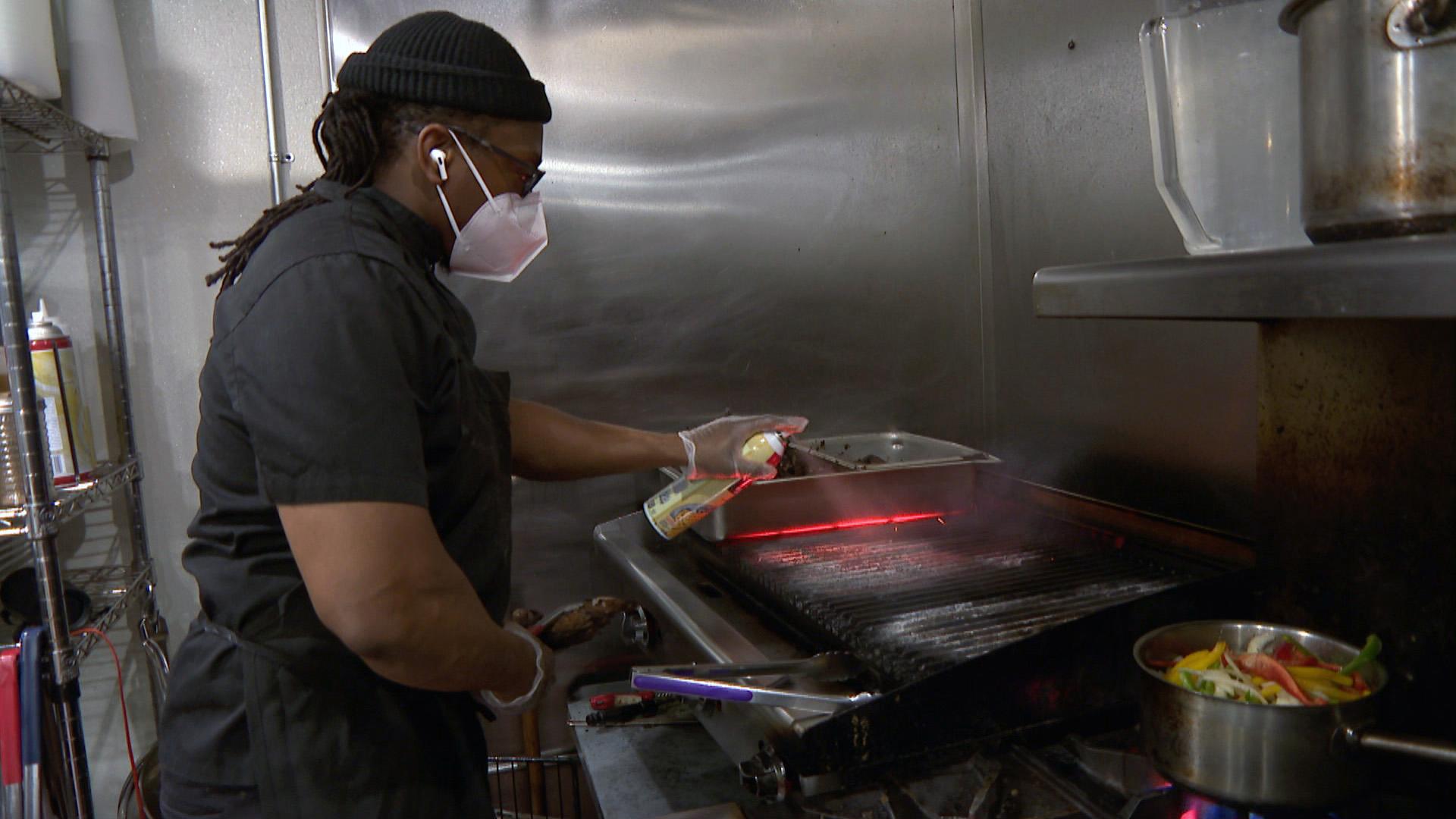 A restaurant worker in Chicago preps the grill. City officials on Friday said rules around indoor dining at bars and restaurants will largely go unchanged, for the time being, even if state-imposed restrictions are soon relaxed. (WTTW News)
State-imposed restrictions designed to slow the spread of COVID-19 in Chicago are on track to ease on Sunday, state health officials said Saturday.
Chicago, known as Region 11 under the state's reopening plan, has recorded two consecutive days in which the coronavirus test positivity rate was less than 6.5%, based on the seven-day rolling average, according to data compiled by the Illinois Department of Public Health. 
If the test positivity rate is less than 6.5% on Sunday — marking the third day in a row — it would trigger what state officials refer to as Phase 4 restrictions.
In addition, there has been no increase in COVID-19 hospitalizations for seven out of the past 10 days in Chicago and more than 20% of the city's intensive care and hospital beds available, according to state data.
However, Chicago officials announced Friday they will not allow indoor dining and drinking at bars and restaurants to operate at an expanded capacity, since those businesses were allowed to reopen at a limited capacity just seven days ago.
That is not long enough to determine whether the decision to allow indoor dining and drinking to resume at a limited capacity has increased the spread of COVID-19 in Chicago, officials said. Infections of the virus can take up to 14 days to develop.
Indoor dining and drinking will remain capped at a capacity of no more than 25 people or 25% of overall room capacity, whichever is less, as long as tables of no more than six people are kept 6 feet away from each other. In addition, bars must serve food, according to the rules. In Chicago, bars without a food service license can reopen as long as they partner with an eatery or allow delivery. 
The only change to the rules now in place, known by state officials as Tier 1 restrictions, would be the maximum number of people allowed at one table, which stands at four people as of Saturday.
Under Phase 4 rules, restaurants and bars must space tables 6 feet apart and require masks to be worn as much as possible, and limit capacity to 50% or 50 people, whichever is less. 
Most other businesses will also be required to operate at 50% capacity or no more than 50 people — whichever is less — while indoor fitness classes can expand to no more than 15 people, according to the rules.
If Chicago does move to phase 4, city officials will no longer require nonessential businesses to close to the public between 11 p.m. and 6 a.m. However, bars and restaurants must stop alcohol sales at 11 p.m. and close at midnight to on-site customers. All to-go alcohol sales must continue to stop at 9 p.m. under city rules.
An average of 686 Chicagoans have been diagnosed each day with the coronavirus during the past week, an 11% decrease from the previous week, according to Chicago Department of Public Health data. The city's average test positivity rate is 6.4%, according to data compiled by both the city and the Illinois Department of Public Health.
Contact Heather Cherone: @HeatherCherone | (773) 569-1863 | [email protected]
---
---