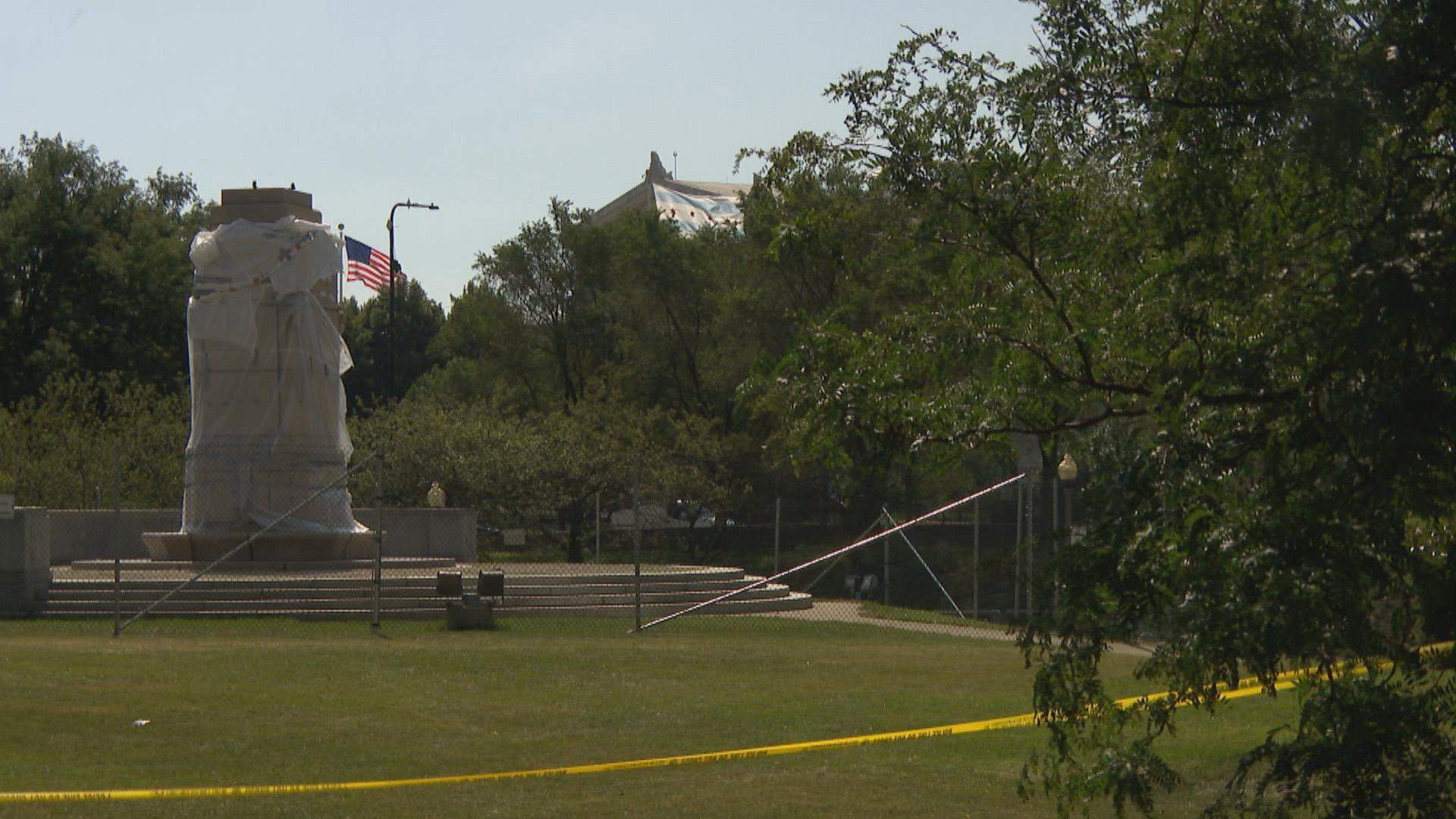 An empty pedestal in Grant Park where a statue of Christopher Columbus stood. (WTTW News)
A commission charged with reviewing Chicago's more than 500 public monuments as part of a "a racial healing and historical reckoning project" has identified 40 that are problematic for a variety of reasons, the group's co-chair announced Friday.
Members of the commission — launched in August after intense and at times violent protests forced Mayor Lori Lightfoot to remove statues of Christopher Columbus from two Chicago parks — gave the public the first look at their work during a virtual summit designed to encourage racial healing after the traumas of the coronavirus pandemic and unrest in the wake of the death of George Floyd in Minneapolis Police custody.
Jennifer Scott, the director and chief curator of the Jane Addams Hull-House Museum as well as the co-chair of the commission, said 40 monuments had been flagged for one or more of these reasons:
—"promoting narratives of white supremacy
— presenting inaccurate and/or demeaning characteristics of American Indians
—memorializing individuals with connections to racist acts, slavery and genocide
—presenting selective, over-simplified, one-sided views of history
—not sufficiently including other stories, in particular those of women, people of color and themes of labor, migration and community building
—creating conflict between groups of people who see value in these artworks or those who do not."
Scott did not identify which monuments raised those concerns, and did not reveal what the commission would recommend to address those issues.
Instead, the summit included examples of monuments that commission members said accurately reflected the community, including several in Pilsen that reflected the Mexican immigrants who made the neighborhood their home earlier this century.
The commission, which includes officials from the Department of Cultural Affairs and Special Events, the Chicago Park District and the Chicago Public Schools, has been working to "develop a framework for marking public space that elevates new ways to memorialize Chicago's true and complete history," according to the mayor's office.
Lightfoot ordered the Columbus statues in Grant and Arrigo parks removed July 23 after protests turned violent. Lightfoot said demonstrators attacked officers, while those urging that the statues be removed said they were brutalized by police. A third statue on the Southeast Side was also removed.
Contact Heather Cherone: @HeatherCherone | (773) 569-1863 | [email protected]
---