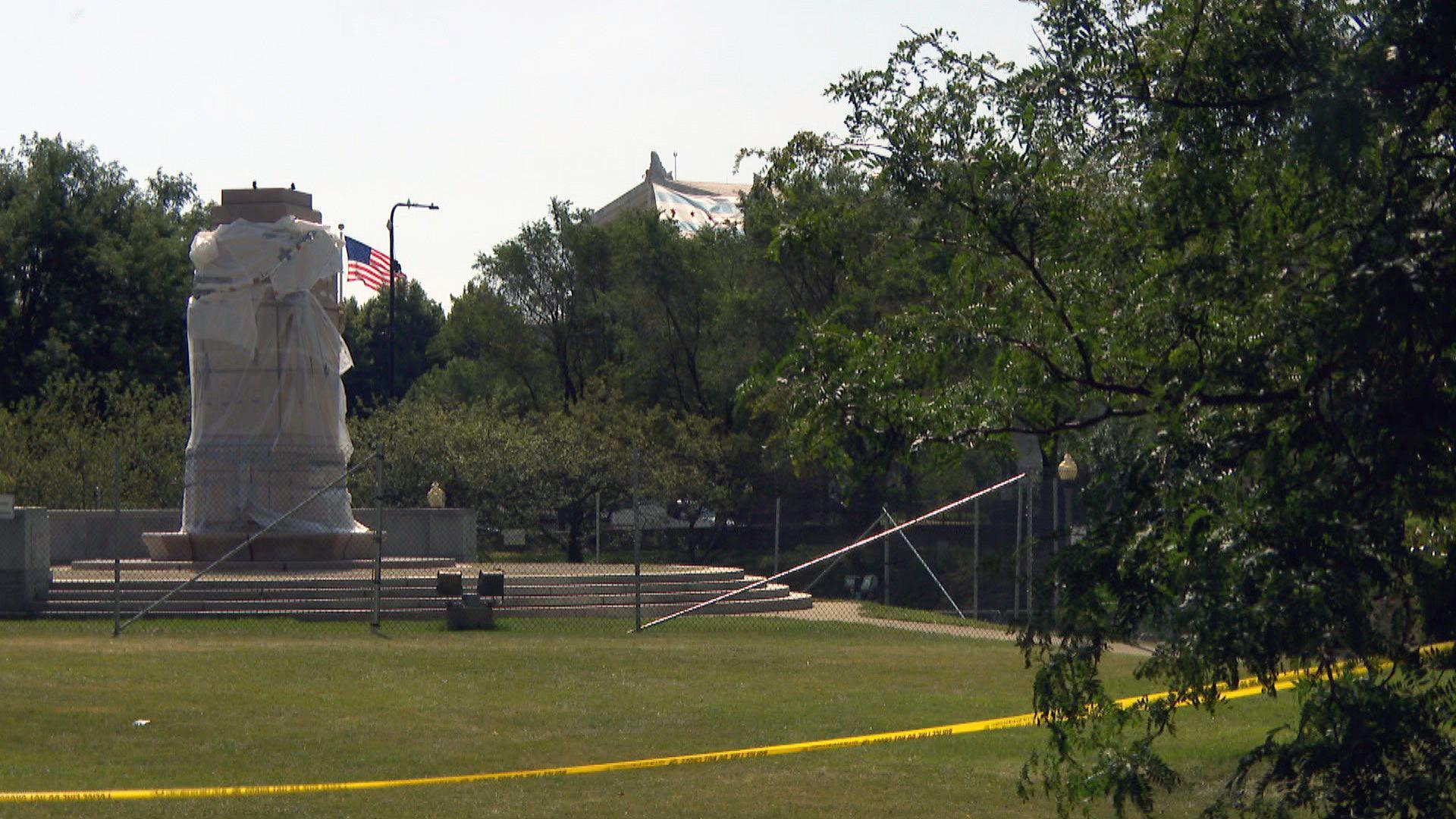 An empty pedestal in Grant Park where a statue of Christopher Columbus stood recently. (WTTW News)
After protests forced Mayor Lori Lightfoot to remove the city's statues of Christopher Columbus, the city will launch an effort to "provide a vehicle to address the hard truths of Chicago's racial history," the mayor's office announced Wednesday. 
The effort is designed to "develop a framework for marking public space that elevates new ways to memorialize Chicago's true and complete history," according to the mayor's office, which will work with officials from the Department of Cultural Affairs and Special Events, the Chicago Park District and the Chicago Public Schools on the effort.
The "racial healing and historical reckoning project" will assess memorials, monuments and other art across Chicago, officials said.
"The project will grapple with the often unacknowledged – or forgotten – history associated with the City's various municipal art collections," the mayor's office said in a statement.
There are no monuments to women in Chicago, a fact that Lightfoot has decried. 
"There are no monuments that reflect the contributions of people in the city of Chicago who contributed to the greatness of this city," Lightfoot said July 20.
Lightfoot initially resisted calls for the city's Columbus statues to be removed in the wake of the anti-police brutality protests that swept the nation in the wake of the death of George Floyd in Minneapolis police custody, saying they should be used as teaching tools.
"I think that the way we educate our young people, in particular, about their history is to educate them about the full history," Lightfoot said on June 18.
However, Lightfoot ordered the statues in Grant and Arrigo parks removed July 23 after protests turned violent. Lightfoot said demonstrators attacked officers, while those urging that the statues be removed said they were brutalized by police. A third statue on the Southeast Side was also removed.
"This effort is not just about a single statue or mural, but how we create a platform to channel our city's dynamic civic energy to purposefully reflect our values as Chicagoans and uplift the stories of our city's residents, particularly when it comes to the permanent memorialization of our history and shared heritage," Lightfoot said in a statement that accompanied the announcement of the review.
The city will form an advisory committee, to be chaired by Department of Cultural Affairs and Special Events Commissioner Mark Kelly, Landmarks Illinois CEO Bonnie McDonald and Jane Addams Hull-House Museum Chief Curator Jennifer Scott.
The advisory committee will include artists, historians and elected officials from all over Chicago. Members will be asked to "review the city's current public art inventory and identify and prioritize artworks that may be problematic," officials said.
The committee's report, expected by the end of the year, will include recommendations for new monuments that should be commissioned by the city, officials said.
City officials also announced plans to commission a series of temporary public art pieces "that focus on a broader range of topics around COVID-19, inequality, and racial reconciliation."
Contact Heather Cherone: @HeatherCherone | (773) 569-1863 | [email protected]
---