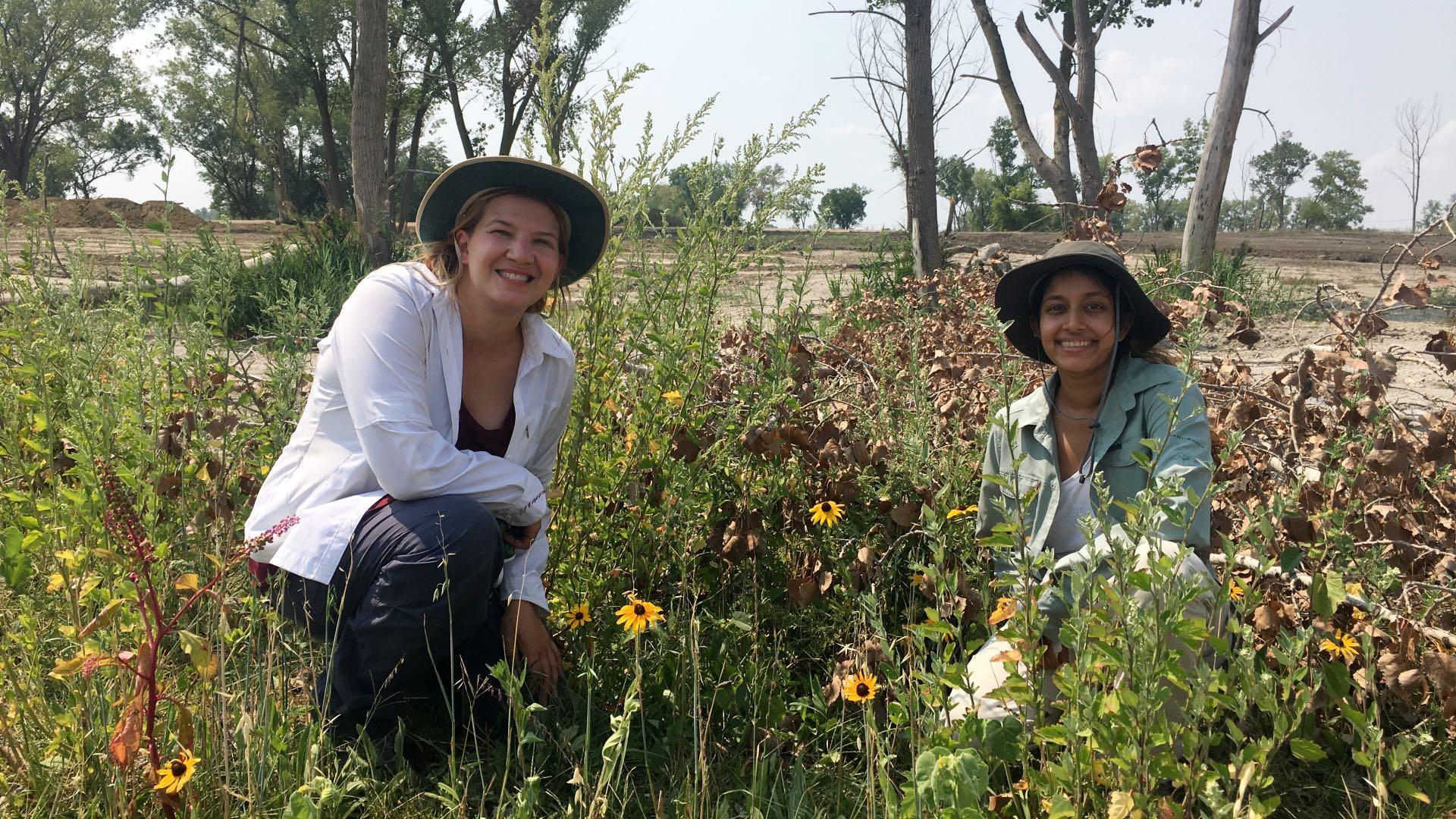 Lauren Umek of the Park District and research assistant Alifya Saify at Big Marsh Park. (Courtesy of Chicago Park District)
In her role as an urban ecologist and project manager with the Chicago Park District, Lauren Umek has overseen a number of ecosystem restorations.
There's a well-established set of best practices to draw from, which typically starts with the removal of invasive species and culminates in the reintroduction of native plants that support a greater diversity of wildlife, she said.
But how do you "restore" a landscape where nothing's growing in the first place?
That's the challenge Umek is facing at Big Marsh Park on Chicago's Southeast Side.
The park district acquired the 278 acres that became Big Marsh in 2011. Portions of the land were once heaped high with slag, a waste product of the area's now defunct steel mills. To remediate soil contaminated by the slag, the park district covered it in a "clear cap" of dirt.
"From an environmental perspective, 'capping' needs to be at least a foot of something," said Umek.
At Big Marsh, that "something" was a mix of cheap clay soil and dirt hauled in from construction sites, including truckloads of earth removed from Legion Park along the North Branch of the Chicago River and Pullman's Gately Park.
But what works environmentally doesn't necessarily work ecologically. A clay cap might control contaminants but it's not great for growing native plants, Umek said.
That's why it's common practice to convert capped land into recreational uses such as sledding hills, golf courses or bike parks, not fields of wildflowers. 
Yet native plants and prairie grasses are what Umek is attempting to restore on 30 of Big Marsh's capped acres. "Here, we're building from nothing," she said. "There is no guidebook for how to do that."
So she's creating one.
Universities, conservation organizations and community scientists routinely conduct research within Chicago's parks, sharing data and results with park district staff where applicable. In 2020, more than 30 such projects took place, studying everything from the distribution of crayfish in ponds to bird populations.
The Big Marsh restoration gave Umek, who has a Ph.D. in plant biology and conservation, the opportunity to helm an experiment of her own. She was joined by Alifya Saify, a grad student at Northwestern University, who signed on as Umek's assistant, eager to learn more about the potential for reclaiming industrial, hard-scrabble land in the name of nature.
"There's so much land that nobody's focusing on," said Saify, who grew up in Munster, Indiana. "I feel like that's the future. How can we make the Midwest pretty again?" 
The focus of their project is to determine which of three soil amendments added to the cap of clay at Big Marsh would produce the best results for growing native plants.
They tested different combinations of topsoil, a commercially-sourced nutrient-dense compost, and a biosolids compound (called EQ Compost) from the Metropolitan Water Reclamation District of Greater Chicago. (EQ is a blend of treated waste and material such as wood chips, grass clippings and leaves.)
In April, Umek and Saify applied the various treatments — seven inches deep — to three groupings of 20 soil plots (so 60 plots total, spread over three different sections of the clay cap). In May, they sowed flower seeds, and in June they placed what are known as plant root simulator probes in the plots.
The probes, which were removed in July, collected data on the presence of soil nutrients, providing insight into how the various treatments were affecting the plots over time, Saify explained.
Beyond soil health, the researchers looked at which treatments promoted seed germination and which were fertile ground for weeds.
"Weeds always find a way," said Saify. "There was a lot of crab grass." 
Preliminary findings point to EQ Compost as the "winner," at least in year one of the experiment. Because the seeds of many native plants lie dormant for a year before germinating, Umek wants to see what happens in year two. Longer term, she also needs to factor in considerations like maintenance costs once plants are established.
A treatment might be more expensive up front, she explained, but could do a better job of suppressing weeds or retaining moisture, requiring fewer resources down the road. 
Ultimately, the research results will have implications beyond Big Marsh, and beyond Chicago even.
"There's a lot of abandoned, unmanaged post-industrial land," Umek said. "No one wants a barren clay landscape."
Contact Patty Wetli: @pattywetli | (773) 509-5623 |  [email protected]
---