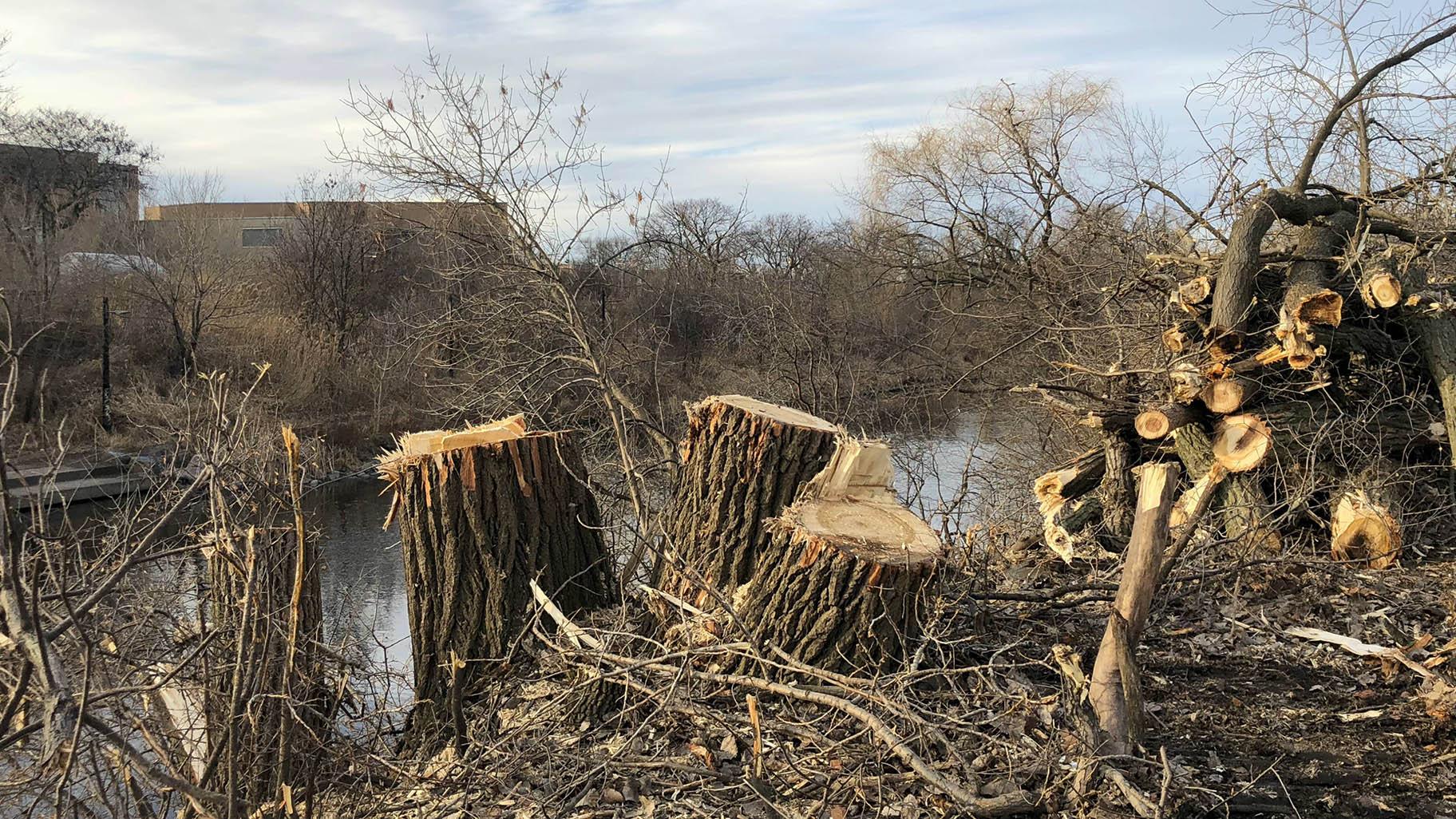 The east bank of the North Shore Channel has been stripped of foliage in Legion Park as part of a habitat restoration project. (Patty Wetli / WTTW News)
A riverbank restoration project underway in Legion Park along the North Shore Channel is designed to provide better habitat for wildlife by replacing invasive species with native plants, while also mitigating soil erosion. But some neighbors are complaining that the plan failed to consider how the project might affect a certain group of mammals that also lives along the waterway: namely, humans.
Venting at a recent community meeting hosted by Ald. Andre Vasquez (40th), residents of the Budlong Woods neighborhood, specifically those whose homes abut Legion Park between Foster and Bryn Mawr avenues, said they were shocked when, at the beginning of the year, hundreds of trees and shrubs were cut down along the park's riverbank. 
"We were blindsided by this," Julianne Migely told representatives from the Chicago Park District and Army Corps of Engineers, who are partnering on the project. "You needed to make sure people understood what was happening. This was really unacceptable."
In fact, the stripping of foliage at Legion Park marks the beginning of the final phase of a five-year, $15 million "River Riparian Connectivity and Habitat Restoration" project announced in 2017, of which one aspect, the demolition of a 100-year-old dam, received the majority of attention.
"The dam removal overshadowed that there was more to come," said Lauren Umek, project manager with the Park District.
The dam came down in 2018, eliminating a barrier that had prevented fish from swimming upstream. Next, River Park's riverbank was regraded to a gentler slope, invasive plants were swapped for natives, and a mulched path was created to bring people closer to the river.
"The Park District is not just interested in nature, but in connecting people to nature," Umek said.
That Legion Park was next in line to receive the River Park treatment, following the awarding of a contract in fall 2019, was the missing piece of the communication puzzle.
Vasquez, a first-term alderman elected in 2019, said he too was in the dark when the felling of trees began, and he told residents he would rectify the lack of information going forward. "We want to make sure we have regular communication as phases happen," he said.
The community meeting was an opportunity for Umek to assure residents that while the sudden appearance of bulldozers and the loss of trees "doesn't seem eco-friendly," in terms of building a healthy eco-system, it actually is.
The majority of the trees at Legion were buckthorn, Umek explained, an invasive species that has little value to wildlife in terms of food and creates conditions that cause erosion. Larger cottonwoods, which are aggressive natives and similarly not valuable as a food source, were removed as well. They'll be replaced by 277 trees and shrubs — species will include oaks, sycamore and buttonbush — 950 plugs of native plants per acre and 56 pounds of native seed per acre. Apart from providing food and shelter for wildlife, native plants have far deeper roots than trees, and do a better job of holding soil in place, Umek said. 
Within a few short years, the now barren landscape will be "exploding with native plant diversity," she said. 
While Umek's presentation satisfied some, a number of residents in attendance came not to discuss what was happening in Legion Park, but to address a collateral consequence of the denuded bank.  
The stripping away of Legion's thicket of trees and brush has laid bare a view of the North Shore Channel's western bank, which is not parkland.
"It's a travesty. We've got these eyesores," said Peter Migely, referring to Northside College Prep, a CTA bus depot and the Marine Corps Reserve Training Center.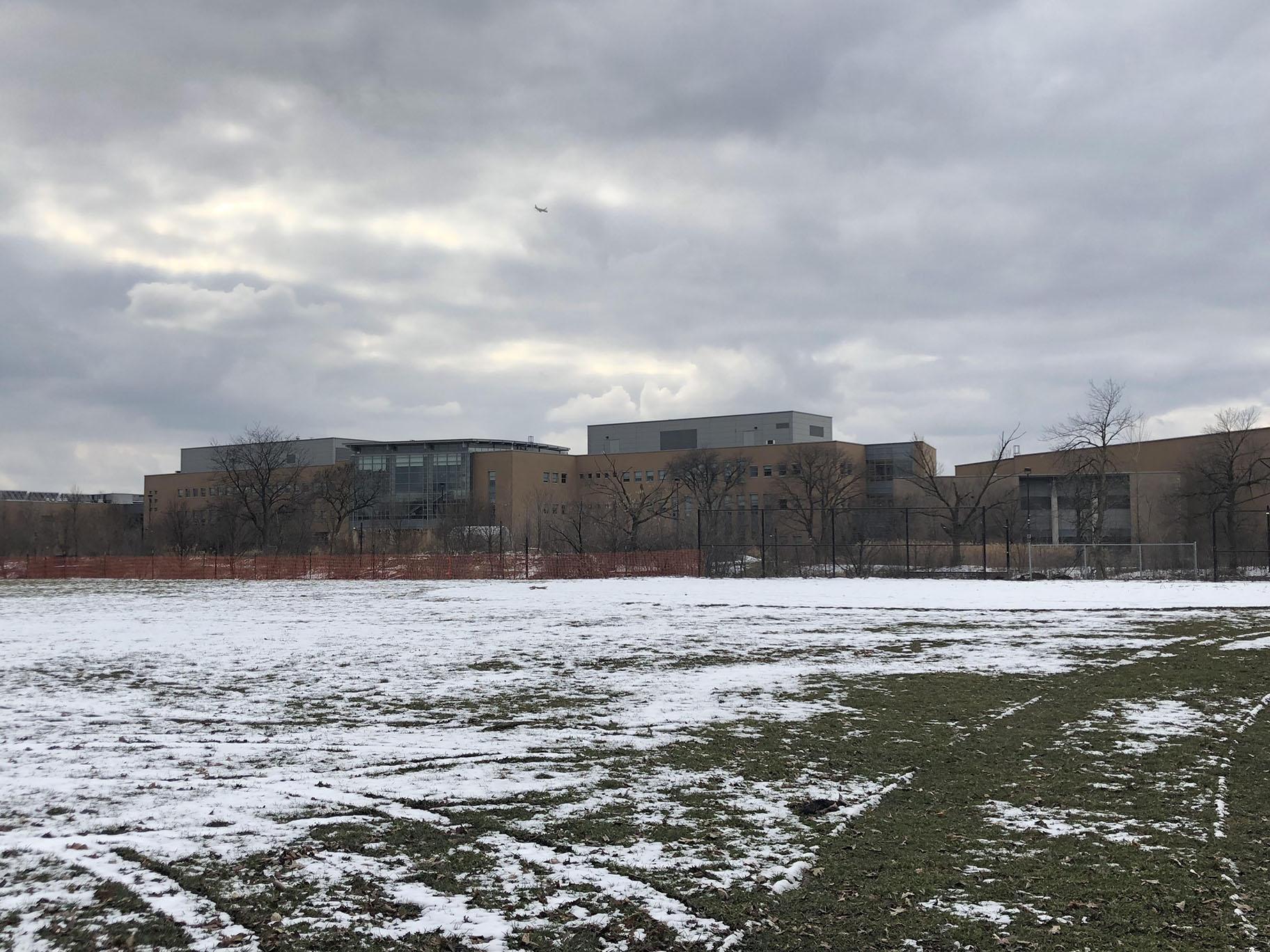 With a screen of foliage removed in Legion Park, residents now have a clear view of Northside College Prep, which some say looks like a factory. (Patty Wetli / WTTW News)
The "monstrous" school "looks like a factory," light pollution from the CTA site has become an issue, and a retaining wall along the western bank has been blanketed with graffiti, neighbors said. It could take decades for oaks and other new plantings to replace the former screen of buckthorn, they added.
"As far as I'm concerned, we lost [property] value and we lost privacy," Peter Migely said.  
Having fielded a number of these complaints, Vasquez said his office was looking into ways to make the western bank more attractive, including scrubbing the retaining wall and turning it over to muralists. Coordinating with various property owners was challenging, though, he said, and noted that changing the "horizon" of buildings was out of his control.
The time to have considered the western bank was at the project's front end, not once Legion's foliage was already gone, countered Julianne Migely.
"Isn't this process back-a**wards?" she asked.
Umek and Jason Zylka, an ecologist and botanist with the Army Corps, stood by the merits of the project, which is part of a national effort to restore native ecosystems.
Migrating birds, bees and other pollinators, as well as squirrels, rabbits and other critters will all thrive in a more diverse habitat, Zylka said, and "when all is said and done, this will be considered an amenity."
Rick Kulp, who also lives adjacent to Legion Park, said that day has already come. For 22 years, Kulp said, he's been frustrated to have the channel so close and yet so far, blocked from seeing it or strolling along the water.
"Already I love the improvement," he said.
Far from being surprised by the work in Legion Park, Kulp has been closely following the progress of the habitat restoration project since its announcement.
"It's been coming our way for a long time and we've been anxiously awaiting our turn," he said. 
Contact Patty Wetli: @pattywetli | (773) 509-5623 |  [email protected]
---