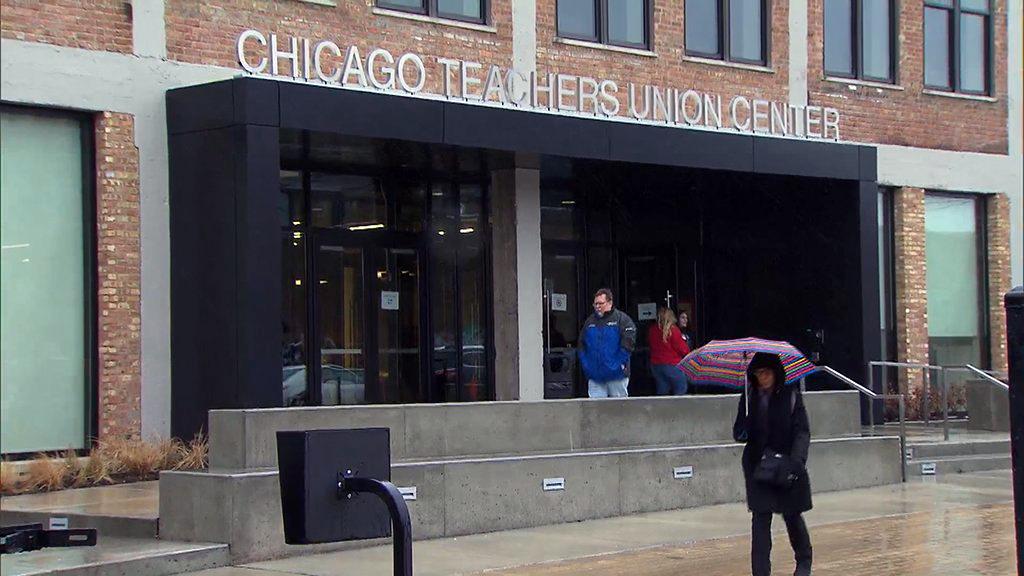 (WTTW News)
Voting members of the Chicago Teachers Union approved a resolution Wednesday night which could mark the first step toward a potential strike if the union can't reach a deal with Chicago Public Schools on a safe reopening plan amid the coronavirus pandemic.
A source confirmed to WTTW News that the CTU's 600-member House of Delegates passed a measure indicating teachers and staff want to work remotely beginning Monday — when elementary school staff are set to return in person — and continue doing so until the union has reached a deal with CPS.
But, according to that measure, if the school district retaliates or continues to lock teachers out of their online education accounts when they don't show up in person, then the union will have no choice but to go on strike.
"Our members are resolved to continue working, teaching their students and doing so safely," CTU President Jesse Sharkey said in a statement. "Only the mayor can force a strike, and if it comes to that, that's her choice. We choose safety."
The resolution was approved with 84% of members voting in favor of it. It will now be sent to rank-and-file members for their approval over the coming days. Three-quarters of those members must approve it in order for it to pass.
The move comes as CTU leadership continues bargaining with CPS for an agreement on a safe school reopening plan.
While about 3,800 CPS employees have already been ordered back into schools, several thousand more are expected to begin in-person work in elementary schools Monday, one week before some 70,000 K-8 students are expected back in their classrooms.
As of Friday, CPS had labeled 87 employees as absent without leave after they refused to show up to their schools. The district said those employees would be locked out of their Google education accounts and would not be paid until they report to their buildings in person.
CPS CEO Janice Jackson has repeatedly stated she believes a deal with the union can be struck — but she said the two sides need to focus on how to reopen safely, not whether schools should reopen.
CPS has said it spent more than $100 million to ensure school buildings are safe for students and staff, and has put in place safety protocols to help prevent the spread of COVID-19. But teachers say that's not enough, and some who have reported to schools said there are still issues.
"I know people are infatuated with this word 'strike,'" CTU Vice President Stacy Davis Gates said during a press conference Wednesday morning ahead of the delegate vote, "but I am saying very clearly that our activity has been and continues to be specifically about allowing space for safety and making sure that our members, our teachers, our (paraprofessionals), our clinicians are able to continue to operate instruction remotely."
Should the union decide to strike, it would be the second work stoppage in just 14 months. CTU members went on strike in October 2019 as the union negotiated a new labor contract. That stoppage lasted 14 days.
In response, CPS spokeswoman Emily Bolton said the district remains "committed to reaching a mutually-acceptable agreement" and has agreed to the union safety demands at "every step of this process."
"CTU leadership wants to close schools that are already safely open to students, and cancel in-person learning for the tens of thousands of students who are relying on their dedicated educators to provide in-person learning in the coming weeks," Bolton said. "Stripping tens of thousands of students of the opportunity for safe, in-person learning is not an option or a viable solution for families who have been planning to return since December."
Contact Matt Masterson: @ByMattMasterson | [email protected] | (773) 509-5431
---