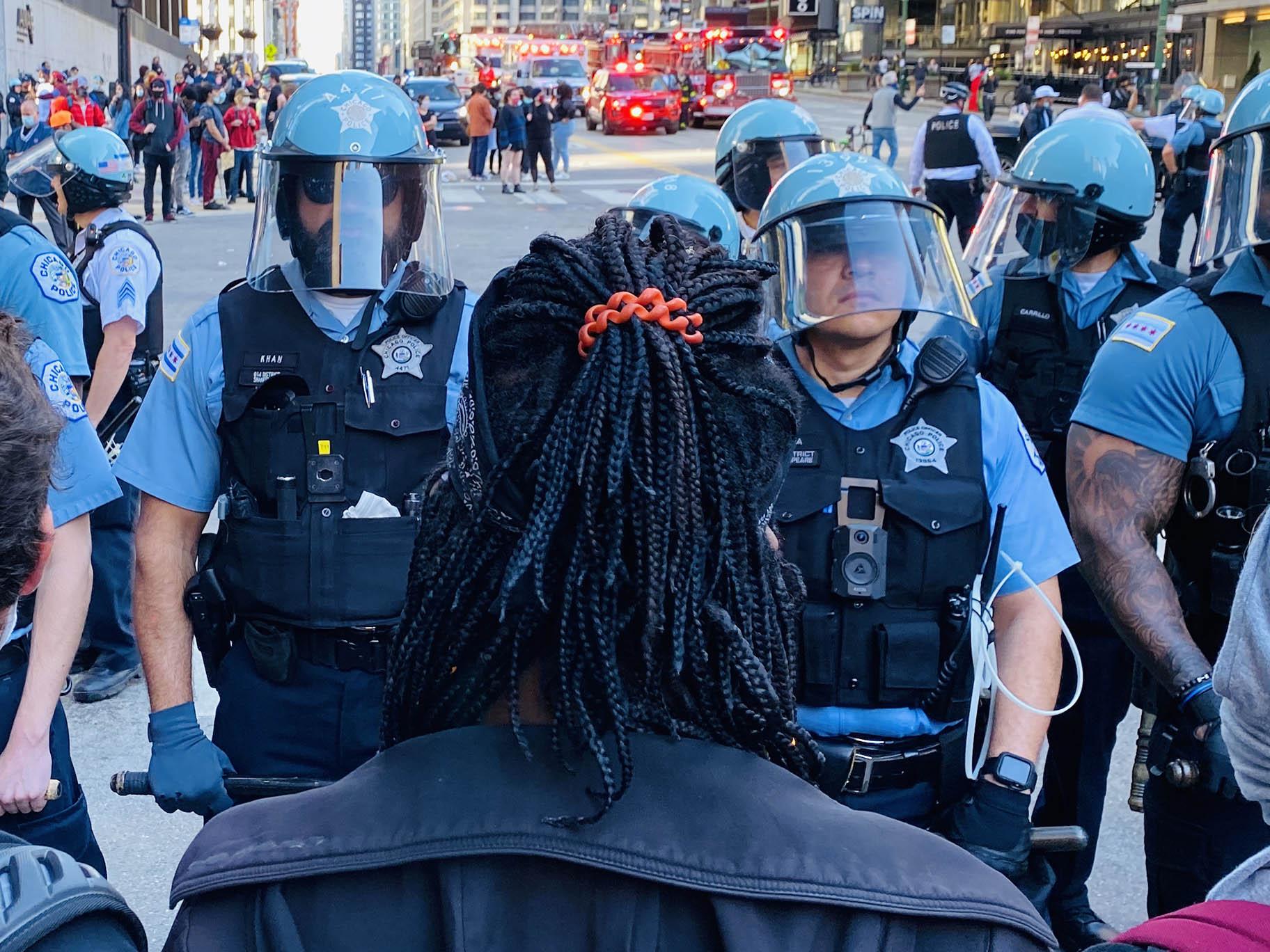 A protester faces a line of police officers in Chicago on Saturday, May 30, 2020. (Hugo Balta / WTTW News)
The city of Chicago will pay $115,000 to two Chicago men who alleged they were subjected to excessive force during the protests sparked by the death of George Floyd in late May, marking the first of what could be a costly wave of lawsuit settlements.
To settle the first of the two lawsuits, the city paid Ian Andrew Bowman $75,000, city records show. 
Bowman said in his lawsuit that he joined a peaceful protest near Clark and Hubbard streets in River North on May 31. Floyd died in the custody of Minneapolis Police on May 25, touching off protests across the nation. A wave of unrest and looting swept Chicago in the wake of the protests.
Bowman, who declined to be interviewed by WTTW News about his experience during the protest through his lawyer John Kennedy, said in his lawsuit that officers "set upon him and began clubbing, beating, choking, kicking, and stomping on him without legal justification."
Lawyers representing the city agreed to settle the suit in August — just 39 days after it was filed, a remarkably quick turnaround.
In the second lawsuit prompted by this summer's protests, the city agreed to pay Jonathan Ballew, a freelance journalist, $40,000 to settle his claim of excessive force.
In his lawsuit, Ballew, whose work has been published in Block Club Chicago, the Chicago Reporter and the Chicago Sun-Times, alleged he was "assaulted with a chemical agent" on May 30 protests in River North.
Neither settlement was individually approved or debated by the City Council because of the relatively small amount of both payments.
The Civilian Office of Police Accountability, the city agency charged with investigating police misconduct known as COPA, received 526 complaints about officers' conduct during the protests. Approximately 51% of those complaints alleged excessive force.
As of Jan. 4, 144 complaints related to the protests remain open and under investigation, according to a report from COPA.
Lawsuits that allege police misconduct trigger an investigation by the agency.
One of the complaints of excessive force was filed by Chicago Police Board President Ghian Foreman, who says he was struck by police five times on his legs with their batons on May 31 in Hyde Park, as first reported by WTTW News.
In the aftermath of the protests, Mayor Lori Lightfoot repeatedly said that officers who violate departmental rules do not "share our values" and will be removed from the police department. However, she also praised the conduct of most officers during the protests and the unrest.
"If any officer is found to have participated in excessive force, they will be held accountable," according to a statement from the Chicago Police Department.
The CPD is under the oversight of U.S. District Court Judge Robert Dow after a 2017 investigation by the Department of Justice found Chicago officers routinely violated the rights of Black and Latino Chicagoans. The investigation was ordered after a white Chicago police officer shot Laquan McDonald, a Black teenager, 16 times, causing an outcry.
Independent monitor Maggie Hickey is investigating the conduct of Chicago police officers during the protests and violence that began May 30 and continued for several days.
Contact Heather Cherone: @HeatherCherone | (773) 569-1863 | [email protected]
---