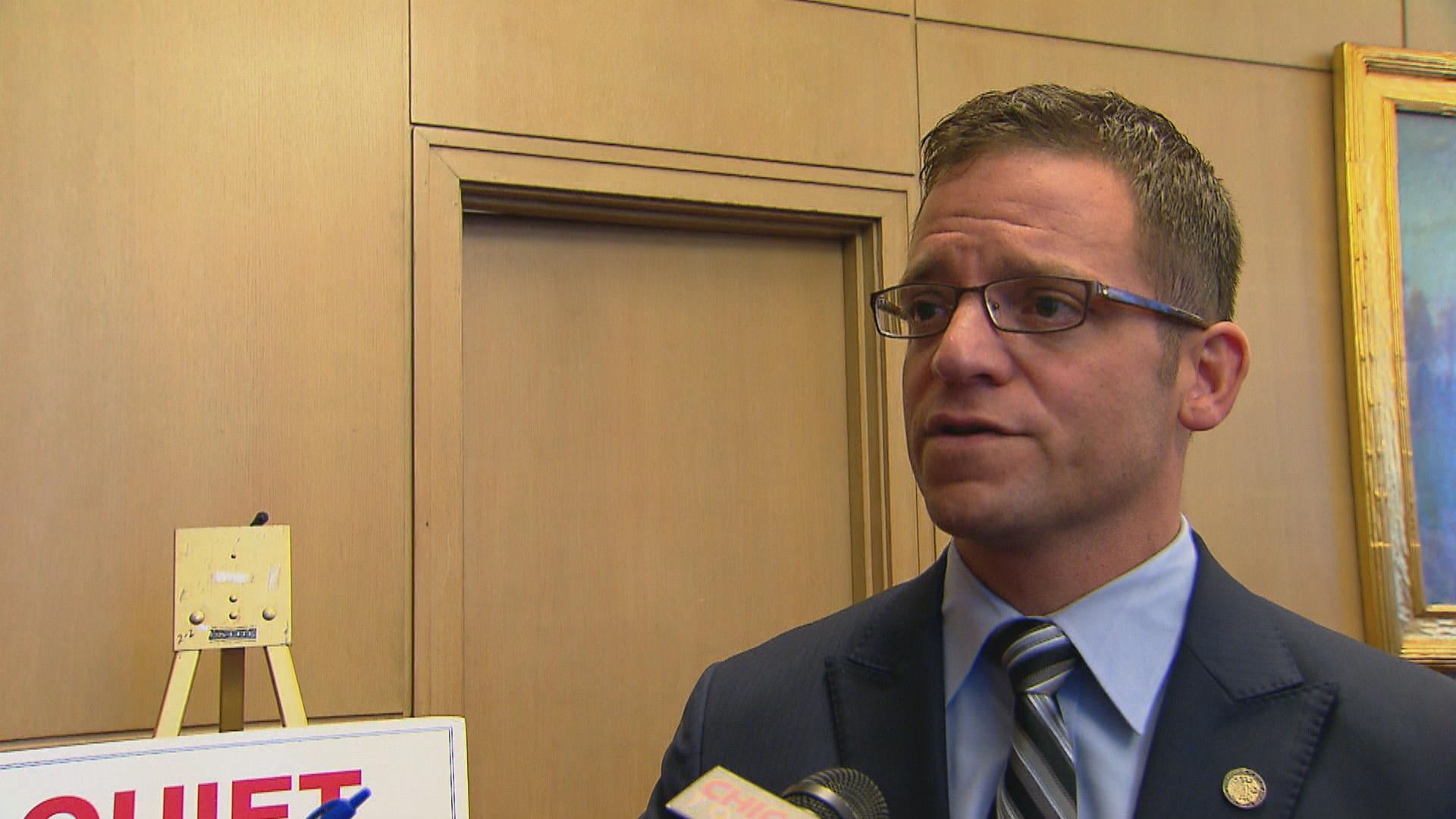 In this file photo, Ald. Proco "Joe" Moreno speaks with WTTW News.
Former 1st Ward Ald. Proco Joe Moreno, facing felony charges of obstruction of justice and insurance fraud, has a new lawyer — 21st Ward Ald. Howard Brookins, who is now under investigation himself.
Brookins' decision to represent his former colleague on the City Council appears to have violated a ruling from the Chicago Board of Ethics that banned aldermen who are attorneys from defending clients in criminal cases involving the Chicago Police Department.
Chicago Board of Ethics Executive Director Steve Berlin said the board is looking into whether Brookins has violated Chicago's Governmental Ethics Ordinance. Penalties for violating that ordinance range from $200 to $5,000, and some violations can be assessed daily.
"I guess we are going to fight it out in the courts," said Brookins, who was picked by Mayor Lori Lightfoot to lead the City Council's Transportation and Public Way Committee.
Moreno, who lost his seat in February 2019 to Ald. Daniel La Spata (1st Ward), was charged in May 2019 with four felony counts of insurance fraud in an amount between $10,000 and $100,000, and obstruction of justice for destroying evidence. Moreno also faces charges of felony disorderly conduct and an offense related to motor vehicles.
Cook County prosecutors allege Moreno falsely claimed both to Chicago police and his insurance agency State Farm that his 2016 Audi A6 had been stolen out of his garage sometime before Jan. 4, 2019. However, Moreno allegedly turned the vehicle and its keys over willingly only hours earlier to a woman he had previously dated.
Moreno pleaded not guilty, and could not be reached by WTTW News.
In September 2019, the Chicago Board of Ethics ruled aldermen face "diverging interests" when they represent a client charged with a crime based on evidence developed by Chicago police officers.
Aldermen "owe 100 percent of their allegiance to the city and its taxpayers," according to the board's opinion.
At Brookins' request, the board reconsidered its opinion in October 2019, but declined to reverse it. At the time, Brookins said he would sue the city to overturn it — but never did.
Even though Chicago taxpayers pay aldermen approximately $120,000 annually, they are allowed to work outside of City Hall — including as lawyers.
However, since Ald. Ed Burke (14th Ward) was indicted on charges in January 2019 that he used his powerful position at City Hall to force those doing business with the city to hire his private law firm, officials have sought to tighten those rules.
Burke pleaded not guilty and has denied any wrongdoing. 
In December, the City Council unanimously banned aldermen from working as lobbyists.
Brookins — who earns more than $100,000 annually from his law practice — told WTTW News that he is confident that there is no legal basis for the board's ban on aldermen working as criminal defense attorneys in cases where Chicago police officers investigated the alleged crime.
Despite the fact that the board's order has been in place for more than a year, Brookins has continued to represent clients charged with a crime in Chicago.
State's Attorney Kim Foxx's office urged a Cook County judge in January to disqualify Brookins from representing a man charged with a crime based on evidence gathered by the Chicago Police Department, citing the opinion by the Ethics Board.
However, Brookins submitted an opinion from attorney Mary Robinson, a partner at Robinson, Stewart, Montgomery & Doppke that argued the Ethics Board's decision was "faulty" and that there was no conflict of interest.
Judge Joseph Claps sided with Brookins in August, noting that his client was aware of the issue and still wanted Brookins to represent him in his criminal case. Claps said he did not see a "potential conflict of interest."
During the 2019 mayoral campaign, Lightfoot vowed to root out corruption at City Hall and increase transparency while holding aldermen and city officials to a higher ethical standard.
Brookins declined to discuss his decision to represent Moreno, and referred additional questions to his attorney, Brendan Schiller. Schiller is the son of former 46th Ward Ald. Helen Schiller, who served on the City Council from 1987-2011.
Schiller did not respond to a message left by WTTW News.
Now in his fifth term, Brookins was first elected to the City Council in 2003. Moreno served on the City Council from 2010-19.
Contact Heather Cherone: @HeatherCherone | (773) 569-1863 | [email protected]
---